"There's trouble in paradise," Gail Pellett of ChangeHampton said outside East Hampton Town Hall last Thursday, where a group of elected officials and residents had gathered for a ceremonial groundbreaking for a community pollinator garden that will extend a pollinator pathway that includes another garden and a wildflower meadow in progress on the campus.
The 3,000-square-foot garden was designed by Abby Clough Lawless of Farm Landscape Design. A public-private partnership between the town and ChangeHampton, which promotes restorative, bio-diverse, and sustainable landscaping practices and expansion of pollinator pathways, it will feature pollinator-attracting native trees, plants, and grasses centered around a public seating area. The garden is meant to inspire and educate visitors as to how to incorporate similar plantings into their own landscapes.
Construction will begin on Saturday, when volunteers, including students, will lay down cardboard, wet it, and cover it with soil and compost. Planting will happen in the spring.
ChangeHampton started as a group of neighbors trying to address "the catastrophic loss" of insects, birds, bees, and butterflies, Ms. Pellett said. Feeling powerless to make change at a macro level, "we began to look locally" by "looking at what was happening in our yards, and began to promote restorative landscaping, the planting of natives, the inviting of pollinators, loving leaves, reducing your lawn size."
Turf lawns are "an ecological desert," she said. "We encourage the idea that we need to reimagine what beauty is, and this garden that is being planned is hopefully going to be a great experiment and model for that."
Native plants sequester carbon, clean toxins in the soil and groundwater, and provide food and pollen "for that precious pollinator world that we are losing," she said.
"We aim to 'pollinate' the idea that together we can make a difference for the future of our planet," said Stephan Van Dam, a co-founder of ChangeHampton. "Given the mess we're leaving the next generation . . . we have an obligation to reimagine our landscaping practices and to transition from mow-and-blow, fertilizers, pesticides, and invasive species to an environment free of toxins."
It was "a landmark day" for the Town Hall campus, Supervisor Peter Van Scoyoc said. "As we know, many of the properties that get developed now have extensive lawns that are fertilized. They're covered with herbicides and pesticides because in order to maintain a perfect, monolithic lawn, you have to use a lot of chemicals." The pollinator garden, he said, is meant "to give people an opportunity to see another pathway that will help keep intact our local ecosystem, support our pollinators, our bird and insect species that are so critical to maintaining our environment."
The lawn at Town Hall has been allowed to grow taller in the last two years, Mr. Van Scoyoc said, and "it was interesting to see what happened," including crops of dandelion and, later in the summer, white clover. Long-dormant seeds produced blue aster, New York aster, "some flowers that I haven't identified yet," and "thistle plants that I think probably haven't expressed themselves here on this property since it was a cow pasture. Those are also providing forage for pollinators and birds."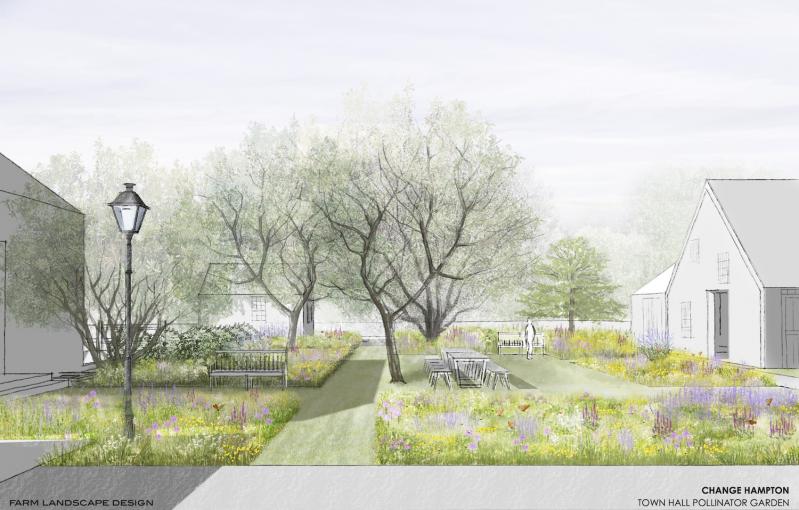 "The whole idea," said Ms. Clough Lawless, "is that we're going to have blooms throughout the growing season, and then there will be a rest — and the rest is also an important part of the garden, a key component to changing our landscape maintenance methods."
Ava Arcoleo, Sadie Cober, and Skye Tanzmann of East Hampton High School's Environmental Awareness Club also spoke to the gathering. "Watching our fellow community members initiate this entire process, the planning and all of what it takes to construct this incredible project, has been really inspiring for us as high schoolers," Ava said, "and has taught us that advancements can be made to our community if you pursue it with enough fervor."
The students, she said, "hope that the garden's location triggers a wave of environmental awareness in our community as people come and go to Town Hall, and that members of our community are inspired to make their own pollinator gardens, even if it's just in their own backyard."