The southern pine beetle, an invasive pest now considered by the New York State Department of Environmental Conservation to be an established species on the South Fork, has made a comeback in East Hampton Town and regions of the Central Pine Barrens, town and state officials said this week.
The good news is the outbreaks are smaller and more manageable than in years past, particularly in 2017 in East Hampton, when thousands of pitch pines had to be cut down to stave off the beetles' spread. According to Supervisor Peter Van Scoyoc, some of the 34 original areas that were impacted by hundreds of trees "now have little flare-ups -- 15 trees here, 75 there, 24 there, and so on."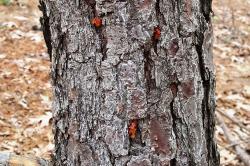 But the beetle jumped from Northwest Woods to areas of Wainscott, Mr. Van Scoyoc said. For instance, town land management crews felled 54 trees off Stephen Hand's Path near the ball fields two weeks ago. While the town is moving quickly, Mr. Van Scoyoc said he doesn't foresee declaring a state of emergency, as the previous supervisor, Larry Cantwell, had done to hasten the town's initial response.
"We don't have any conclusive evidence, but the long, warm summer with pretty dry weather may be part of the cause," Mr. Van Scoyoc said. "Our climate is changing to more resemble its native habitat."
Polly Weigand, the D.E.C.'s science and stewardship program manager for the Central Pine Barrens, said pine-forested areas in Southampton Town are also being impacted, as is an area off Majors Path in North Sea that is not considered part of the Pine Barrens. In that hamlet, she said, "the challenge is that there is public land interspersed with many private lands. The area has been surveyed, but suppression has not been advanced."
In the Pine Barrens proper, "the state is conducting aerial surveys periodically . . . and then responding to the infestations," Ms. Weigand explained. "Luckily, the spots in the Pine Barrens have been much smaller. We're seeing one to four infected trees, whereas previously it had been much larger. What usually triggers suppression is 10 infected trees."
Since the invasive beetle was first identified on Long Island in 2014, more than 42,500 pitch pines have been felled, she said, calling it the best way to prevent the spread of beetle infestations.
"Each tree has a propensity to then spread and infect another 10 to 11 trees," Ms. Weigand said. "It's best not to wait until the tree is dead to address it. . . . A living tree still has its structural integrity, so an arborist can more safely drop the tree. My take-home message would be if you are concerned and want to ensure the safety of the house, to consult with an arborist as soon as possible for a diagnosis."
She also said the local municipalities should be consulted to make sure the cutting of infected trees doesn't violate tree-clearing ordinances.
In November of 2017, East Hampton Town said it set aside $80,000 for the cutting of infected trees in the Northwest Woods, and was expecting money from the D.E.C. It also had access to community preservation fund money that could be used to maintain properties purchased through that fund. By September of 2018, the town had tapped into that D.E.C. grant for the management of invasive species and had $47,000 left to spend.
Mr. Van Scoyoc said the most recent beetle battle has not, so far, cost as much as it had in past years because the town's own crews can perform the work.
The telltale sign of a southern pine beetle infestation is the pitch tube, which is a clump of resin on the exterior of the tree bark, as well as holes that have the appearance of shotgun marks and S-shape tunnels beneath the bark.
But there's a little more good news, Mr. Van Scoyoc said. A local pinecone harvest and subsequent germination program at an upstate nursery was successful in restarting the forests that were devastated in 2017 and 2018.
Mr. Van Scoyoc himself had to have about 600 trees cut down on his property in Northwest Woods. "I know more about it than I care to," he said. "I have a perspective now that many others wouldn't. I've seen areas of forest that were left uncut, areas where they were cut and felled and left on site, and areas where the cut trees were removed. It's a bit of a science project watching those three different scenarios regenerate."