East Hampton Village Mayor Jerry Larsen started putting his stamp on village government last week by hiring a new village administrator, choosing new chairs for appointed boards, and laying the groundwork to create a new office of business and tourism, and to bring the code enforcement office under the oversight of the Police Department. 
Becky Molinaro Hansen, the village administrator for the past seven years, left the position on Friday to take a job as East Hampton Town's deputy budget officer. At the board's annual organizational meeting held that day, Mr. Larsen sought the board's approval to hire Marcos Baladron to replace her. Mr. Baladron, the owner of a management consulting company, had served as Mr. Larsen's campaign manager and treasurer.
Arthur Graham, a trustee who is known as Tiger, said Mr. Baladron's appointment was "incredibly premature" and questioned whether he had the proper credentials to assume the duties of the village administrator, which he called "the most important person in the village who is not elected to office." 
According to village code, a village administrator serves as clerk and treasurer, supervises "all functions and activities of the village," all of its expenditures, and most of its officers and employees, among other responsibilities. 
Mr. Graham, who had run against Mr. Larsen in the mayoral election, said he objected to "Mayor Larsen appointing his campaign manager to this role without so much as a resume being distributed to the rest of the board," and recommended the board conduct a search for Ms. Hansen's replacement. Mr. Baladron's appointment, he said, "sounds like patronage [and] I don't think it has much of a place here in our village." 
He noted that, in 2013, the village had conducted a search to find a replacement for Larry Cantwell, who had been village administrator for 30 years. During that search, he said, Christopher Minardi, a recently elected trustee and a member of the mayor's NewTown Party, had been interviewed for the position. "Chris is intimately aware of the process that happened last time," he said. "For such an important position, we really need to get it right, and without having a search and discussing it I don't think we are getting there."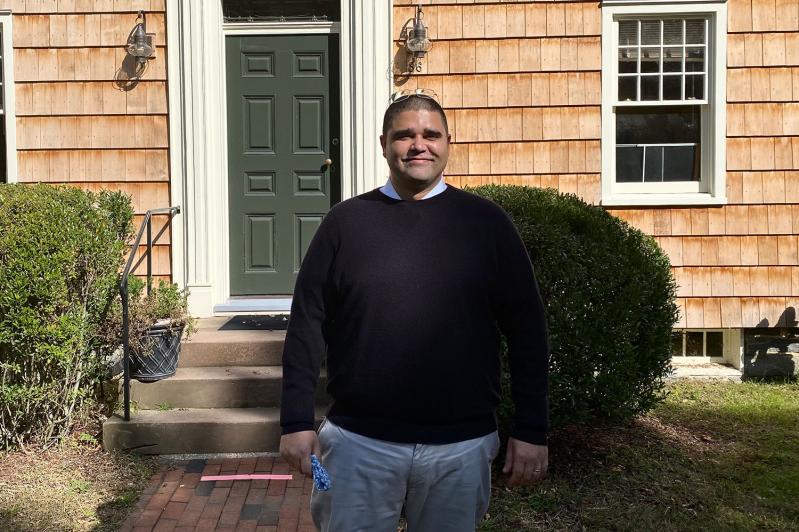 Rose Brown, a trustee, agreed that more discussion was needed about Mr. Baladron's qualifications. "For me, at this point, I don't have any professional knowledge about Marcos," she said. "I haven't seen a resume, so for me to make any decision at this point would be difficult."
"I am not going to discuss it in executive session," replied Mr. Larsen. "It's on for a resolution, we're going to have a vote, and I'm looking for a motion."
Sandra Melendez, a trustee and a fellow member of the NewTown party, made the motion, Mr. Minardi seconded it, Ms. Brown abstained from voting, and Mr. Graham opposed the resolution. "Cast and carried, thank you all," said Mr. Larsen. 
On Monday, Mr. Larsen said that Ms. Hansen had informed him that she would be leaving just two days prior to her departure, which made finding a replacement urgent. "Tiger brought up that we should have a search, I would agree with that, but who would be running the village?" he said. 
Prior to Ms. Hansen's exit, he had planned to hire Mr. Baladron as assistant to the mayor. "My plan has always been to bring Marcos in as a business manager, and I had campaigned about creating a business office, so Marcos was going to kick that off for me," he said. His duties would also include overseeing the development of a proposed wastewater treatment facility, implementing a new mobile parking enforcement system, serving as liaison to the business community, and upgrading the village's computer system to allow for online payments for beach permits and property taxes, among other things.
That remains the plan, he said, but Mr. Baladron will have the title of village administrator, and whereas Ms. Hansen had also served as clerk and treasurer, the position will be divested of those duties. Pam Bennett, the deputy clerk, will serve as clerk, and Dominique Cummings, the deputy treasurer, will serve as treasurer. Those promotions will be made at the board's next board meeting on Nov. 5, he said. 
"Becky leaving on short notice has taught us a little bit of a lesson that one person having all that control can really destabilize the functioning of the village," he said. "It's probably all for the best to divide it up." 
Mr. Larsen said he had not fully briefed either Mr. Graham or Ms. Brown on his plan to redefine the village administrator position. "I could have done a better job with Tiger and Rose but that's on me," he said. As to the accusation of Mr. Baladron's appointment being a form of patronage, he said, "Call it what you want, but I wanted him as part of the team. I want people around me that I can trust and that are hard-working and are going to do a really good job." Mr. Baladron's hiring "is not some pat you on the back, and you're getting paid for doing nothing; this is going to require a lot of work," he said.  
Over the past month, Mr. Baladron has been meeting with the village's department heads and employees, Mr. Larsen said. "He's gained a tremendous amount of information. He's got a really good handle on how the village is working right now."
Mr. Baladron said he has also reached out to Mr. Cantwell. "I want to take him out to lunch and pick his brain," he said. 
His previous work, including at a digital marketing agency, has given him experience in technology, he said, and he is particularly eager to revamp the village's computer system. "I see a real need for communications and information technology," he said. "I mean, the village has 108,000 historians on call, but it doesn't have a tech guy." Allowing all payments to the village to be made online is "just neater, and all the employees have told me that they want it more organized and streamlined across departments," he said.
Ms. Hansen was known for having a breadth of knowledge about municipal law, and to make up for that loss, Mr. Baladron said he would rely on Beth Baldwin, the village attorney. "We have a good village attorney, and we're going to lean on her," he said.
Mr. Larsen said he plans to have the code enforcement office overseen by the Police Department in an effort to more effectively crack down on illegal short-term rentals. "We want more emphasis on short-term rentals, so we need more of a police structure to help," he said.
He also made several leadership changes on the village's appointed boards on Friday. He appointed John McGuirk, a longtime member of the zoning board of appeals, as chairman of the board, replacing Lys Marigold, who will remain as a member. "I think he's a really common-sense person, and that's what I want," said Mr. Larsen. "Not to take away from Lys Marigold, it's just a better fit for me. Everybody I put on the boards I feel have common sense and are reasonable people." James McMullan, vice chairman of the design review board, will now be the zoning board's vice chairman, replacing Philip O'Connell, who will remain as a member. On the planning board, he appointed J. Kenneth Wessberg as chairman, replacing Bruce A.T. Siska, and on the design review board, he chose Robert Caruso to replace Stuyvesant Wainwright as chairman. Mr. Wainwright was to remain as vice chairman, but he resigned from the board as of last Thursday.