Effective Wednesday, New York State will adopt the federal Centers for Disease Control and Prevention's new mask and social distancing guidelines for vaccinated people, Gov. Andrew M. Cuomo announced on Monday. 
The C.D.C. announced last week that people who are fully vaccinated against Covid-19 no longer need to wear masks or physically distance, both indoors and out. Immunocompromised and unvaccinated people should continue to wear a mask and practice social distancing, per the C.D.C. Some states immediately adopted the guidelines, but Governor Cuomo said last Thursday that he would review them along with the state health commissioner and experts in surrounding states before doing so.
Masks will still be required on public transportation and in nursing homes, homeless shelters, schools, and correctional and health care facilities, and private venues may still impose additional requirements. "But for our part," the governor said, "we're adopting C.D.C. guidelines and saying, 'Let's open.' "
"This comes at a good time for New York, because we had already said we are going to do our major reopening this Wednesday," the governor said. With his counterparts in New Jersey and Connecticut, Mr. Cuomo announced earlier this month an easing of pandemic-related capacity restrictions at businesses, venues, and gatherings as of May 19, with proof of vaccination or a recent negative Covid-19 test.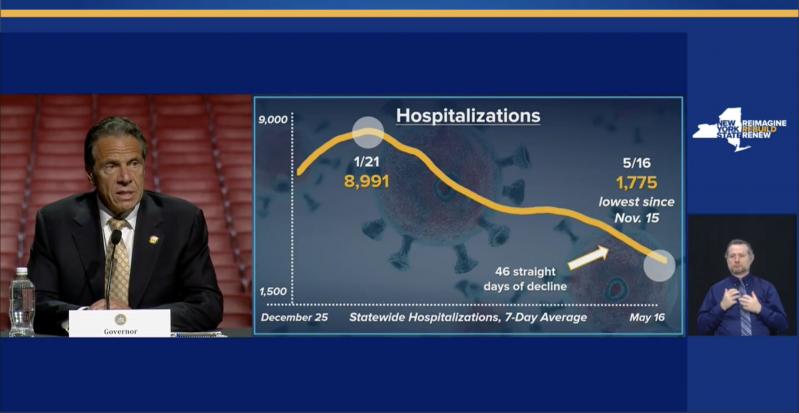 "New Yorkers have made great progress," the governor said. "All the arrows are now pointed in the right direction. So let's get back to life."
The statewide positivity rate was 1.26 percent on Sunday, based on 101,173 tests. The seven-day average was 1.11 percent, the lowest since Sept. 29 and representing 42 consecutive days of decline. Long Island's seven-day average of positive tests was .98 percent, and Suffolk County's was 1.1 percent for the second day in a row, the lowest since Oct. 21. 
Statewide hospitalizations fell to 1,581, the lowest total since Nov. 9. Covid-19 patients in an intensive care unit fell to 387, the lowest since Nov. 14. Eleven New Yorkers died from Covid-19 on Sunday, the fewest in one day since Oct. 30. 
Speaking to the press from Radio City Music Hall in Manhattan, the governor and officials including James Dolan, the chief executive officer of Madison Square Garden Entertainment, sought to incentivize unvaccinated New Yorkers to join the 52 percent of New York adults who are now fully vaccinated. Those attending concerts, sporting events, and other large gatherings can be asked to present proof of vaccination, they said, either the state's Excelsior Pass, digital proof of vaccination available via a smartphone app, or the C.D.C. vaccination record card given those to whom the vaccine is administered. At Radio City, for example, a "100-percent vaccinated, mask-free audience," will be able to see the closing selection in the Tribeca Film Festival on June 19.
"I encourage operators and venues to go higher than 50 percent vaccinated," Governor Cuomo said. "You can go to 100 percent vaccinated. That's in a private operator's control. From the state's point of view we want to encourage people to get vaccinated. Yes, there are health reasons, but we're opening up and we're opening up with more opportunities for vaccinated people." 
Vaccinations in New York were opened up to children 12 to 15 on Thursday following the C.D.C.'s emergency use authorization for the Pfizer vaccine in that age group. As of early Monday, 50 percent of New Yorkers had gotten at least one vaccine dose and 41.8 percent had completed their vaccine series.