The East Hampton School District has a tall task ahead of it this summer: replace the seemingly irreplaceable longtime employees who retired this year.
Among them are bus drivers, mental health staff, administrators, paraprofessionals, and teachers who have served the children of the district with distinction for more than 100 years combined.
"A lot of talent is leaving East Hampton this year," Adam Fine, the district superintendent, told The Star this week. "Their dedication and commitment to our students and community is immeasurable. When we look to replace departing staff members . . . we look to these retirees as a baseline for establishing what it means to work for our schools. They will be missed."
Among them is David Swickard, a Harvard-educated history teacher who came to teaching from the nonprofit world and worked at East Hampton High School for 32 years. "He has had some wonderful successes here," Jill Collins, an assistant principal at the high school who previously taught social studies, said during a June 6 school board meeting.
Dr. Swickard was the chairman of the social studies department for a decade, was the National Honor Society adviser for a time, and oversaw the school's Bonac Beachcomber newspaper for eight years. He taught a popular history elective, History Through Film, for 20 years up until the Covid-19 pandemic. It used film "as a window into history in order to create a kind of empathy for the people were who were living the events that I was preaching about in the classroom," he said in an interview this week.
He had "the ability to draw all type of learners" into his classes, Ms. Collins said, and often wrote "infamous letters of recommendation" for students going on to college and other milestones.
Unlike the other retiring employees, the district won't hire a teacher to fill Dr. Swickard's position. "He simply cannot be" replaced, Ms. Collins said. "He is a good, kind person that just came in each day hoping to instill the love of learning to his students, which he clearly has."
Dr. Swickard, whose wife, Kristine Swickard, is a Spanish teacher at the high school, said he plans to travel, explore new interests, and maybe even learn to play the piano. "I'm absolutely convinced that the fact that I have been talking to kids for the last 32 years has kept me feeling like I'm one of them," he said.
A colleague, Jim Stewart, a health teacher, taught at East Hampton High School even longer: With the exception of one year when the district was operating under austerity, Mr. Stewart was there since 1977. He coached soccer, wrestling, and tennis; he used his personal love of photography to advise the Tideline yearbook; he got involved with the school's Japan Club, and brought in mental health programs such as Sources of Strength and Compassion Without Borders.
"For a while, I was the only health teacher, so every student in the building went through my class at some point between grades nine and 12," Mr. Stewart recalled. "I have so many great memories of wonderful students. They taught me as much as I taught them, I'm sure."
Ralph Naglieri, the high school's other assistant principal, recalled that Mr. Stewart had "a unique way of taking attendance. When he calls a student's name, instead of the student saying 'here' or 'present,' they report a number to Jim from one to 10 as to how they are feeling that day. This process has always allowed [him] to get the pulse on the students in his class and give him an opening to connect with any student who may need some extra attention that day."
Mr. Stewart said he was first inspired to become a teacher by his father, Walter Stewart, who died on June 10 at the age of 98, and who had a long career teaching at Riverhead High School.
"It's been a great run. I've loved every minute of it," Mr. Stewart said.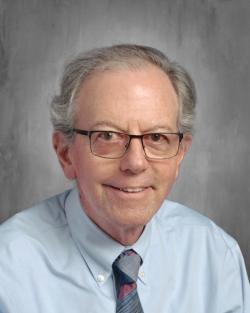 Daniel Hartnett, a bilingual social worker at East Hampton Middle School who worked for a time at East Hampton High School and the John M. Marshall Elementary School, is also retiring, leaving a set of compassionate, giant-size shoes to fill after 23 years in the district.
In his remarks to the school board on June 6, an emotional Charles Soriano, the middle school principal, described Mr. Hartnett as "a consoler, a guide, a shepherd."
Mr. Hartnett was an assistant principal at the elementary school; an interim middle school and high school principal; he was a morning greeter and adviser of the Gay Straight Alliance club; he was a cofounder of the alternative high school program, and he oversaw detention at the middle school, using compassion to establish "restoration and change" among troubled students.
He helped young people see "their best selves in someone else's eyes, someone who believes in them and someone who is their cheerleader," Dr. Soriano said. "This is the heart of educating young people, to draw them out of themselves and help them better become themselves. . . . This is the essence of Mr. Hartnett."
Mr. Hartnett said in his retirement he plans "to do a couple of things to create space for myself to see what's next," including Italian-language classes and a monthlong trip to Italy. Working at East Hampton was "really a wonderful experience. I met some amazing students, families, and some wonderful colleagues as well, some of the finest people on the planet."
"I believe the things you hold onto you lose, but what you give away lives forever," he later continued, "and they gave me the platform to give what I have away."
Also among the retirees was Judith Horan, a middle school special-education teacher who had a poster saying "Progress, Not Perfection" in her classroom. She "had the uncanny ability to draw out students' confidence," Dr. Soriano said. She taught "impeccably planned" lessons and activities, "and her students absolutely loved her."
Karen Kuneth, the elementary school principal, honored Karen Powers, who began as a paraprofessional in 2015, and was "passionate about safety" and "dedicated to the success of her students."
Ms. Kuneth also recognized Grace Nardy, who started as a paraprofessional in 2005 and worked in many capacities. Ms. Nardy "was always thinking about others" and helped create "safe and inviting learning environments."
Colleen Egelandsdal began teaching in East Hampton in 1998 and was "a perfect fit to teach" in the prekindergarten program, Ms. Kuneth said. "Colleen is kind and compassionate to everyone, children and adults," and "supports all of her students always, but she especially roots for the underdog."
Sara Smith, the high school principal, lauded Alyson Flynn, a 10-year teaching assistant, for being "probably our most patient and kind" employee. Ms. Flynn is "an intellectual" who was pivotal with revamping the school library after Covid. "No matter what we asked of Alyson, she was always on board, always a team player, always so amiable, and it should come as no surprise that she naturally connects with students," Ms. Smith said.
Sam Schneider, assistant superintendent for business, honored Deirdre Herzog, "possibly New York State's greatest district treasurer," who worked at East Hampton for more than 30 years.
Mr. Fine said Catherine Dickinson, a payroll supervisor who worked her way up from account clerk in East Hampton starting in 1989, performed her job "with fidelity and consistency over two decades."
Mr. Schneider also lauded the contributions of three bus drivers, Dorothy Jackson, who drove for 15 years, David DeSalvo, who drove for 13, and David Cheney, who drove for 16.
And J.P. Foster, the school board president, celebrated Jackie Lowey, a school board member who served four three-year terms, the last of which is ending on June 30. "Thank you for your 12 years here as a board member. . . . It's a huge commitment," he said. "We'll all miss you."