"We didn't plan this, but it worked out beautifully," Chris Mandato, East Hampton High School's band teacher and music department coordinator, said of the special distinction Thursday's large-ensemble concert holds: The band, orchestra, and chorus will each perform an original song written by a Long Island musician with a connection to East Hampton.
In the band's case, an East Hampton senior, Emily Ryan, is making her debut as a composer, and for the chorus, the song was created by David Douglas, who retired in 2016 after a 20-year career leading the East Hampton High school chorus. The orchestra will play an original piece by Sam Gelfer, whose father, Phil Gelfer, taught East Hampton's orchestra teacher, Stephanie Quigley, when she was in junior high.
During rehearsals last week, the students in all three groups started to truly grasp the magnitude of how significant these performances will be. "As the process has gone on, it has been a learning process for us all," Mr. Mandato said. "Performing works that you don't have previous recordings of can be challenging at times."
In Emily's case, her song, "Polyphonic Sledgehammer," started out as an experiment in writing a piece for two of her teachers to play. Then, the Covid-19 pandemic hit, and band class was split into small groups who could only play their instruments "with these weird little playing masks," she said. "The energy was really dead."
Composing on her computer while sitting at her kitchen table "ended up being a really valuable way for me to make up for all the music I was missing in my day-to-day life," Emily said. "I'm really grateful that our music teachers kept pushing ahead and enriching our education in the best way they could. I was glad to kind of turn the [pandemic] experience around and create the basis for something that I'm really proud of today."
She finds inspiration in video-game soundtracks, Japanese jazz fusion, and, having taken ballet lessons for many years, in romantic-era classical music. She admits to being a little nervous over how "Polyphonic Sledgehammer" will be received.
"We haven't had this piece in front of the band as long as the other ones . . . and there's always the fear that people might just not like my artistic voice," Emily said. "But that's kind of 'whatever' — I signed up for this. It was audacious enough of me to put myself out there. . . . My classmates were getting really hyped about it and that felt really, really good. To see kids talking about it, and practicing lines from it, makes me feel important."
After graduation Emily will attend Northeastern University to study computer science and music with a concentration in music technology.
"We're excited to showcase her work," Mr. Mandato said. "I don't know of any other student to have a piece premiered here at East Hampton."
In his piece for the chorus, which is conducted now by Melanie Freyre, Mr. Douglas adapted a poem written in 2018 by Wendell Berry titled "The Peace of Wild Things" into an acapella ballad. "He is a poet, novelist, essayist, environmental activist, and a personal hero of mine," Mr. Douglas said. "It's a fairly short poem that travels, for me, a great deal of emotional distance. It starts off referring to a kind of despair and then speaks of connecting with nature as a way of restoring a kind of peace and balance in life."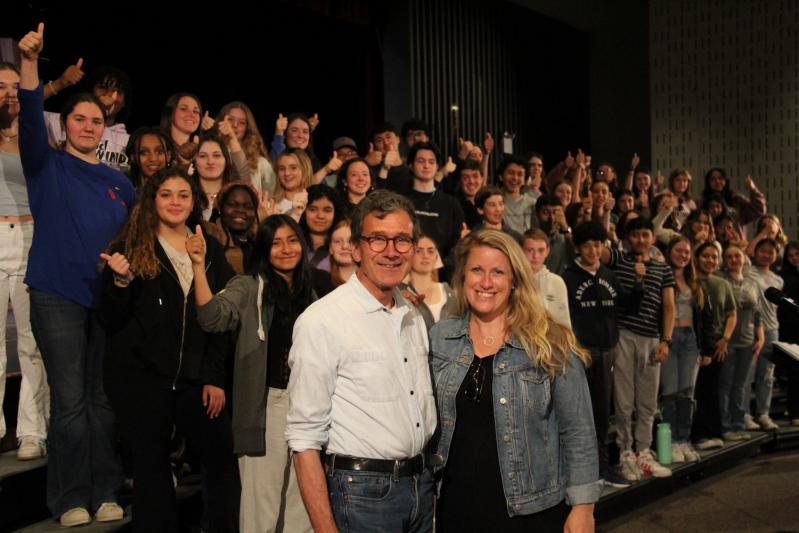 He returned last week to the chorus classroom where he taught for so many years, helping the current students understand the song. "It was nice," Mr. Douglas said. "It was emotional, and hearing the piece was of course emotional. I composed throughout the pandemic not knowing when or if I would hear any of this music sung by real human voices — people breathing and listening to one another and joining together in a common effort — so it was quite a treat to hear what Melanie and her students have done with it."
Ms. Freyre said the piece is "different from other things we've done, which fits nicely into our overall program."
"The notes and the rhythms are on the page, but all of the style and nuances and phrasing and breathing are premiering with us. It's brand-new," she said. "What I'm doing with them now, thousands have students have done in this room" with Mr. Douglas. "It's really something."
For Mr. Gelfer, who teaches at Howitt Middle School in Farmingdale, the orchestra's song, "Tectonic Shift," helped him attract the attention of some larger music publishers. It was released in 2021. He describes it as "an advanced piece. This isn't something that anything other than a skilled high school group or beyond could do."
He joined Ms. Quigley's class last week via Zoom. "It was such a pleasure to hear them play," he said. "They sound wonderful. I could hear every part coming out, even though it was through computer speakers. I can tell that the energy was there for sure."
Mr. Gelfer, too, began composing it during the pandemic, starting with the cello line that opens the song. "I sat on it for a while. Eventually I notated it out," he said. "Then it was 2020 and it was lockdown, and I suddenly had a lot of time on my hands, so I started fleshing out more of a full-fledged piece."
Ms. Quigley said the orchestra students picked "Tectonic Shift" themselves. "I gave them some options of new music," she said. "This piece in particular was their absolute favorite. They were begging me for it. It is a very challenging piece for them. The time signature is unusual, but they have taken it in stride and have worked really hard to make it sound really good. . . . They've really taken to the piece very, very well."
The large-ensemble concert Thursday starts at 7 p.m. in the school auditorium, and is free to attend.
On Wednesday, there will be a senior showcase, music honor society induction ceremony, and select ensemble concert starting at 6 p.m. The senior showcase will feature Emily Ryan on clarinet, Colin Tyrell on tuba, Kayla Lester on vocals, and Silas Jones playing the guitar and singing. The jazz band, Camerata, chamber orchestra, and select concert ensemble will perform.