Statewide on Tuesday, school district voters headed to the polls to weigh in on budget plans, board candidates, and ballot propositions. At stake were educational programs, extracurricular activities, facilities needs, and small class sizes, depending on the school district — all of which are balancing students' needs with fiscal accountability for taxpayers.
Sag Harbor
After several months of heated debate over the Sag Harbor School District's controversial plan to buy five wooded lots on Marsden Street, Tuesday's vote did not end in favor of the district. The tally was 1,081 votes in favor and 1,156 votes against.
It's likely now that the Marsden Street lots will be developed into houses. Pat Trunzo III, the builder who owns the properties under a limited liability corporation, has previously stated on the record that he is planning to refile his applications with the Sag Harbor Village Building Department should the school district's proposition fail.
School district voters approved the proposed $48 million budget for the 2023-24 school year, which carries one of the lowest tax-levy increases -- 1.88 percent -- among all of Long Island's 124 school districts. Voters also approved the creation of a new type of reserve account dedicated to security and technology upgrades, to be funded using year-end surplus money up to $10 million over 10 years. The budget passed 1,619 to 570, while the reserve proposition was approved 1,559 votes to 622.
The Sag Harbor Historical Museum was a big winner on Tuesday with a 1,684-to-504 approval of a ballot measure authorizing a brand-new tax levy of $75,000 to support its operations and programs for the first time. The annual tax impact is expected to be about $6.48.
In an uncontested school board race, Sandi Kruel, with 1,588 votes, and Alex Kriegsman, with 1,523, were re-elected to three-year terms, joined by a newcomer, Daniel Marsili, who received 1,564 votes. 
Wainscott
The Wainscott School District failed to receive support for its over-the-tax-cap budget plan on Tuesday, missing the necessary 60-percent approval for the $6.13 million spending plan by three votes. Voters approved an additional $1 million in taxes for the current school year, as the district faced a budget shortfall tied to an unexpected increase in enrollment.
In one of the region's two contested school board races, the first in Wainscott in 12 years, David Eagan, the sitting school board president, defeated Melanie Hayward, a newcomer. Exact vote tallies were not available by press time. The term is for three years.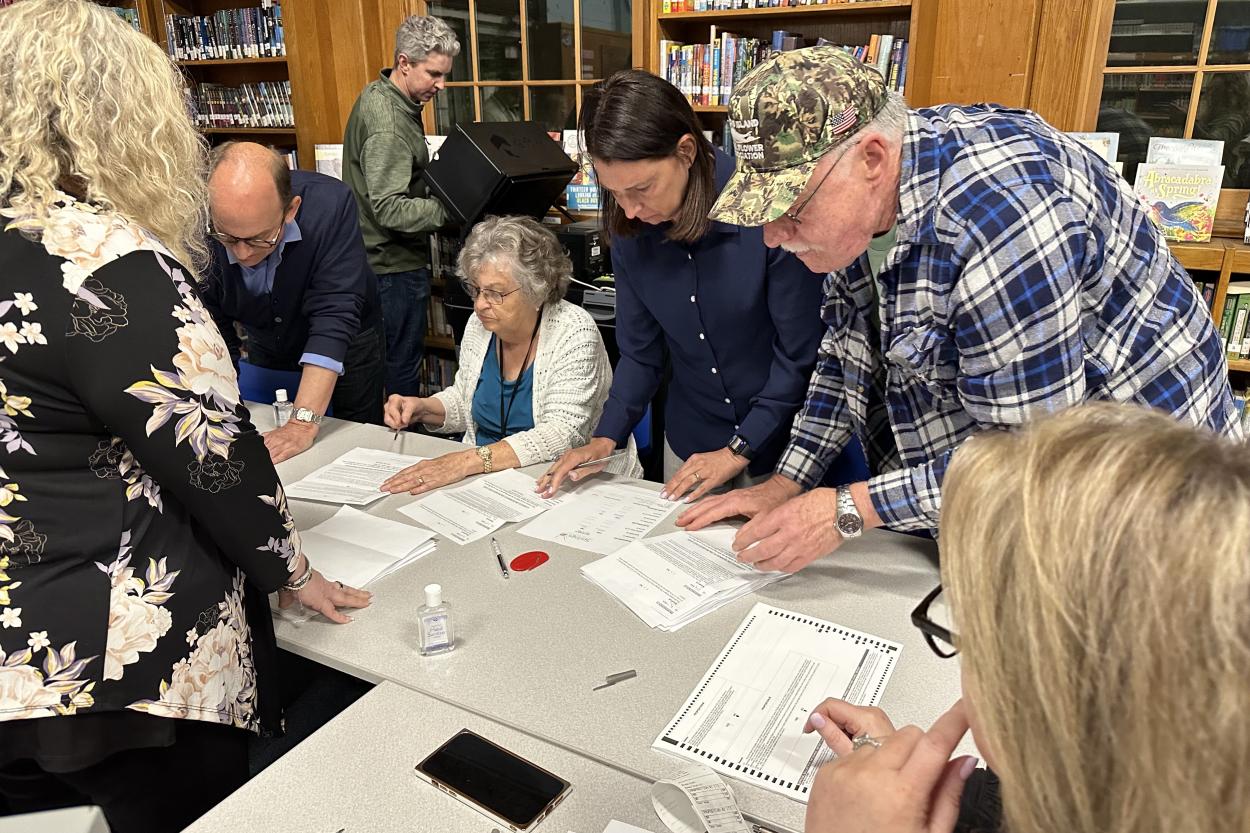 Springs 
It was a tough ask of Springs taxpayers, who already face some of the highest taxes in town, but Springs School District officials apparently stated their case successfully enough leading up to Tuesday's vote. By a tally of 355 to 194, residents approved the district's first tax-cap-busting budget, a $35.4 million spending plan that carries a 5.15-percent tax-levy increase. The district needed at least 60-percent voter approval, and got 64.6 percent.
Katie Sarris, new to the school board, and Pat Brabant, an incumbent candidate, were elected to three-year terms in an uncontested school board race. They received 426 and 401 votes, respectively.
East Hampton
In addition to passing the school district's $79.1 million spending plan with 85.6-percent voter approval, East Hampton residents also said yes to a $3.925 million capital-improvement plan covering upgrades and renovations across its three campuses.
The budget vote tally was 287 yes to 48 no, while the capital plan received 296 yes and 36 no votes.
In the second contested local school board race, East Hampton voters re-elected John Ryan Sr. with 243 votes and supported Emily Agnello with 257 votes. Their terms are for three years. In third place, George Aman received 92 votes.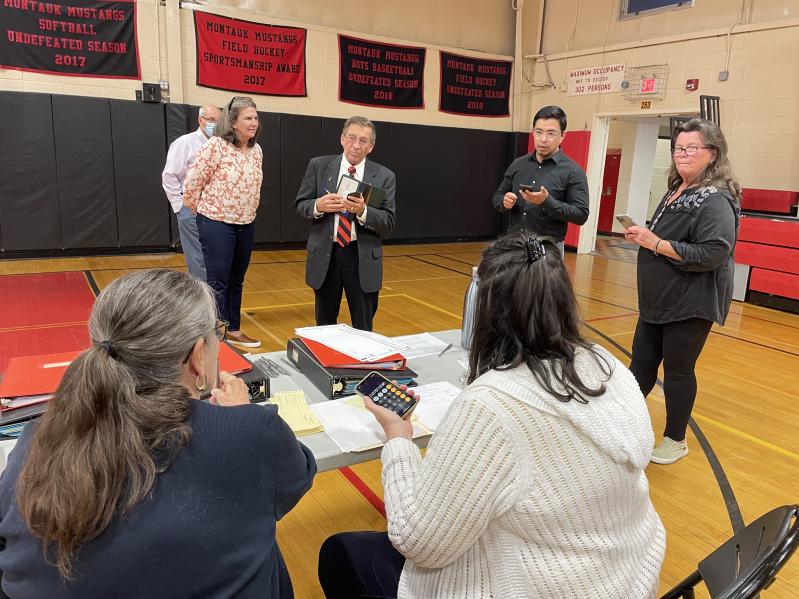 Montauk 
In the Montauk School's first time ever attempting to pass an over-the-tax-cap budget plan, voters supported the budget by a margin of 167 yes to 80 no votes for a voter-approval rate of 67.6 percent; the district needed at least 60 percent for it to pass. The budget is for $22.73 million, with a tax-levy increase of 18.56 percent.
Running unopposed to retain his school board seat, Lee White was re-elected with 224 votes. 
With Reporting by Jane Bimson
Amagansett 
Residents of Amagansett approved the district's 2023-24 budget of $13.16 million on Tuesday. The final vote was 84 yes and 9 no. The spending plan stays within New York State's tax-levy rules with a 2.29-percent increase.
By 83 to 8, voters approved Proposition 3, a 15-year, $1.8 million bond to pay for new ventilation units for classrooms as well as sidewalk repairs. The school district also got a green light, 85 to 7, to buy a new bus for $148,611, which is not expected to impact taxes because the money has already been set aside in a reserve account.
Both running unopposed, two school board candidates were elected: Kevin Warren, an incumbent, and Addie Slater-Davison, a newcomer, with 70 and 81 votes, respectively. Their terms are for three years.
Voters approved the Amagansett Library's budget of $1.36 million, 89 to 4. 
Bridgehampton 
Bridgehampton's budget plan, a tax-cap-compliant $21.74 million, was easily approved on Tuesday by a margin of 92 to 29, for a 76-percent voter approval rate. There were no additional propositions on the ballot this year.
Voters also re-elected Markanthony Verzosa and Kathleen McCleland, two incumbent school board members who were running unopposed. They received 100 votes and 107 votes, respectively.
Sagaponack 
In a budget year that saw a total proposed spending increase of less than $18,000, Sagaponack School District voters approved the budget plan of $1.89 million. The tally was 13 to 0.
Thomas Schultz, an incumbent school board candidate, was re-elected with 13 votes to another three-year term. The race was uncontested.