East Hampton High School's Methods in Research program is equipping inquisitive teens with the scientific skills they'll need when they graduate and go out to change the world.
At least, that's the direction in which many students are headed, if Tuesday's science-research symposium is any indication. Back (in a new format) for the first time since the Covid-19 shutdown, the event showcases the work being done by the 43 students in the program, which has been in operation since 1997.
Aryan Chugh researched ways to make lung cancer treatment more effective; William Darrell experimented with breaking down single-use plastics. Grace Merkert explored entomophagy (the eating of insects), while Carolina Condon studied coral-reef restoration. Joseph Scully looked at Lyme disease prevention, Tenzing Tamang studied ways to revive the American chestnut tree population, and Olivia Suter examined the relationship between ocean acidification and carbon emissions. And these are just a few of the big topics being tackled.
"They can choose any area that's interesting to them," said Stephanie Talmage Forsberg, one of the program's three teachers. "In the classroom they can do everything from developing their questions to Zoom meetings with their mentors. We are giving them skill sets, like presentation skills, but a lot of the actual lab work happens in the nights, weekends, and summers. It's a full commitment. . . .  Hopefully that will end with our seniors in continuing possible pathways in college and beyond."
Dr. Forsberg is proof that the program works. She herself, a 2000 graduate of East Hampton High (and a 12th-generation East Hampton resident), was a semifinalist, as a junior in 1999, in the Intel National Science Talent Search competition. She graduated from Cornell University and then went on to work in scientific settings around the world. Her journey has come full circle: She joined the East Hampton faculty this year after teaching for nine years in Hampton Bays.
Her faculty colleagues are Renee McGuire, the science department coordinator, and Dr. Paul Rabito, who oversees the research program.
"When I inherited the program, it was four to six kids, and we're now up to 43 kids," said Dr. Rabito, who came to East Hampton seven years ago after a 20-year career practicing medicine. "It has turned into a pretty significant program. We see growth — it's all about growth."
A turning point happened when he and Ms. McGuire began talking up the research program not just to their Advanced Placement students, but also in the living environment classes that most students take as freshmen. This helped them to recruit a more diverse group of research students.
Now, East Hampton is starting to compete with Long Island science-powerhouse high schools like Jericho and Ward Melville. In 2022, an East Hampton student, Anika Petruccelli, advanced to the Long Island Science and Engineering Fair, the first time that had happened here. This year, East Hampton was represented by three students: Egan Barzilay placed second with a study of wind-farm turbine efficiency, and Skye Tanzmann and Cooper Ceva each earned an honorable mention for their projects, respectively, on environmental factors that impact oyster-growing and on the use of bacteria to break down oil spills.
Methods in Research seems to attract students who are already naturally curious, said Ms. McGuire, who co-teaches the 10th grade beginner research classes with Dr. Forsberg. "It's wonderful to watch them grow and develop," she said. "They're so full of questions. . . . For the majority of them, science is pretty much their thing."
Those who complete the program earn a total of 12 college credits through the State University at Albany. As sophomores, they seek Ph.D. mentors from the academic and professional worlds.
"I really feel like these students enrolled in our program are our future," said Ms. McGuire. "They're going to be helping us solve some of the world's problems."
No pressure, right?
Wrong. Theirs is a generation that is hyperfocused on environmental sustainability and conservation, to stem or reverse the impacts of climate change. A 2021 Pew Research Center study showed that 67 percent of "Generation Z" — defined as those born in 1996 and after — feel that this needs to be the top priority of science and advocacy to sustain the planet.
"Climate change is rapid, and I think everyone's starting to realize how urgent change needs to be," said Stella Peterson, a sophomore whose project entails sustainable architectural design. "A lot of the topics around here have to do with the environment because everyone is so passionate about it."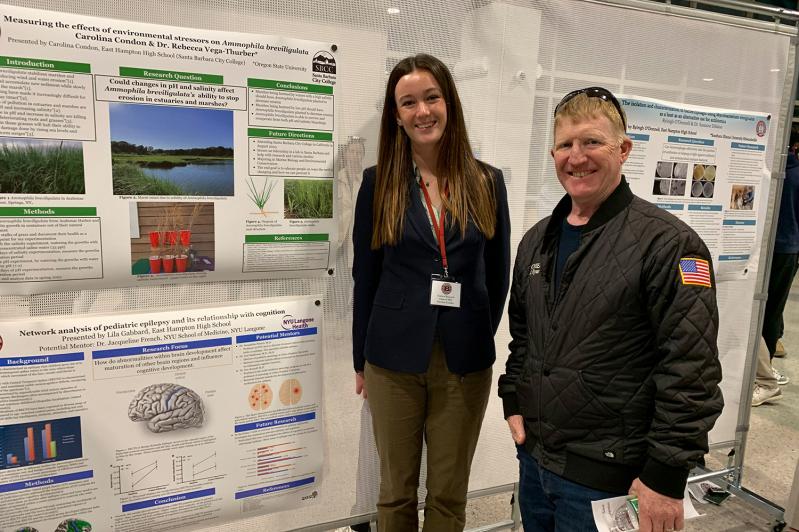 A challenge that the research students face is East Hampton's remote geographical location; students have had to commute long distances to professional laboratories. For instance, Cooper wound up spending entire school days working on his project at the New Jersey Bioscience Center. Finding an academic mentor can be tough as well; Skye landed her mentor early on, but William struggled through at least 50 attempts to connect.
That's when finding a local mentor makes all the difference. It was the case for Skye, who worked with the South Fork Sea Farmers on oyster reefs in Accabonac Harbor, and for Abe Stillman, a sophomore studying alpha-gal syndrome, whose mentor is Dr. Erin McGintee of ENT Allergy and Associates in Southampton.
"It's been an amazing experience. She's the regional expert, and having someone so close and so knowledgeable is a gamechanger," Abe said.
"They're teaching me how to take science to another level," said John Chillogalli, a sophomore studying what's impacting local fish populations. "We can go even farther."
Sara Smith, the school principal, opened Tuesday's symposium by acknowledging the students' families for supporting the considerable commitments of time and resources that the Methods in Research program asks of their kids.
"The unknown, the ambiguous, is uncomfortable territory for us," Ms. Smith said. "Which is why research scientists are a special breed. You are dealing wholly with the unknown, the unanswered, the questionable, and this is slippery and uncomfortable territory. . . . You, our research students, had the guts and tenacity to stick with it, even in the face of uncertainty."