With names sounding like something from a cool animated TV show, the Springs School's two robotics teams — the Lightning Bots and the Thunder Bots — have had a banner year in competition.
At a FIRST Lego Robotics contest on Sunday at Hicksville High School, the Lightning Bots took home the Rising All-Stars award, which "celebrates a team that the judges notice and expect great things from in the future," the coaches, Laura Foti, a math teacher, and Erik Schwab, a science teacher, said in an email. Consisting of Austin Allen, Danny Chuya, Watts Comly Bolick, Max Oransky, Adrie Quinn, and Josue Llivicota, who range from sixth to eighth grade, the squad will now move on to the next level of competition, where they will face teams from across the country in late May or early June at a location to be determined.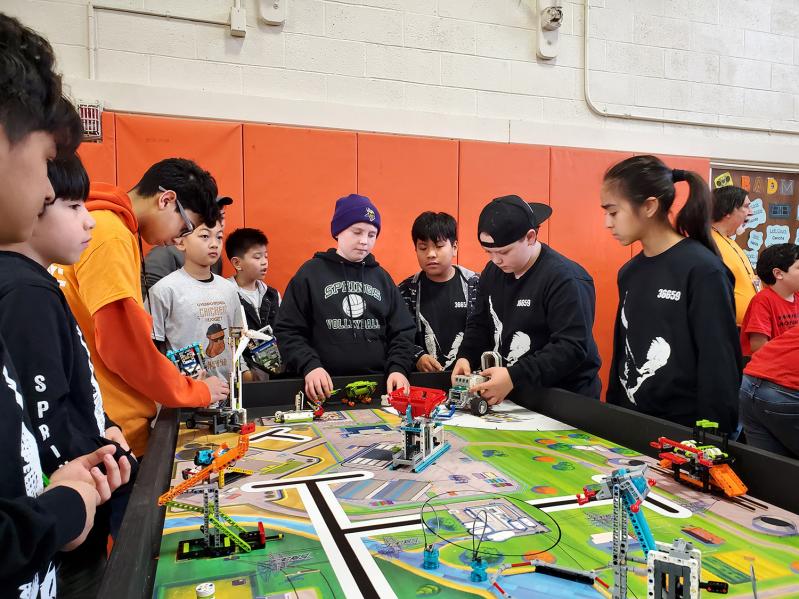 Each squad designed, built, and coded its own robot and prepared presentations for the judges, including a "core values" project showing the students' understanding of innovation, impact, inclusion, discovery, fun, and teamwork.
Last month, the Lightning Bots received an Engineering Excellence Award, "which celebrates a team with an efficiently designed robot, an innovative project solution that effectively addresses the season challenge, and core values evident in all they do," the coaches said.
The Thunder Bots, consisting of Tucker Bock, Geoff Lopez Bermeo, Jackson Rodgers, Danett Gonzalez, Jay Barrera, Lucas Gonzalez, Sam Ginden, Justin Otavalo, Elijah Padilla, and Liam Beckert, took home an Innovation Award in February. This means that the team "utilizes diverse resources for their Innovation Project to help them gain a comprehensive understanding of their problem, has a creative, well-researched solution, and effectively communicates their findings to judges and the community," the coaches said.
"We are very proud of both of our teams!" Ms. Foti and Mr. Schwab said.