Twelve Bridgehampton High School seniors earned diplomas on Saturday in a ceremony filled with inspirational words and advice along with well-wishes and warm moments of humor.
"Home, the 'Hive,' has prepared you for this very moment. . . . You got this," said Ron White, the school board president. He told the new graduates to "be loud, be proud, be positive . . . be bold, be present." He urged them to make their voices heard by voting, to practice self-care, and to "find a way to give back."
As is the tradition at Bridgehampton graduation ceremonies, Michael Miller, the school principal, read personal statements that the students wrote in response to the prompt "one important aspect of my high school career that I will always remember and cherish," as well as people whom they would like to thank.
Victor Ajcot Perez said he loved playing on the soccer team and being with "the best friends and also the best teachers."
Perla Cruz said she will always cherish being able to attend school with her siblings, Vanessa, Christian, and Ruby, and thanked her first-grade teacher, Nina Merkert, for instilling in her a love of learning.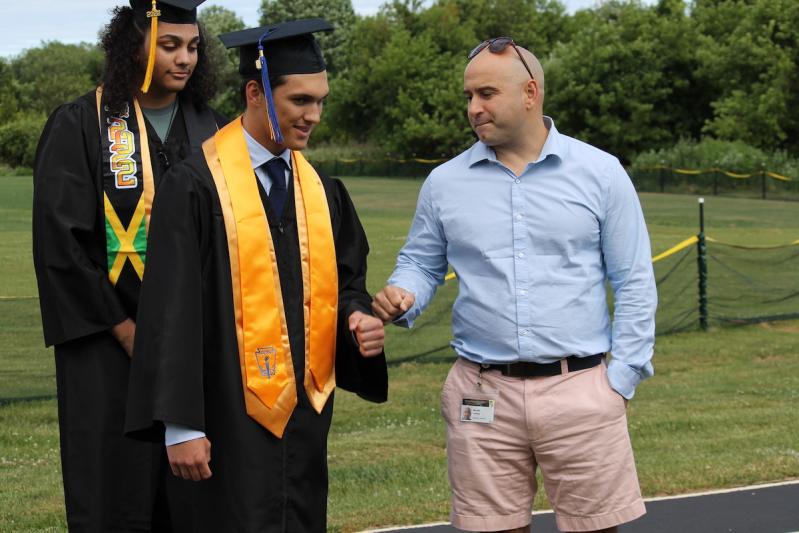 Several students thanked Ninfa Boyd, a high school teaching aide who works with students in the English as a new language program, for helping them improve their language skills and overcome personal challenges. Other students acknowledged Judiann Carmack-Fayyaz, a popular technology and agriculture teacher who is leaving Bridgehampton after 16 years, for her innovative teaching methods and resources and for creating a safe space for students to be themselves. Lenore Wright, an English teacher who is retiring, was thanked for teaching students to question the world with a thoughtful, critical eye.
Anthony Cabrera thanked not just his family but also his dog, Chubba, who attended the ceremony and was a very good boy throughout.
Grace Turza, the class of 2022 salutatorian, livened things up with a lyric from a well-known Miley Cyrus song. "There's always gonna be another mountain; I'm always gonna want to make it move. It's always gonna be an uphill battle; sometimes I'm gonna have to lose."
"Just the other day we finished climbing our proverbial mountain: we finished high school," she said, then cautioned her peers that failure may come along with success. "By failing, you now know what you need to do differently next time. Only by accepting the possibility of failure can we climb our mountains and overcome any challenges that befall us."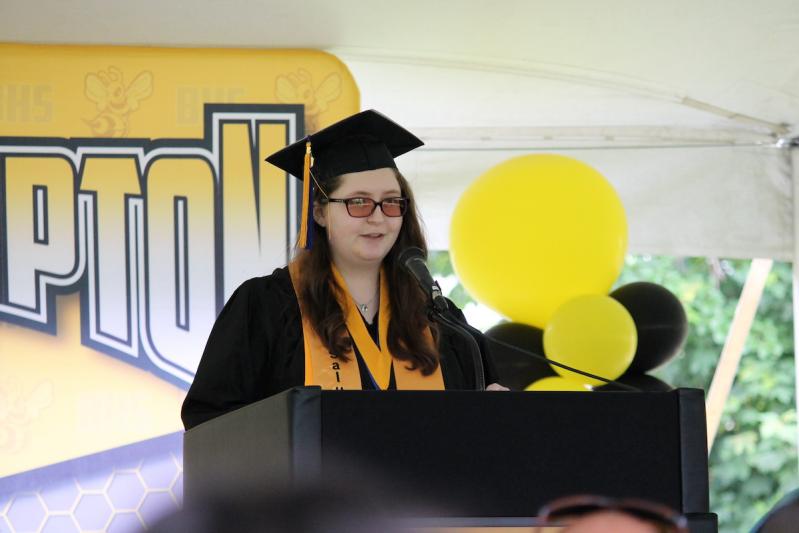 In her valedictory speech, Ayanna El congratulated her peers for making it through a global pandemic. "I think we can all agree it was not easy," she said. "Although it was an extremely sad and stressful experience, we all made it through because of our ability to adapt, and for that we should give ourselves a pat on the back."
Ayanna thanked the school's faculty, staff, and administrators for being there for students, many of whom would stay after hours to "talk students through their big life-steps."
"We all know Bridgehampton is a unique place," she said. "There's no doubt that there are teachers and administrators who go above and beyond the normal aspects of their jobs to make sure students can achieve their goals . . . and have a large impact on a lot of students."
Minerva Perez, the executive director of Organizacion Latino-Americana of Eastern Long Island, was the keynote speaker; for the many Spanish-speaking family members in attendance, she said a Spanish-language translation of her remarks would be posted on OLA's Facebook page.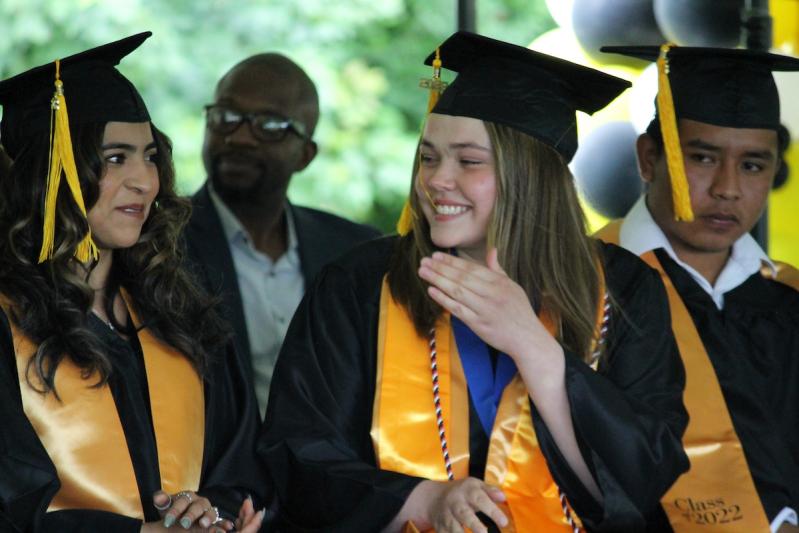 She advised the students that finding one's way is not easy, nor is it meant to be easy. "You will experience — and perhaps already have — the worst of human nature," Ms. Perez said. "But I assure you that they will never experience the best of human nature if they do not find enough peace to move on and continue to offer the best of themselves, even when it seems useless. Even when no one seems worthy of your best, always know that you are."
Taken all together, the students amassed more than $65,000 in scholarships and grants to support their post-high school plans.
Even the rooster and chickens from the school's nearby coop seemed to chime in, clucking and crowing as if saying farewell to the students who had helped care for them over the last couple of years during agriculture classes and clubs.
Mary T. Kelly, who is in her first year as Bridgehampton's superintendent, sent the graduates on their way with what is perhaps Neil Armstrong's most famous quote, spoken upon the first NASA moon landing in 1969: "One giant step for man, one giant leap for mankind."
"As I look at the members of the class of 2022 this afternoon, I am very optimistic," Dr. Kelly said, "because I see the future, and I am confident that the world will be assured many more giant leaps for mankind — because you will lead the way."