As recently as last year — and historically over many years past — having more students at the Springs School would have been a problem because of overcrowding. That is not the case anymore, now that Springs has finished the bulk of its $23 million renovation and expansion project — meaning its 707 students (up 67 from this time last year) have more space to stretch their learning legs.
In a one-on-one tour of the new facilities this week, Debra Winter, the district superintendent, described the whole project as a "labor of love" that progressed quickly within the days leading up to the first day of school. It is substantially complete, with the town fire marshal signing off on an inspection as long as the work-in-progress areas were kept locked during school hours.
"I was here on a Sunday with movers," she said. "We all worked together. You saw teachers moving furniture — no 'it's not my job.' I'm not going to say it wasn't nail-biting, but we made a commitment that we would open on Sept. 9."
Forty-three new students have registered with the district since Sept. 9, the first day of the 2021-22 school year. Ms. Winter said Monday that grade-wise, the students are evenly distributed among the elementary, middle, and high school grades.
The school building itself is handling the additional students well, but the impact of the newly arrived high school students, whose attendance at East Hampton is paid for by Springs, is where the district is most acutely feeling the influx. Ms. Winter said Springs is officially overspending its budget for high school tuition. 
The tour of the revamped school building began at the sparkling new playground, then through the threshold of what used to be the back door but is now the front entrance. Inside, the first stop was the new technology classroom, where students will learn computer skills and hands-on subjects like robotics and woodworking. Electrical cords on pulleys dangled from the ceiling, ready to power whatever tools might be in a day's lesson plan. 
Throughout the building, temporary, hand-written signs direct students to various exits and rooms — another condition of the fire marshal's signature, Ms. Winter said. They are to be replaced with permanent ones, but "I can't believe how long it takes to get a sign," she said.
In the school's first fire drill of the year, the building was evacuated in two minutes and 20 seconds — a satisfactory result.
The gymnasium is a high school regulation-size gym, complete with a folding partition that can be used to divide the space. The bleachers seat 250 people socially distanced, as proven during a recent schoolwide staff meeting. There are two scoreboards. "Both work," Ms. Winter said.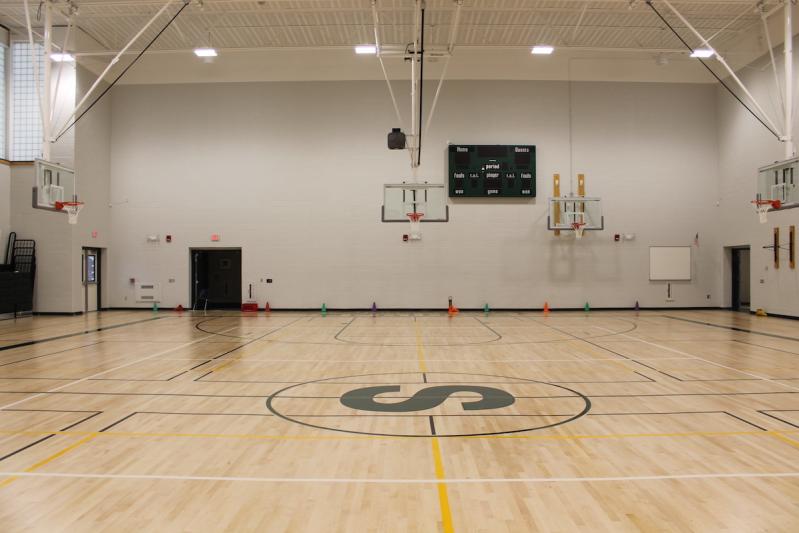 Much of the old gym has been carved up into several small-group rooms for services such as counseling and occupational, physical, and speech therapies. Those were previously offered in the "commons," which would get so chaotic that Ms. Winter compared it to Grand Central Station. "Not anymore," she said.
The entire building has been rearranged, with the exception of the third-grade classrooms. Those stayed put. The administrative offices are last on the list of projects to finish. "Kids and teachers first," Ms. Winter said.
Still under construction is the band room, but the space is airy and bright. Ms. Winter could clearly picture its being used for rehearsals of the fourth-grade opera; that beloved program is slated to return this year. Also still in progress are the main office, auxiliary gym, faculty room, and academic enrichment program room.
If she could choose only one favorite new spot in the building, Ms. Winter said it would be the middle school art classroom. It's filled with natural light and has cabinets on wheels that can be used to switch up the room's layout. Ironically, it was one of only a handful of rooms that didn't get new tables. But it has been decorated cheerfully, and there's adequate storage for supplies and students' works in progress.
The last stop on the tour was the new soccer field, which is lush, green, inviting, and surrounded by a black chain-link fence that had at one point been the source of some complaints. Ms. Winter said the fence blends in and makes the campus safer.
Students and staff members are raving about the changes. "I'm feeling very happy and blessed to be in a brand-new environment," said Michael Biggs, a recently hired social studies teacher.
Jane White, a Springs School recess monitor whose granddaughter is in seventh grade there, and who attended the school herself some 60 years ago, said the school is even better than it was back then. "I love it," she said. "I wish I could come to school now."
Lydia Rowan, an eighth grader, said she's gotten lost a few times, but otherwise it's easier to learn in such a nice and fresh environment. She is looking forward to being in the new art and technology rooms.
"I saw the gym for the first time on Friday last week. I liked it. I thought it was cool," she said. "Before, it was a lot more crowded. Kindergarten through eighth grade would walk together in the hallways. Now, in the new construction it's mostly middle schoolers, and we don't really see the elementary school kids as much anymore."
Brianna Stone, a parent of two Springs kids, said they are particularly excited about the gym and playground, and that they don't have to travel to portable classrooms or the Springs Youth Association building. "They are so excited to have a big space to play and run around in," Ms. Stone said. "They really do love the new playground as well. I think not having one for a while had an impact on what made recess fun."
Christine Cleary, the principal, told the school board on Monday that she saw students' jaws drop when they saw the new gym, playground, and classrooms. "Personally speaking, I'm overjoyed. I feel that from the kids as well. . . . They're very happy."
A ribbon-cutting ceremony is tentatively scheduled for Oct. 18, likely with public tours to follow. "We want to let the community come in and see what their tax dollars paid for," Ms. Winter said.
To finish up the work — including what is known as last-minute "punch list" items — Derek Knatz, vice president of Park East Construction, said during Monday's school board meeting that the crews are committed to working a "second shift," starting at 2 p.m. and going through 10:30 p.m. Many of the classrooms have handwritten punch lists posted on their doors.
"All of the areas currently under construction will be ready for that ribbon cutting," Mr. Knatz said. "It's been a little bit of a slow start . . . as the general contractor was waiting for some materials that were back-ordered and long lead items that kind of just got stuck."
There was an extensive discussion of the infamous car line, which school officials are still adjusting for efficiency and safety. Signs will be installed to guide the lanes of incoming and exiting traffic; roads will be appropriately striped, but the backup of cars on Old Stone Highway is still being addressed. Ms. Winter also said pedestrian safety needs to be a priority. Monique Sullivan, a Springs teacher, raised the concern of emergency vehicle access and teachers being able to leave school on time amid car-line traffic.
"Eventually this will shake itself out. We need reinforcement to teach and let the parents know what they are supposed to be doing," John Longo, vice president of BBS Architects, said earlier in the meeting. "It's a bit unorthodox, but once that hurdle is cleared, it will be evident to everybody."