For many of East Hampton High School's 231 graduates, one obstacle that defined the last two years of school was merely a postscript to the graduation festivities. Instead of the masks, social distancing, and other limitations that were for many months necessary because of Covid-19, there were high-fives, hugs, and smiles in abundance.
In his first graduation address since becoming East Hampton High School's principal last summer, James Crenshaw called the seniors "remarkable."
"When this group was faced with challenges and changes, they adapted," he said. "They did it with grace beyond their years. . . . On a personal note, one of the highest points of my career was being your principal for your senior year."
"This school has enough love to fuel the world, and I truly felt it every time I entered this building, so thank you," said Hannah Hartsough, a co-president of the Student Association. "Thank you for beginning friendships that will last a lifetime, thank you for offering a place to grow into young adults. . . . Thank you for being the place we can start our legacies and hopefully inspire others to start theirs."
When a person driving a motorcycle revved his engine past the school during her speech, it was just another unexpected obstacle. "Really?" she remarked before continuing, unfazed.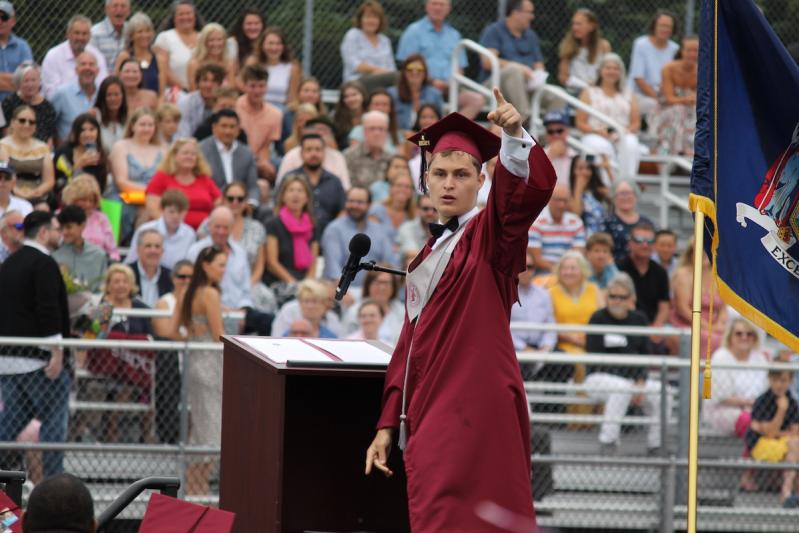 "We are stronger and more united than ever before. Our resilience and perseverance are proof that we can do anything," Jake Epstein, president of the senior class, said in a rousing speech. "We will all have successes, and we will all struggle," he said, "but we can call on the strength that we honed in these crazy years and feel confident that we can successfully navigate anything that life throws at us, and when we cannot figure it out on our own, we can reach out to each other because we will always have a special bond that can never be broken. You are not alone, especially when you come from such a strong community."
Ben Barris, the valedictorian, cautioned his peers about focusing too much on the future without appreciating the special moments along the way. "Let's not be too eager to say 'goodbye' yet. We want to be able to look back at this exact moment and clearly remember the pride and excitement we felt. . . . It's important for all of us to take a step back and cherish the individual moments."
Anni Spacek offered this advice in her salutatorian address: "Let yourself grow. . . . Follow what you genuinely find interesting. Test out new things; put yourself out there because in all honesty we are still getting to know ourselves. We are all layered and have complex stories to tell. Keep your mind open to everyone's story, even those you don't agree with, because they're all trying to figure themselves out, too."
Covid had "a big impact on my high school career, but I tried my hardest, everyone tried their hardest, and we just pushed through. Everybody made it," said Ramon Card, who completed an automotive technical program while at East Hampton and has plans to work in the field right away.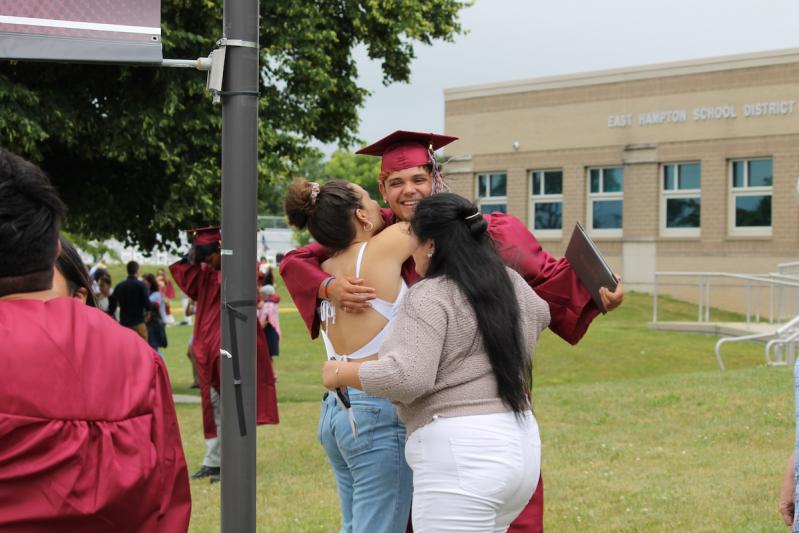 Seventy-eight percent of the graduates will attend a college in the fall, and another 17 percent will be entering the work force directly.
Three Bonackers, James Barros, Rene Criollo, and Christian Soto, are headed to the United States Armed Forces.
"I think high school was very interesting. I learned a lot and made a lot of new friends. My next journey is going into the Marine Corps," Christian, who is from Springs, said as two Marines, Major Denny Graziosi and Sgt. Marcus Santana, looked on. "I'll hopefully learn new things and after that, we'll see. It's something new. I wanted to challenge myself."
Fifty-six members of the class of 2021 were in the National Honor Society. Of the graduates, 111 received Regents diplomas, 94 earned Regents diplomas with advanced distinction, and 21 students received Regents diplomas with advanced honors.
Twelve students were honored for academic excellence spanning four years. Amanda Krahe received the art award, and Jake Epstein received the business award. Anni Spacek was honored for communications and science; Ben Barris was honored for math and social studies. Aubrey Peterson received the community service award, Mary McCann the English award, Kevin Chabla the music award, and John Rutkowski the technology award. The family and consumer science award was given to Lucie Sarrazin. Kevin Chabla and Hannah Hartsough received honors in Spanish, and Hannah Hartsough, Anna Hugo, Burton Garneau, and Matthew McGovern received honors for physical education.
Students said their fondest memories were of March Madness, clubs, sports, and activities, and a senior banquet at the Clubhouse for which they had lobbied in full force.
"It was a really good four years," said Mia Pardini, who is headed to the College of Charleston in the fall. "I'm going to miss it."