From mowing lawns for the elderly to raising chickens to mounting an exhibit on the history of Sag Harbor, this summer has been anything but boring for some kids on the South Fork.
With school out and summer in full swing, kids had no choice but to get creative if they wanted to fill their days. 
For 9-year-old Jordan Lawnes of Sag Harbor, summer was all about giving back to his elderly neighbors. Jordan took on the Raising Men Lawn Care Service's 50 Yard Challenge. The nonprofit has challenged kids to cut 50 lawns for the elderly, disabled, single parents, and veterans.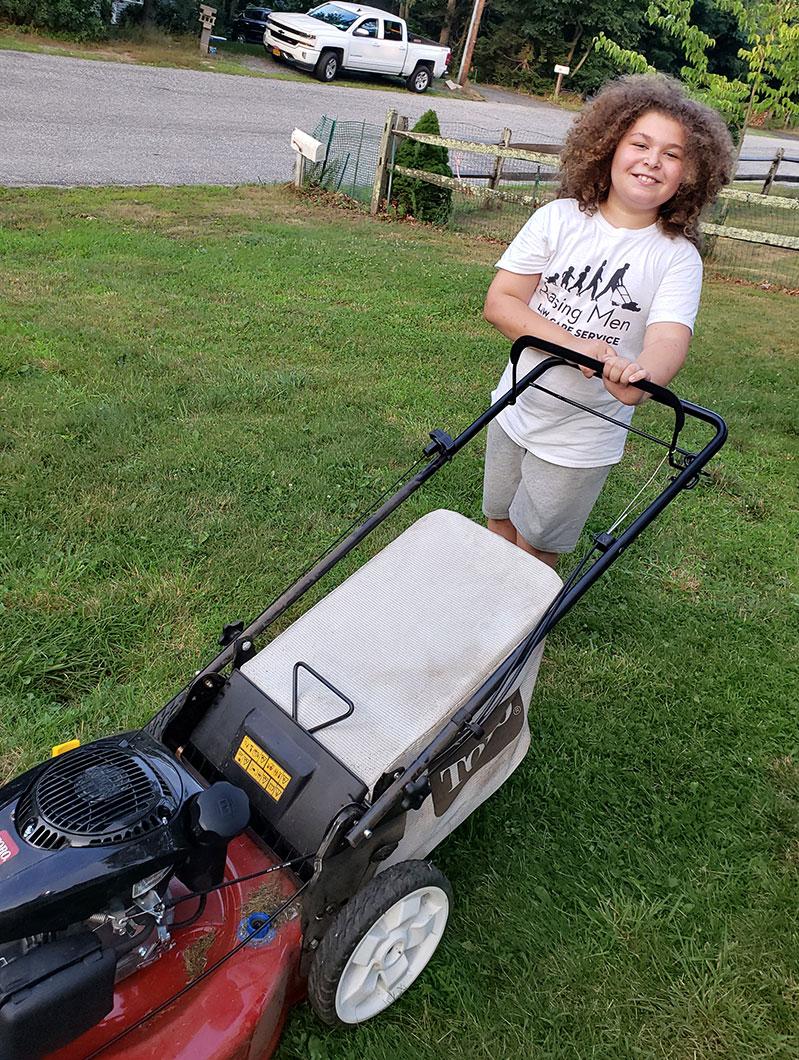 "I am motivated by the fact that some people are sad and can't do stuff for themselves because they don't have the power to," Jordan said in a phone interview. "I don't want people to have a terrible house just because of they're too old to keep up or because they don't have the money."
The Raising Men organization strives to encourage youth to give back to the community through seasonal household services such as mowing lawns, shoveling snow, and raking leaves.
Jordan, a self-proclaimed handyman who takes on projects like building his own bed frame from scraps of wood, committed to the 50-lawn challenge in April. So far, he has been cutting eight lawns.
His mother, Sara Gale, found out about the challenge on Instagram. "I want to expose my kids to being helpful without expecting something in return. He has so much energy and is always moving and doing. I knew he would love to do this."
Jordan, who counted 156 days in quarantine with his family, is looking for more people to help. To his surprise, finding them on his own has been difficult. He hopes to work incrementally toward the 50-yard goal -- his first feat will be to mow 10 yards, which will win him an orange T-shirt from the nonprofit. 
"He's only 9 but he can be powerful," his mother said. "Sometimes people don't give credit that kids are due."
When the pandemic began, Judiann Carmack-Fayyaz, a teacher at the Bridgehampton School, had just ordered 16 chickens for her students. She had her hands full running the school's garden program -- which consists of a 1,000-square-foot greenhouse, a farm stand, and the newly acquired hens and their coop.
So when Stephen Peck and Samantha Grabb, both incoming sophomores, stepped up to the plate, it was the beginning of something great.
They approached her "looking for something creative to do," she said of the teenagers. "In terms of attitude and initiative, it was quite amazing."
"Originally, I wasn't interested because I had no experience in agriculture," said 15-year-old Stephen, whose family also lives on New York's Upper West Side. "But I tried it and I didn't look back."
"Every day there was something different to do," he said. Whether taking care of the chickens, watering plants, painting the farm stand, baking, or seeding, the two teens kept busy.
"Keeping the farm stand alive was great because we were able to give whatever was left over to families who needed help," Ms. Carmack-Fayyaz said of the program.
They were able to supply 40 to 60 care packages each week.
"We had an overwhelming sense of appreciation with the families," said Ron White, the president of the Bridgehampton School Board, who helps run the school's Sprouts program, which provides food to families in need.
  "The kids were phenomenal," said Ms. Carmack-Fayyaz. "It's really great to see kids trying to use their time creatively, wisely, and productively."
There was perhaps no teen quite as busy this summer as 17-year-old Aubrey Peterson of East Hampton, who is an ocean lifeguard during the week and a museum curator and tour guide on weekends. 
This summer, he wanted to do something larger than life.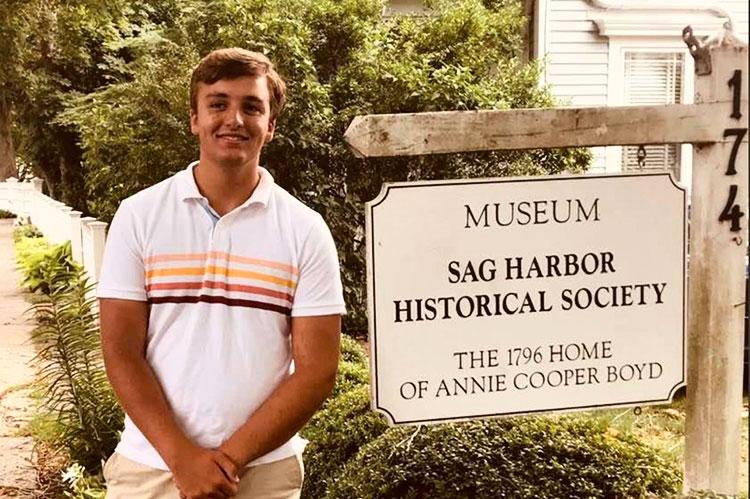 A history buff, he proposed a research project that would dig into the history of immigration in Sag Harbor.
"He's been obsessed with history since he was 5. No joke," his mother, Susan Peterson, said on the phone.
Aubrey, who will be a senior at East Hampton High School, has been volunteering as a summer tour guide at the Sag Harbor Historical Society since he was 11. 
"He felt like he found his people there -- history lovers like himself," his mother said, and he always wanted to do something bigger for them.
"I ran some ideas in my head, and I was always interested in the history of the demographics of our community," he said. "I started researching and interviewing last July."
He had planned to finish the project in May, but because of Covid-19, most of his resources, like the public library, were closed down for some time. After a year and nearly 300 hours of work, Aubrey finally put his exhibit on display in July. 
The museum is open on Sundays, which is when he conducts tours of the exhibit. Only two guests are allowed in at a time.
Fulfilled by his work, Aubrey says the outcomes outweigh all of the costs.
"I feel like I've left a mark on the world."