We have to admit that we were more than a little puzzled at news last week that large oysters are considered too big to market. This seems like a missed opportunity for shellfish growers and restaurants alike.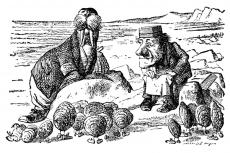 The problem is that in the New York area, oysters are thought of first and foremost on the half-shell, served on a bed of ice with a bit of mignonette or a dash of grated ginger or wasabi. Too few people care to open them at home, and with dining out limited by the pandemic, growers and harvesters are suffering — with their stock reaching beyond half-shell size. Enter the Nature Conservancy and the Pew Charitable Trusts, which are buying up the bigger bivalves for use in oyster restoration efforts.
That is well and good, but there is so much more one can do with the homely oyster — look to Louisiana and much of the South, where oyster po' boys are a superior rival to our own boring lobster rolls of the north. Tastes are hard to change, however, if more eateries started offering local versions of these delightful sandwiches piled high with fried oysters and topped with remoulade, we'd hardly be the only customers lining up to try them.