Montauk, March 27, 2022 — Three city-dwellers visiting a college friend in Amagansett catch an Uber from Shagwong Tavern down West Lake Drive, hoping to continue the raucous party that started with the St. Patrick's Day Parade earlier that day. Their destination: Liar's Saloon, the dive that defined dive bars for a few generations of Montauk locals, where little good ever happened between the hours of midnight and four in the morning.
Except, they realize, it's closed.
Last call should still be hours away, but instead the would-be patrons leave bummed and quickly losing their buzz. They pack back into the car and return to the Hero Beach Club, unaware of what was happening at their favorite watering hole, much less able to predict that it would soon be reborn to live another day by a different name.
Fast-forward to July 22, 2023. It's about 3 in the afternoon and, behind the bar, Jen is blending up mudslides by the pitcher. Sun-baked barflies order another round as the jukebox streams country tunes. A curly-haired kid — no older than 12 — walks in and orders a cup full of limes. Just limes. And don't worry, her mom's not far behind, credit card in hand to order a Tito's on the rocks.
In other words, nothing's really changed, except last call's a lot earlier now. 
This is Marlena's Pack Out, the new iteration of Liar's Saloon, now under the ownership of the Star Island Yacht Club's Sam Gershowitz. He has leased the bar to Hali Devlin, her mother, Eileen Devlin, and her husband, Philip Baigent, who basically put on a fresh coat of paint, fixed the deck, rid the parking lot of rubbish, and hung some new pictures on the walls.
"We still have the same exact barstools," Hali Devlin says by phone a few days later. "It's the same bar, just a little bit updated."
County records show Gershowitz bought the Offshore Sports Marina and Liar's Saloon in July of last year for $6.5 million from the family of its previous owner, Vinny Carillo, who opened Offshore and Liar's in 1979. Carillo died in 2020 at the age of 80. Gershowitz named his new property Marlena's Yacht Club after his late wife, Marlena Gershowitz, who died about a year ago. "Pack out" is a fishing term that refers to unloading a catch from the boat.
More than a few people were worried that Liar's would undergo a glam makeover and reopen with half the character and double the prices.
"I thought there was that possibility," said Chris Behan of Montauk, who used to live on a boat docked behind Liar's. "Look at the prices everywhere else. When in Rome, you have no choice but to be in Rome, and that's what Montauk has turned into."
Fortunately, the Devlins and Baigent — who also own Salivar's and opened Marlena's on Memorial Day weekend this year — kept as much the same as they could, including the no-frills 16-ounce plastic cups drinks are served in. "It has the same vibe," Hali Devlin said. "It's been going great. It's always such a nice crowd. For the most part, it's usually a crew where you can pick some people out that you know."
She gets questions, like: "Where's that old photo I came here to see?"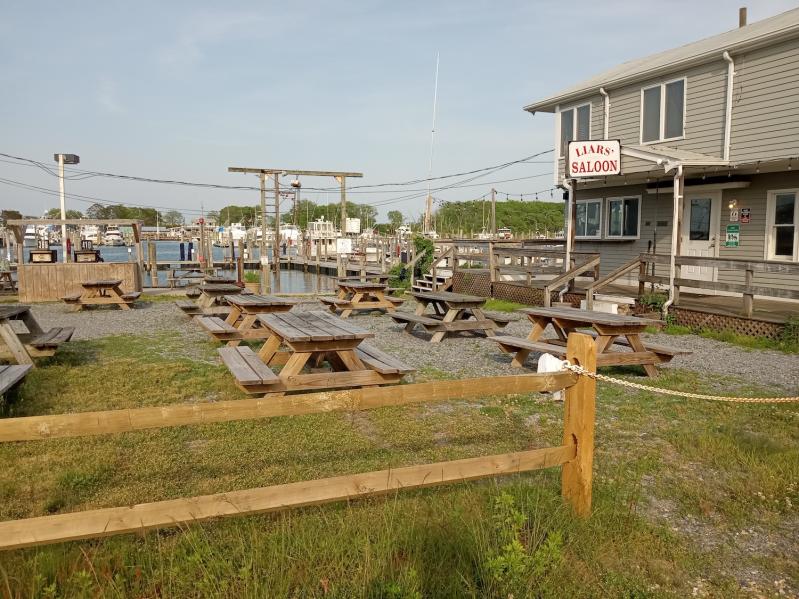 "But it's recognizable, so for the most part people are coming in and all the reactions we've got is 'We're so happy that you're open,' " she said. "People didn't want to see it not get opened again. They're just happy that it's not something completely different than it used to be."
Behan is one of those people. "I have many, many happy memories" of Liar's, he said. "There is definitely a little bit of the mystique that's gone away, but it's not a bad tradeoff, because at least you know you're not going to fall through the deck."
Which may well have happened at some point to Anthony Sosinski, a lobsterman of Anna Mary fame (see: A Speck in the Sea), better known as Little Anthony. He hasn't been to Marlena's lately because he gave up drinking, but he recalled Vinny Carillo sitting at the bar telling jokes to his customers.
"He had a rapport. It was run as a shipyard, where young Vinny Carillo would help make sure the boats got hauled out. The family themselves were a part of it, and that's who you dealt with when you went," said Sosinski, who often rode his unicycle to the bar from his house a few blocks away. "The thing about it is, it wasn't just a hangout bar. If I broke down, he hauled me out of the water. My boats were rebuilt in the Liar's parking lot."
But back to Marlena's. Later in the day, in late July, the jukebox poured out a soundtrack of vintage Celine Dion as big bachelorette-party energy spilled out the open door into the parking lot. The bride and her attendants were singing at the top of their lungs. Strangers were hugging each other. Someone had brought in a golden retriever on a leash.
"I think they'll do fine there," Behan said. "They've got plenty of local support. . . . It's nice to have the place back."