One of the best pieces of advice I got as a deckhand on a party boat out of Montauk was never to talk politics on the party boat. As in: never, ever. And why is that? Because talking politics on the party boat is not just bad for business, it is a recipe for rowdy onboard debate, if not outright violence. And since you're on a boat, a captive to the swells as it were — conflict is not a good thing.
This crucial tip, which I received about 20 years ago, seemingly takes on an even greater importance nowadays, in our time of deeply divided politics. It's pretty clear that our country's collective portside politics do not readily sync up with what's going on over on the starboard side. 
The catch-all crowds that head to Montauk's fleet of open fishing boats — the various Vikings, the Lazybones, the Ebb Tide II, the Miss Montauk — are drawn to these boats by a shared love of fishing, and, fortunately for everyone, there is one realm of politics that everyone can blab on about with varying degrees of hysteria while en route to the fishing grounds: those damn regulators at the State Department of Environmental Conservation, with their bag quotas and size limits on popular summertime species such as summer flounder, striped bass, and black sea bass.
For nonfishing types, the East End also offers a number of charter-boat options where one can set with the sun over a goblet of chard and some choice local cheeses, or explore shoreside features from a delightful perch-at-sea, or generally plunge the benthic depths of one's breeze-becalmed soul from the deck of a sailboat, or a catamaran, or a whale-watch vessel. There's pretty much something for everyone and most budgets.
South Fork boats-for-hire include the Kelpie, the Mon Tiki fleet, and the American Beauty, all of which offer their own outings on the water, and often of a more upscale tack. Charter one of those with a group of friends and family and you may never have to deal with churlish conservatives or logorrheic liberals while skittering across Gardiner's Bay, since you'll be sending out the invites and nobody said you had to invite Uncle Frank.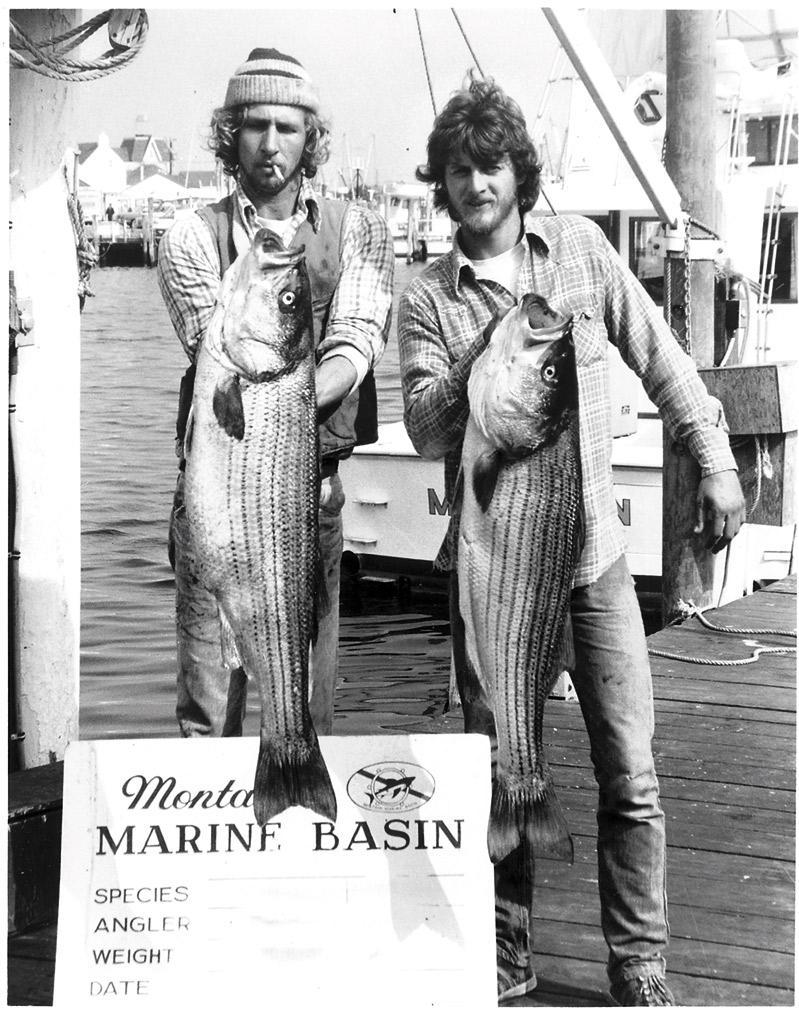 Fishing Party Boats
The Viking Fleet
462 West Lake Drive
Montauk
631-668-5700
The Viking fleet is sort of the Big Blue of the Montauk party boat scene — like IBM, it's the industry standard-bearer that outpaces the competition and, in this case, floats a number of boats through the year (the Star, the Starship, etc.) that offer everything from half-day bottom-fishing trips off the Point for summer flounder to big-bucks multiday trips targeting productive boat wrecks and offshore tuna-fishing grounds. Plus: sunset cruises, private charters, whale watching and a seasonal ferry to Block Island $$-$$$$
Ebb Tide II
470 West Lake Drive
Montauk
631-668-2818
The owner, Anthony Darrigo, and Capt. Jake Nessel offer half and full-day fluke fishing from spring through fall, with the ever-ready option to drop a diamond jig, too, if the bass and blues are running off the Point, which is often the case. In the fall, full-day trips to Block Island's bottom-fishing bonanza are a popular draw among Captain Jake's legion of regional fans who have for years declared him Montauk's top captain. (Darrigo also offers tasty fish recipes on the Ebb Tide's Facebook page, a welcome treat, especially given the tragic and unforgivable demise of Wok & Roll — You Hook 'Em, We Cook 'Em — in downtown Montauk.) Fishing poles, bait, and tackle are all included. The Ebb Tide is also available for what we're calling an Everyman Sunset Cruise, as in, a nice boat ride at sunset for under a hundred bucks. Plus you have to love those twilight "magic hour" fishing quickie-trips on offer. Food options include potato chips, soda, and hot dogs. $$-$$$ 
Lazybones
474 West Lake Drive
Montauk
(631) 668-5671
Our heart is still breaking when we think about Capt. Mike Vegessi of Lazybones, who in the past year and a half lost both his wife, Kathy, and one of his daughters. Kathy was a stalwart presence at the Lazybones booth; she handled the back end of this true mom-and-pop operation while the affable and accessible Captain Mike brought his fares out for half-days of what he likes to call "gentleman's fishing" for summer flounder. It never gets too rowdy on the beloved Bones, even when Captain Mike switches over to the diamond jigs in the fall for the rip-roaring bass-and-blues action at Montauk Point. There's a reason the Lazybones is a legend and a tradition. Catch a ride if you want a taste of the real, old Montauk. $$-$$$   
Miss Montauk II
426 West Lake Drive
Montauk
631-668-1545
Capt. Jamie Quaresimo's 85-foot classic "Lydia"-style party boat specializes in all-day open boat fishing for summer flounder and black sea bass for "hardcore fishermen and well as beginners." Captain Jamie also targets striped bass, and codfish in season. Trips are limited by reservation and fishing rods can be rented for $10. Bait and tackle are included. And summertime sunset cruises to the Montauk Point Lighthouse are part of the high-season menu at the Miss Montauk II, located on West Lake Drive. $$-$$$ >
Cruises for Hire
Yacht Kelpie
Long Wharf, Sag Harbor
877-828-0069
[email protected]
Sag Harbor's three-masted sailing schooner for the elite offers a few house options along with charter services. Up to 24 people can jump aboard for cruises of varying length. These include a Brunch Sail, a half-day exploring-and-anchoring-up near Shelter Island trip, or a full day in the waters around Shelter Island that comes with an option of enjoying a shorebound lunch. The Kelpie also has a sister ship for charter. A sunset cruise features "light bites and sundowners" and numerous chartering options are offered for bipartisan wine lovers, Republican corporate titans, or leftist Hollywood divas. Food options may include caviar, cheese, and sushi from Sen. Most everyone seems to be wearing their summer whites on the website gallery of photos, so be advised. $$$-$$$$$
Mon Tiki Fleet
Safe Harbor Montauk Yacht Club
32 Star Island Road, Montauk
631-668-2826
This three-ship fleet of eco-friendly sailing catamarans was inspired by traditional Polynesian designs and built on Long Island. The craft, which can accommodate one to 100 persons, can be rented for a day sail or a swim with paddleboards that are included in the rental. Capt. Dave Ryan also gives what he calls "soul sailing" lessons for sailing beginners anxious to circumnavigate the globe, or at least Gardiner's island. The cruising rate is pretty friendly to the budget-conscious: For example, a charter of up to six people costs $600 for two hours, $900 for three. And yes, there are sunset cruises too. $$-$$$
American Beauty II
Long Wharf, Sag Harbor
631-725-0397
[email protected]
An adult ticket for the two-hour sunset cruise on the popular and pretty American Beauty motorboat out of Sag Harbor will set you back less than $50 (and $32 for the youngsters), lending a budget-friendly feel to excursions that range from chill sunsets to a 90-minute narrated nature cruise. The 44-foot party boat is available for charter for all sorts of events, too, whether it's a wedding or a fund-raiser or a high school reunion. $-$$$