Retired Navy Adm. William McRaven published a book several years back called "Make Your Bed: Little Things that Can Change Your Life . . . And Maybe the World." Its key takeaway was how fidelity to the little things can have salutary multiplier effects when it comes to an individual's bigger-picture endeavor to arrive at a Life Well Lived. 
Here's a thought: Consider the notion that, in its own way, fidelity to the finer details of public etiquette is a make-your-bed moment that could, maybe . . . change the world?
How's that? Well, in a nation that has descended into rampant, unapologetic incivility (in our politics, on our raging roadways, and in our Karen-clamoring Big Boxes), the art and science of not acting like a jackass emerges as a tip-of-spear endeavor, and it's one worth fighting for. It's a battle over baseline gestures of politeness that, if a large percentage of us got on board, might have the power to coax a return to some semblance of civil society instead of what looks increasingly like stochastic civil war.
It has to start somewhere.
Let's start at the beach.
 Barbarians at the Beach
•Deploy earbuds if you are spending the day at Georgica watching All Quiet on the Western Front on your tablet. Everyone else is here to listen to the crashing waves and the whooshing wind, not thumping artillery shells and people screaming in pain.
•Do not wear a Speedo in public if you can't otherwise see or touch your toes. And even then.
•If you dig a hole on the beach, fill it upon your departure. They can be a peril to others' ankles.
•When slipping out for a late-night round of beach nookie on Truck Beach, be mindful of the piping plovers. Yes,  we know piping plovers are a joke in some quarters, but conservation of endangered birds is not.
•Nobody buys that shtick about your being the "Spencer Tunick of the Shagwong," so stop taking furtive cellphone photos of topless women at Ditch Plain. It's unseemly.
•"Could you please direct that aerosol tanning mist away from my asthmatic nephew?"
•Don't smoke cigars on the beach, or, for that matter, blunts, cigarettes, pipes, or joints. Eating smoked eel is, however, not a problem. Just pack out the sushi-lunch trash when leaving the beach. 
•After an afternoon of nude sunbathing at Cavett's Cove in Montauk, don't forget to put your pants back on before heading to John's Drive-In for a shake.
•Don't abuse your hard-won East Hampton Town Special Events permit by throwing an Indian Wells Beach clambake featuring 46 Elvis impersonators, a special tent for glue-sniffers, and emu races in the surf at dusk. Unleash the emus at dawn, as is the custom.
Mind Your Manors:
Good Behavior at Home
•Don't exclaim "Mas cerveza, amigos!" in a friendly but ham-handed manner every time you walk past the landscaping crew in your yard.
•It is impolite to call for a police "wellness check" on a dude standing on a corner near your house smoking a cigarette and wearing a hoodie. Mind your business.
•If you are offended by your neighbor's trees — or the shade they cast over your swimming pool — refrain from paying the landscapers to cut them down in the middle of the night. That's just rude, to say nothing of flagrantly illegal.
On the Town
•Regardless of your chivalrous intentions, drunkenly invoking the maxim that "Horses sweat, men perspire, but ladies merely glow" isn't going to win over the ladies at Polo Hamptons, but may just lead to a call to security.
•When passing a stranger on an otherwise empty sidewalk, look them in the eye and say hello with friendly
gusto. Or at least nod and smile a bit. (But don't be creepy about it. Don't let the gaze linger, and refrain from offering a similar greeting to the stranger's tushie as they pass.)
Planes, Trains, Automobiles
•"Didn't your mother ever tell you that tailgating is not only dangerous but rude?"
•Don't demand that the ticket-booth clerk tell you what time the 1 o'clock ferry leaves after you've just missed it. Own your lateness. And stop haranguing workers at service windows.
•Don't use your emergency flasher-lights when double parking so you can run into Starbucks for a quick caffeine fix. That is not an emergency. Actually, don't double-park in the first place.
•"Why are you clipping your toenails on the Jitney?"
•Contrary to neo-populist opinion of the "You Can't Tell Me What to Do" variety, engaging your vehicle's turning signal when making a left or right-hand turn is not a sign of weakness. Always indicate.
• "No, you can't go and have a few friendly words with the captain about that time you did that vaguely cool nautical thing. He's busy right now."
• "Why does this entire train car smell like nail polish remover?"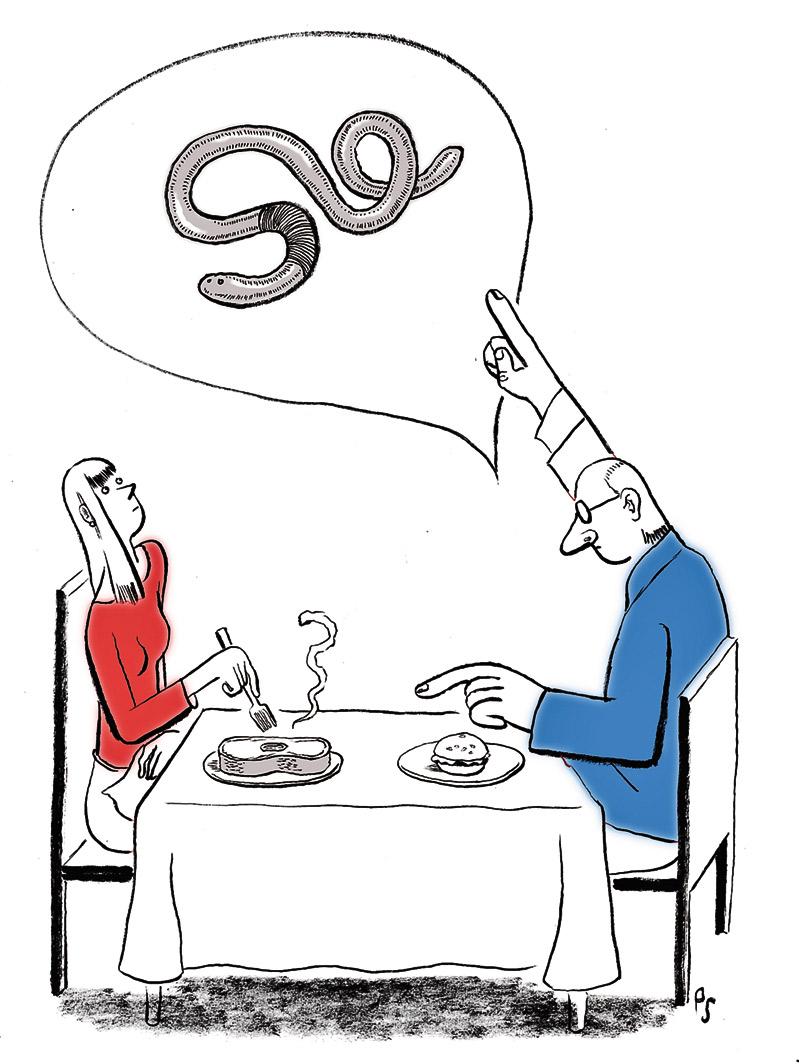 Etiquette à Table
• Don't tell your dinner companion that the $68 slab of grilled swordfish they just ordered is a "very wormy" species.
• Put away the phone. It's dinnertime.
• Stop licking your fingers, even when they're all nice and lobster-buttery. It's gross.
• Don't take a dinner guest unless you ask first.
• Do take wine, even if you haven't been asked. 
• Don't fret too long over what to order for lunch at Goldberg's. First of all, you're holding up the line; second, the counterperson doesn't care about your dietary restrictions, let alone the reasons for them; and, third, enough with the incessant questions about "Where are the avocados sourced." We've all just come from spin class and we're all hangry.