Sushi night is a big thing in Michael Nardy's world. Simply put, he loves sushi. His wife and kids love it. Most of his friends do, too. So he decided to learn the art himself about five years ago, and now prides himself on the dazzling rows of rolls he makes every few weeks at home in Sag Harbor.
In a life spent on the water, Clint Bennett Jr. of Montauk has learned a few things about fish, including the exact right way to harvest and fillet tuna and other fish for sushi and sashimi. By taking a core sample or tail piece, "I can see even before the line comes off the fish" whether it's a sushi-grade specimen, he says. "I show people how to cut the tuna, prepare it, and give them the experience of doing it themselves."
Even the pros do it at home. "When I get a day off — rarely — I will try to entertain and make sushi or most times sashimi," says Jesse Matsuoka, an owner of Sen, the popular Japanese eatery in Sag Harbor, as well as K Pasa and other high-end restaurants. "Sashimi is the version without rice and thus much easier to do on the fly. I will slice the fish and fan it out in a spiral showcase," he says, "sprinkling toppings such as sliced scallion, drizzled ponzu (citrus soy sauce), and, when I am feeling frisky, even caviar."
With the right combination of tools, tutorials, practice, and products — mostly accessible on the East End, with maybe a little help from the internet gods — it's not all that hard to pull off your own night of Japanese cooking.
Nardy, for instance, started out watching YouTube videos. "I type, write emails, and talk on the phone all day for work, so cooking is a creative outlet," he says. "I practiced, and little by little, I learned new things. I enjoy it. It relaxes my brain."
It's hard to tell which is more important, the careful filleting and storing of the fish or a specific kind of vinegar-marinated, short-grain rice. Nardy and Matsuoka vote "rice," while Bennett votes "fish."
In all fairness, Matsuoka might be a bit of a ringer. "Thankfully, I have a restaurant to pull from and it's easier for me," he says, "but for those that don't have easy access to already seasoned sushi rice and nori, this can be difficult."
Bennett has his own reasoning: "If the fish is not taken care of properly, it can go south real quick in the sun," he says. "If it wasn't for the guys offshore who properly handle it. . . ." (The rest of that horror story was left to the imagination.)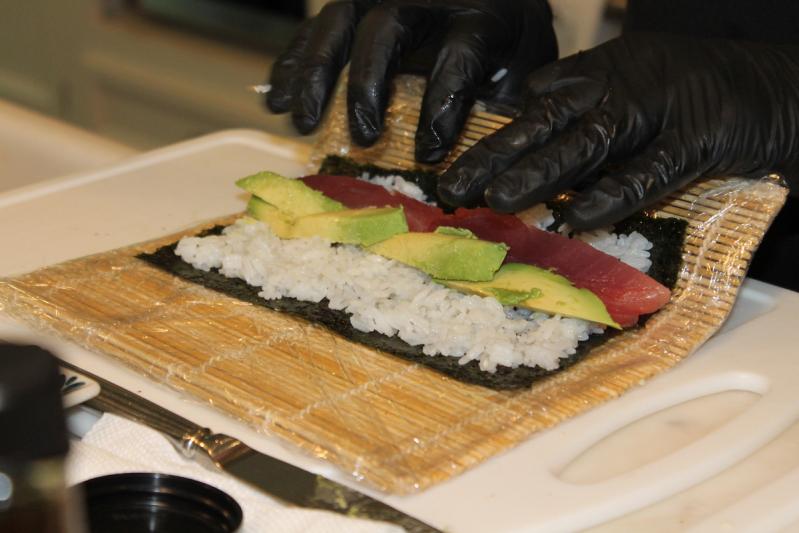 On a recent Tuesday afternoon, Nardy spent more than five hours prepping a spread of sushi rolls and sashimi for guests. Fortunately, the rice cooperated. "It needs to be perfect. You can't always predict it," he says, moving around a bright kitchen decorated with his daughters' artwork and a shelf of cookbooks, including the Good Housekeeping classic inscribed by his eighth-grade home-economics teacher for his outstanding achievements that year. Five hours' worth of sushi was devoured in less than 30 minutes, give or take a few for the late arrival of an on-call doctor friend.
One of Nardy's recipes is a refined take on the "Philadelphia roll" often found on restaurant menus. Instead of slathering on a layer of cream cheese, he uses crème fraiche, and he incorporates smoked salmon and a sprinkle of everything-bagel seasoning. He also cuts cucumbers into segments, hollows them out into cups, and fills them with spicy salmon.
During the Covid-19 pandemic, Matsuoka's team offered Zoom lessons on at-home sushi-making; they were extremely well attended. "Now we do intimate dinners and classes for couples of two to all the way upward of 40," he says. And — shameless plug — he adds that if you want an at-home experience but you're not sure where to start, "be a guest at your own party and let us guide your experience."
Bennett's customers typically are knowledgeable enough to specifically request sushi-grade products. "You can't get better ingredients. When they tell me it's coming in, I'm first in line. . . . It makes all the difference in the world," says Hank Suominen, another Montauker. (He's more of a tartare and ceviche fellow — but that's another story.)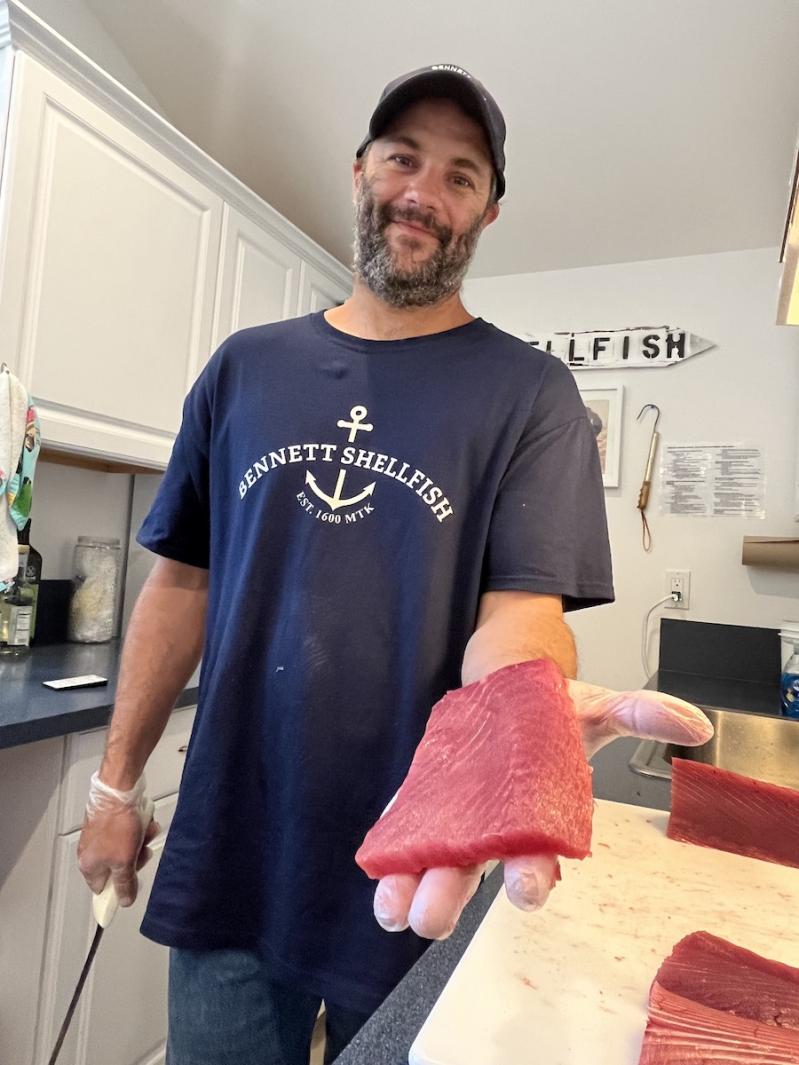 Bennett sliced up some tuna for a guest, who then rushed it home, encrusted it with Japanese pepper and Amagansett sea salt, and seared it for just a few seconds on each side. It didn't even need soy sauce.
Matsuoka advises the beginner to start with vegetables before "going big" with expensive seafood, "especially if you don't have the connections or confidence that your seafood store is truly offering sushi-grade cuts. Hand rolls are much easier and harder to mess up than regular maki rolls. When using good ingredients, a poke bowl with diced fish tossed in seaweed and sauce, served over rice, is an easier dish and fun in mixing up the ingredients."
Nardy's main tip for rolls is to place the rice in an even, and somewhat sparse, layer on your mat. "Too much rice in the roll is not going to work," he said. "Take your time."
Matsuoka offers one more tip, too: Your sushi rolls or individual pieces don't have to look perfect in order to taste good.
"The process can be fun, challenging, and frustrating, so best to make sure you have time and an open mind about the experience," he says. "If you have good ingredients, then the end result will still be delicious."
PRIZE CATCH
Here are some local places where you'll find fish, tools, and other supplies for at-home sushi-making.
Bennett Shellfish
2 South Debusy Road, Montauk
631-903-5817
facebook.com/BennettShellfish
The Seafood Shop
356 Montauk Highway, Wainscott
631-537-0633
theseafoodshop.com
Citarella
2 Pantigo Road, East Hampton
2209 Montauk Highway, Bridgehampton
20 Hampton Road, Southampton
631-283-6600, citarella.com
Hen of the Woods Market
48 Hampton Road, Southampton Village
631-204-5185, 48hampton.com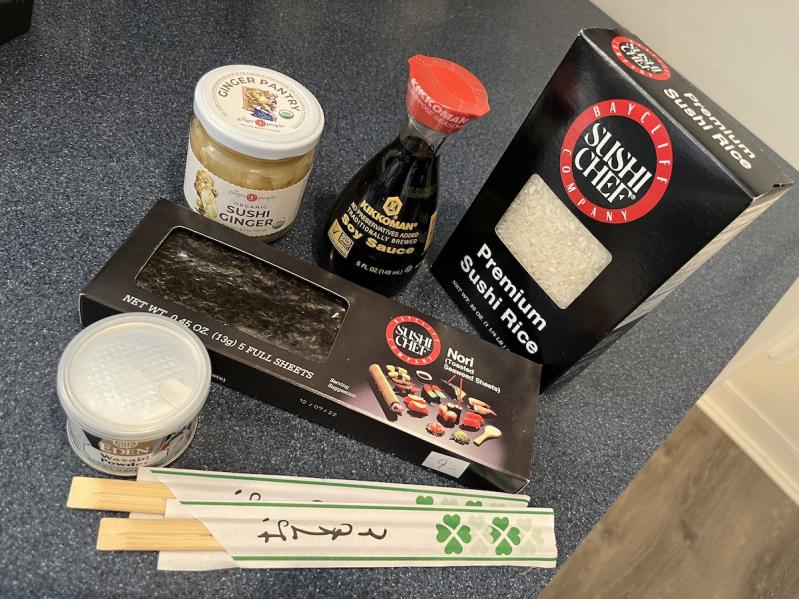 Sushi 101: A Primer 
Jesse Matsuoka has some sage advice for anyone thinking about trying their hand at making sashimi or sushi at home:
DO be careful when handling sharp knives.
DO NOT drink sake before you do this.
DO consult top-notch fish sellers for the freshest, most local sushi-grade cuts.
DO NOT buy fish from any old grocery store for making sushi and sashimi.
DO ask your guests about food allergies and taste preferences beforehand.
DO NOT rush the process — take time to practice your skills before catering your own sushi night at home.
DO research on sake that pairs well with your menu.
DO NOT mistake green wasabi for guacamole.