The love of good gingerbread is deeply ingrained in me. From my earliest memories I can see the painted beauties piled upon a cookie platter, and I can smell those spices. Each and every holiday season, my family made the most gorgeous and delicious cookies, in all shapes and sizes, for gifts and decorations.
My mother was Scandinavian and loved gingerbread in all of its forms. A great, moist gingerbread cake would bring an immediate gleam to her eye, and she would sit quietly and slowly devour the goodness. She loved the Swedish Pepparkakor cookies, super-thin and spicy cookies, once hard to come by in the States, but now available everywhere. And that is great news because they are wonderful!
At the end of November, Mom would take out her cookie cutters and wash them. Many were decades old, classic shapes that had been familiar my entire life. The metal cutters were gently washed in warm, soapy water, then dried on towels. They spent the night on a cookie sheet in the oven, with the pilot light on, so they would be sure not to rust. There were several sizes of hearts and stars, three different trees, and gingerbread boys in all sizes. She had a mushroom cutter she loved, a bell, a prancing reindeer, and a six-pointed star — a Swedish star. Once in a while she let a new shape join in the fun, but she always turned to her regulars. I think she would love the new mitten and snow-globe cutters I have acquired recently.
The next step was organizing the ingredients: Did she have great molasses and fresh spices? She needed butter, at the right temperature, and lots of cookie sheets. She gathered powdered sugar and lemon juice for the glaze and bought some new, small paint brushes: The cookies were hand-painted by my father. There were no piping bags back then, at least around here, and he was an artist. He made magic with that royal icing and those brushes.
Mom owned a small shop on Main Street in East Hampton called Whimsey's. Christmas was her season, and her shop was brimming with holiday cheer. After a long day at work, she would come home and painstakingly roll out the cookies, and bake them long into the night. And, boy, she could roll cookies — blemish-free, perfect cookies! She added a pinprick hole into each one before baking, so they could be strung up for display later. After baking, they cooled on racks for hours, and then were stored in one of her many cookie tins, between ripped sheets of waxed paper. The cookies would wait in the tins until my father painted them.
The royal glaze was simple and tasted great because of the lemon juice. The powdered sugar had to be sifted to prevent lumps; the lemon was whisked in until it became a thick glaze. Then, much to everyone's surprise, dad would add a teeny-tiny drop of blue food coloring. The color disappeared into the glistening glaze as he stirred it, but dad said the blue made the frosting more white, rather than looking gray, and he was absolutely right. All of his cookies had traditional white frosting, with an occasional Red Hot candy or silver dragée added as a nose or button.
My sister and I would sit on the other side of the kitchen counter and watch as dad painted the cookies. The reindeer were spotted along their backs — spotted fur — and one and only one got a tiny Red Hot on his nose. The tree boughs were laden with curls of snow, and the hearts had numerous Nordic patterns. The six-pointed stars were decorated symmetrically . . . all but one, which had the words "Shines For All," in tribute to The East Hampton Star, run by one of his best friends, Everett Rattray.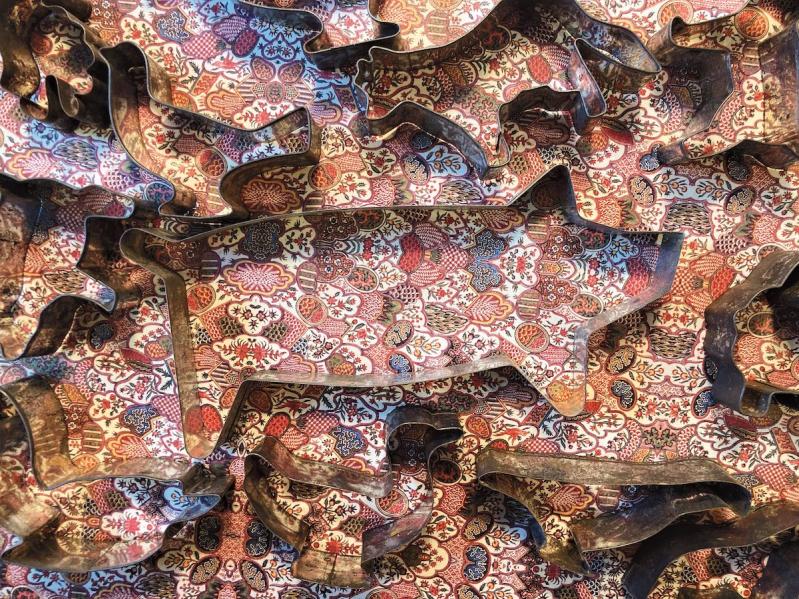 Daisy and I were transfixed by the beauty Dad and Mom created, and snuck licks of the lemony frosting. If a cookie broke, we were delighted because we got to have an early holiday treat.
Typically, Mom and Dad made about 20 dozen cookies. These incredible works of art were displayed around  the house. There was a large counter with the kitchen on one side and a large dining room that opened into the living room on the other; that is where the Christmas-party guests gathered. Dad hung a sprawling mural of about 80 cookies on the wall above that counter — each hanging on a small pin he nailed into the wall. 
Three giant gingerbread boys, about 10 inches high, were a featured attraction of the annual Christmas party. Dad selected three guests and painted caricatures of them in glaze — an incredible feat. The big boys hung from the lights above the kitchen counter, and the first stop of the party revelers was that counter — they just had to see who had been chosen. It was an honor to be made into a cookie.
Mom didn't stop with gingerbread, of course. She baked around 15 different kinds of cookies each holiday season. She gave cookie platters to friends, served cookies and hot glögg on each Saturday before Christmas at Whimsey's, and made an enormous cookie platter, complete with a marzipan pig, for the party. For years there was an ongoing mystery surrounding this pig: One partygoer — no one knew who — felt the need to bite its rear end off. We never caught the culprit. 
By the time I was in middle school, Dad had branched out into gingerbread houses, as well. He made a pattern for a salt-box gingerbread house, modeled after Home, Sweet Home in East Hampton. By this time, under his tutelage, we were allowed to help decorate these houses. The big, slanted back roof got shingles etched in with a paring knife before baking. Candy had been collected — so many different kinds. Rows of gumdrops and Necco Wafers were added. Glaze dripped down and made icicles, and silver dragée dots sparkled like freshly fallen snow. Mini-gingerbread men stood guard, set up like a fence in the front of the house — holding hands and smiling. I remember carrying one of these gorgeous houses, wrapped in clear cellophane, all the way to Minnesota on Northwest Airlines. The flight attendants were so enamored of it that they put it in a seat by itself! Not long after, he started doing miniature versions, which were sold at Mom's store.
As we grew older, my sister and I joined in on the painting of the cookies, and we fared quite well. After all, we had been apprentices, studying and watching, for years. These days, we still use a paintbrush to decorate the cookies, and find great nostalgic pleasure in creating them. At this point, we must have more than 1,000 cookie cutters, but like Mom, we still love the oldie-goldie ones best. Listening to holiday music and painting cookies is part of what makes Christmas Christmas for us, and now that our parents are no longer here, it connects us to them. What a wonderful tradition they passed down to us, and how very lucky we are to be carrying on 50 years later. 
Now, it must be said that the recipe I am providing here is for a sturdy, spicy, and very crisp cookie. It holds up well, and will not get soggy or stale. Follow the directions as written, practice your rolling, and make sure you have a good, airtight container. Don't skip the dot of blue coloring in the glaze, and if you want to hang them, make the hole in the dough with a toothpick before baking.
Take time with it. This is something special, and slowing down during the rush of the holiday season is a gift to yourself.