Search #womenofweed on Instagram and an image pops up that could, at first glance, be mistaken for teatime at grandma's. Captioned "High Tea," the photo is an explosion of pink: floral wall paper, delicate bone china, and blooming peonies scattered about. Look closely though and you'll see there are other buds — dried and green — on the table, as well as a feminine hand holding a spliff. Followers of the Instagram page are many and seemingly all women, who post pictures of their elegant selves behind a haze of smoke with messages such as, "All women need are each other and some good weed."
The old-school stoner dude imagery has gone up in smoke.
Helping with this cannabis "for her" rebrand is East Hampton's Laura Eisman, co-founder of Her Highness, an online and in-dispensary hemp and cannabis company offering "a range of high-end, premium quality, transparently labeled, and chicly designed goodies made by and for discerning women," according to its website.
"We want to be a household name in cannabis for women," said Eisman, an entrepreneur who founded Girlshop in 1998 as one of the earliest online fashion hubs. In 2019, after teaming up with Alison Krongard, founder of the kids' wallpaper company WallCandy Arts, she launched Her Highness. The company rolled out, so to speak, in California (a legal state since 2016) as a fun, irreverent, glamorous, and sexy cannabis brand. Their offerings cover beauty oils, tinctures, vape pens, pre-rolls, ashtrays, sleek lighters, and the best-selling Pleasure Oil, which comes with the tagline "Live your best orgasm."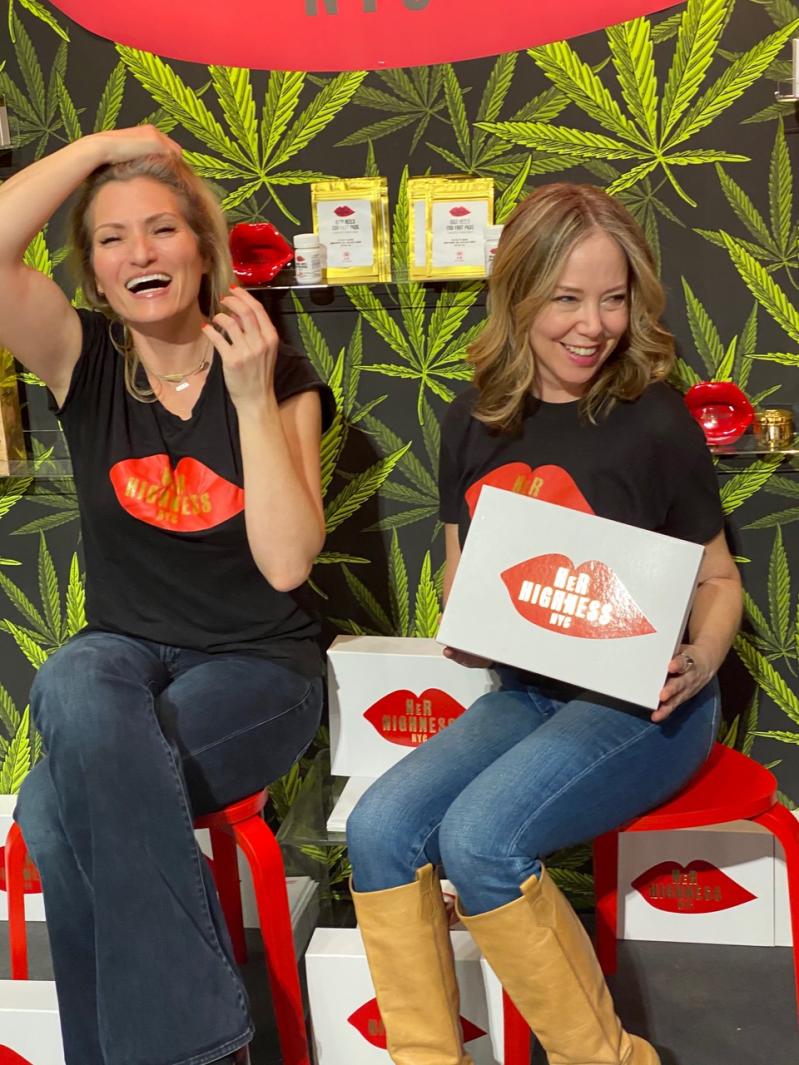 ---
If a shopper lives in a legal recreational marijuana state, in which Her Highness is licensed, they can purchase products with THC, or tetrahydrocannabinol, the main psychoactive compound that produces the "high." In non-legal states, Her Highness offers the same range in the federally legal, non-psychoactive CBD form.
Although in March, New York joined 15 other states to legalize recreational marijuana for those 21 and over, it could take up to two years before retail licenses are granted. Because marijuana is illegal under federal law and cannot be transported across state lines, marijuana products sold in each state must also be grown and manufactured there. So, for now, Her Highness devotees in New York can only buy its CBD products online and in select New York and East End stores, like Havens in Sag Harbor and White's Apothecary in East Hampton. Eisman is hoping their burgeoning CBD business in New York will be an onramp to a securing a marijuana retail license. One of the provisions set by the New York State is that 50 percent of licenses go to minority or woman-owned business enterprises. If Her Highness qualifies, a flagship store in Manhattan is planned.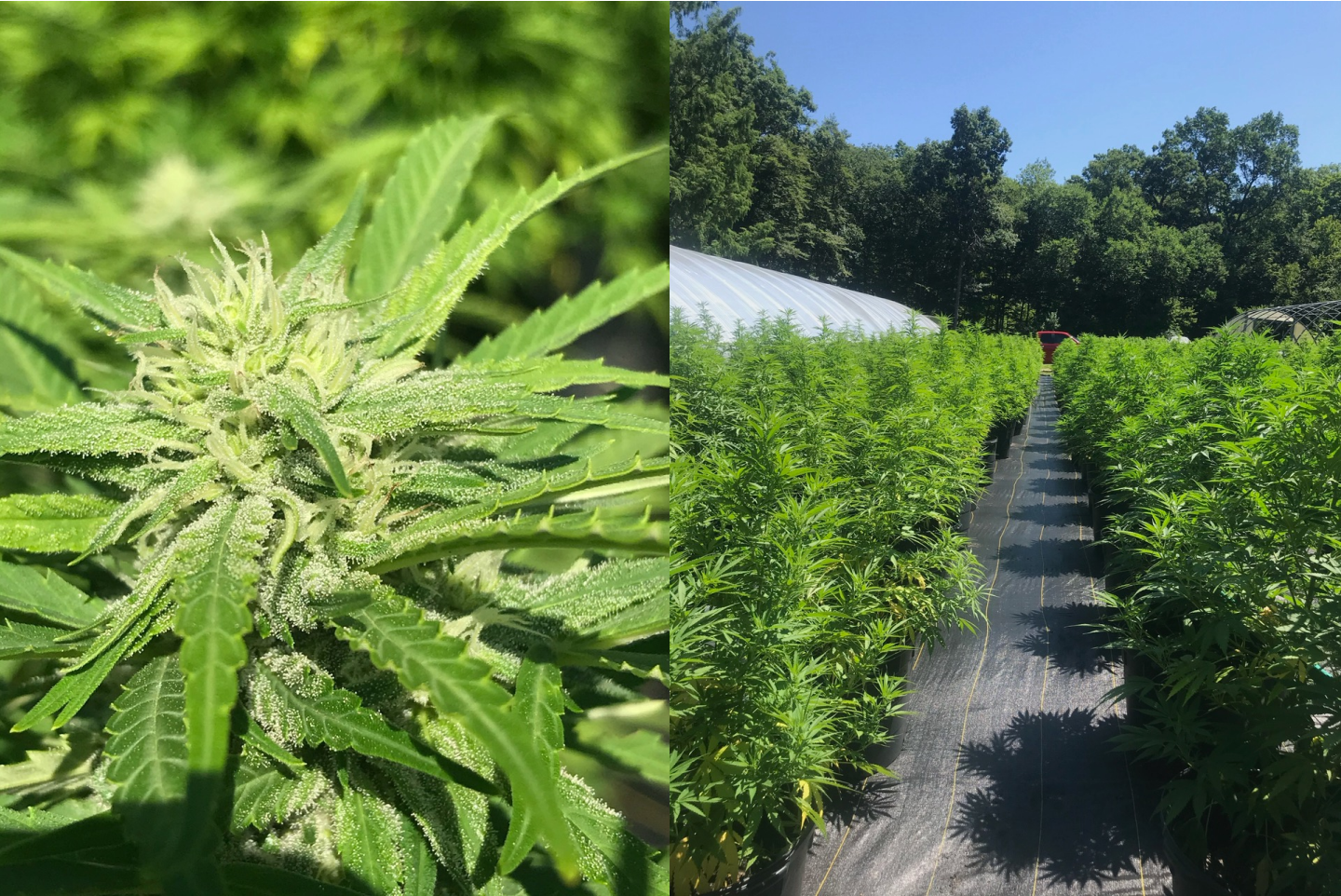 ---
Weed has evolved into a behemoth of an industry — the fastest growing one in the United Sates — going from counterculture drug for hippies and dropouts to multibillion dollar business. Women like Eisman are at the forefront of this lucrative business, not men. Female celebrities like Whoopi Goldberg and Melissa Etheridge have also established lady-led cannabis companies. Even Martha Stewart, the notorious doyenne of domesticity, is now known as, "America's Cool Weed Grandma," after partnering with Snoop Dogg, the rapper and ganjapreneur, in a TV cooking series called, "Martha & Snoop's Potluck Party Challenge."
For Her Highness, knocking back stoner stereotypes and shifting perceptions of marijuana and its users are clearly foremost in its mission. Packaging draws inspiration from beauty and art, like a 14-karat gold-plated cannabis leaf ring and a gold grinder that could easily serve as a coffee table centerpiece. But even the products have been formulated with a lady stoner in mind. For instance, in legal states, the Her Highness high-THC Giggle vape pen, exquisitely slender and chic, promises a stoney bliss but because the product contains the munchie-fighting compound terpene humulene, women can "get high in a female-friendly way," explained Eisman.
It does seem strange that we must still gender our products and potentially perpetuate harmful gender stereotypes. It doesn't feel terribly modern that in order to lure women into the cannabis culture we need to create products that promise to "protect your nails and eyelashes from getting singed." Is the implication then that it's unladylike to be seen with a fat spliff in hand? Maybe too butch to walk into a dispensary and buy the type of weed that puts hairs on your chest? Are we women that delicate?
"With all the evolution in the industry, no one has really put their main focus on creating products that are good for women and fit into women's lives," answered Ms. Eisman. "And so we feel like that is our mission. It doesn't mean we're excluding other genders. We have a lot of male customers and fans, but we felt it was really necessary to do this. The stigma around cannabis still exists and it won't go away until we change the dialogue."
Meanwhile, another East End resident is also busy developing her cannabis business. Tracey Loggia, an actor in Sag Harbor, wants to cultivate "the Dom Perignon of cannabis," she said, describing small-batch craft cannabis that's in the works. In addition, Loggia, who in 2019 helped establish Shinnecock Hemp, a Shinnecock women owned and operated CBD company, is preparing to launch Hamptons Home Grown, a concierge craft cannabis service: Custom-designed indoor container pots, delivered to your home, containing the legal quota of six marijuana plants. 
"I think there should be a special box for senior women applying for cannabis licenses," said Loggia, 66. "I find it interesting that the social equity and benefits part of legalization and compliance licensing has little, if anything, addressing senior citizens, especially older women."