If cultural archetypes were as unkind to men as they are to women, I would be considered a spinster. Unmarried? Check. Getting up there in age? Just turned 55. Cat owner? As of last month, yes!
I don't have an extensive history with pets, but I've always considered myself a dog man. My first canine companion was a beautifully sleek and heartwarmingly devoted Italian Greyhound named Enzo.
After his death two years ago, I had visions of upgrading to a much-butcher breed, one that wouldn't shy away from jumping into the bay and could brave the winter's cold without a cable-knit sweater.
But while I was still trying to figure out how to balance work life and caring care for a new dog, I heard about Greta, a stray cat found on the streets of New York. A friend of a friend had rescued Greta, and was serving as her foster mom. She named her after the young Ms. Thunberg, the adorable and ferocious climate change activist.
In November, a weeks-old Greta spent a weekend in Amagansett, where I got the chance to meet and bottle-feed her. We had a sweet interaction — what's not to love about a tiny, needy fur ball? — and I was acting as if I were seriously considering adopting her, but the truth was I still hadn't gotten past my anti-cat bias. Sure she's sweet now, I thought, but she'll eventually turn into an aloof, face-slashing terror. Plus, if I commit to a cat for the next umpteen years, would that mean I might never be able to have a dog again?
I spent the next few weeks woefully pet-less, and trying to fill the void by feeding birds and tending to my succulents. Finally, I applied to the adoption agency, aced a FaceTime interview with one of its employees, and picked up Greta on Jan. 12.
For the first couple weeks I was in like, but not love. She was inarguably cute, occasionally affectionate, and impeccably litter-box trained, but she came with all the typical cat quirks. She would jump onto the kitchen counters, then up to the open shelving, then onto the top of the refrigerator, and finally up into the rafters.
As she teetered on the edge of an eight-foot-high perch, I was so anxiety-ridden I had to distract myself by taking photos and posting them on Instagram.
I researched ways to prevent her from jumping on the counters, but after all those failed I learned to just let her be. Once I settled down, I slowly began to fall in love with her perpetual wide-eyed wonder. Everything from a piece of green string to a slow trickle of water from the faucet to my succulents (R.I.P.) fascinates her.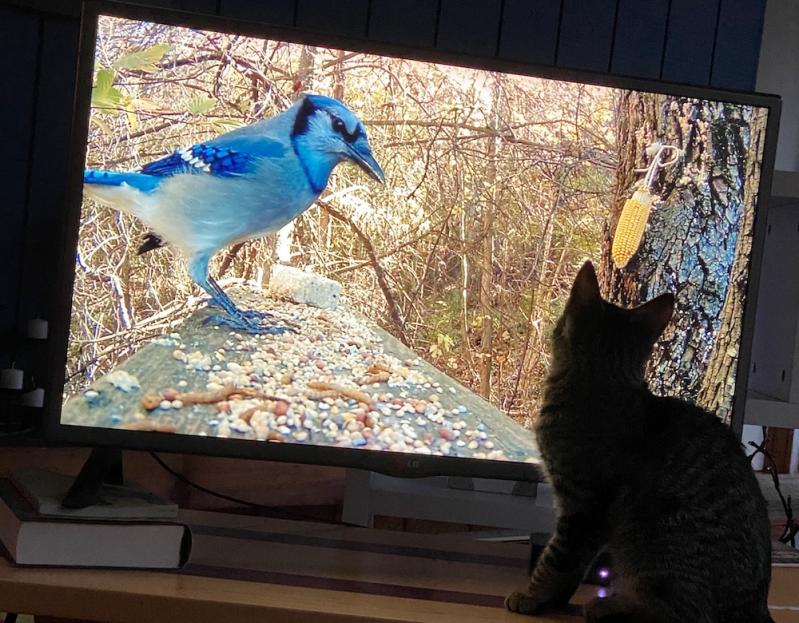 Having her has broadened my world. I discovered Cat TV, a series of videos designed to mesmerize felines with footage of birds, chipmunks, and squirrels feeding in the wild. She loves to watch, but after she pounces on the television and realizes they're all one-dimensional, she always toddles off unimpressed. The red dot of the laser pointer, however, never fails to entice.
For my own edification, I've been watching a reality TV show called "Psycho Kitty," which chronicles the feline-induced hardships of common folk. My personal favorite is the poor guy whose cat attacks him every time he sneezes.
From a consumerist point of view, Greta has introduced me to a wide range of shopping opportunities. To keep her busy while I'm at work, I've bought glittery toy mice, a fuzzy snake, a tunnel with pompoms dangling within, and a three-tier cat tower that looks like a tree (complete with a plastic trunk and fake leaves), which has transformed a corner of my bedroom into her own personal jungle.
There are still kinks to be worked out in my life with Greta. For instance, I would prefer that she not wake me up every day at 4 a.m. by pawing at my face, and I'm looking forward to the day when I no longer have to say "No biting" when I'm simply attempting to pet her, but mostly we've been bonding beautifully. She was curled up next to me as I wrote this, and when I had the gall to sneeze, she didn't even flinch.
---
Jamie Bufalino is a reporter for The Star who covers East Hampton and Sag Harbor Village government, real estate, and a range of other issues.