While the cancellation of big summer events and limits on social gatherings put a major dent in their business, caterers on the East End report that things are picking up in a different way as wedding couples and private clients find ways to cut down their guests lists to hold more intimate celebrations.
"People are still getting together and socializing, and most people don't want to be in a restaurant," said Jeanine Burge, who owns Silver Spoon Specialties in East Hampton with her son David Gaviola. "They want to still socialize but want to do it at home and don't want to cook."
In their 10th year in the business, Ms. Burge and her son spent every cent of their savings to open a storefront near the train tracks in East Hampton Village offering takeout and grab-and-go options. With a shell of a space, they worked night and day building the interior themselves. They assembled the shelving, stripped the pallet wood off the walls, and poured resin on their counters.
They finally opened their doors for business in June. 
Since then they have catered 15 weddings and have another eight on the way. 
"Weddings are a lot of work but they're small and everyone is thankful to get married and have at least some family celebrating with them," Ms. Burge said. On average, she said, Silver Spoon caters half a dozen events and parties a week with about 10 to 20 people in attendance. 
Despite the revolving door of takeout orders and last-minute events, there are still standards of perfection that Ms. Burge and her son, who holds a culinary degree from Johnson and Wales, like to uphold.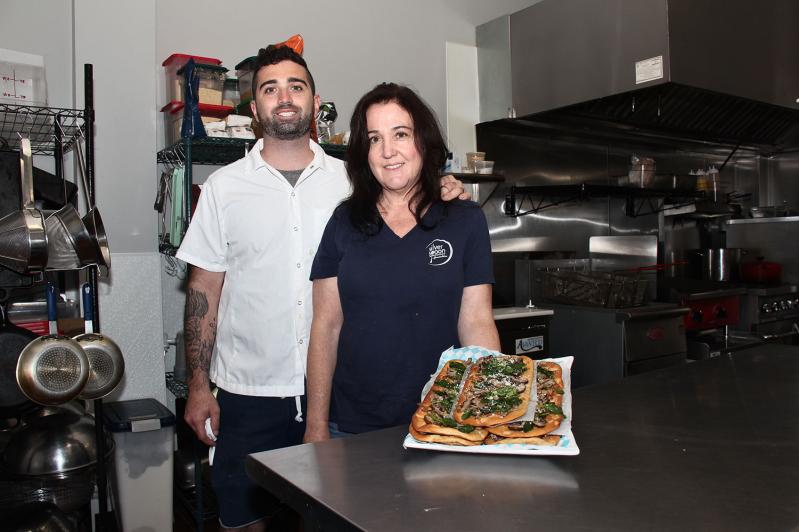 "I know what I want my food to look like going out the door," Ms. Burge said -- adding that although she does not have a culinary background, she always has a hand in the food. "If I only did the monotonous part of it," she said speaking of the arduous tasks of keeping up with the numbers, "I would go absolutely crazy."
The busy times come as a bolt from the blue for these businesses which, when the pandemic struck, were uncertain they would make it out on the other side. Luckily, people are still eager to tie the knot. 
"We call it the micro-wedding," said Christopher Robbins of Robbins Wolfe Eventeurs. Mr. Robbins took a massive hit when large events were canceled, among them the Hamptons Classic horse show, which his company caters. Mr. Robbins says each year Robbins Wolfe feeds thousands of people during the week of the Classic. 
The loss of that event "was devastating," Mr. Robbins said. "But we were lucky that a lot of our private clients still wanted to have small events."
The governor's executive order specifies limitations on social and indoor religious gatherings but is ambiguous when it comes to at-home restrictions.
"People having a party at their home can do what they want because it's their private residence," Mr. Robbins said. But he and other caterers are abiding by Gov. Andrew M. Cuomo's 50-person limit.
"Am I financially in pain because we're not doing larger events? Of course. Did we lose tons of business? Yes. There's no way around that," he said. "Twenty-five people do not make up for 200."
Mr. Robbins was reluctant to accept requests for large events -- and there were many, he says -- while Governor Cuomo only permitted groups of 10 or fewer in June under phase 2. By July 6, under phase 3, up to 25 people were allowed to gather. Now, as New York lingers in phase 4, caterers are still erring on the side of caution so as not to exceed the 50-person limit.
"The phone is definitely ringing," he said, mentioning that he has catered four weddings this summer, one rehearsal dinner, and nine private parties. In the month of October, Mr. Robbins has seven events already scheduled. 
"I don't think people are eager to have larger parties. But I know they're happening -- you just know when you see 60 cars parked in front of a place," Cheryl Stair, co-owner of the Art of Eating in Bridgehampton, said in a phone interview.
"One person even yelled at me. They asked if I really didn't want all this money! And then they say, 'Well, I'll just find someone who will,' " said Ms. Stair, whose business is down about 55 percent. "But most people are very aware of the situation and trying to be safe."
Many people, she says, offer to get tested before the event. "I never ask them to," Ms. Stair said. "We're all masked up -- they're not. And the next thing you know they're kind of close to you."
So far, this year she has catered six weddings -- 12 if you include drop-off food only. She has another four scheduled and anticipates more to come.
"I recently had someone call me last minute and say, 'I'm getting married next week!' It's been lots and lots and lots of very tiny parties, lots of last-minute parties."
Every day is bizarre, Ms. Stair admits. "But it's what we love to do." 
---
Correction: An earlier version of this article incorrectly stated that the Burges did the electrical work in the Silver Spoon Specialties kitchen themselves. They hired a professional to do that work.