"In the Shadow of the Empress"
Nancy Goldstone
Little, Brown, $32
If you like biography, if you like history, this wonderful tome is for you. Deeply researched, "In the Shadow of the Empress" is written with a light hand and occasional humor. 
Nancy Goldstone focuses on four extraordinary women: Maria Theresa and three of her daughters who lived and reigned through one of the most unstable periods in European history, starting in the 1740s and culminating with the French Revolution and Napoleon's conquests. It offers a compassionate but vivid portrait of these women, with many details drawn from primary sources, including firsthand accounts by such as the German poet Goethe and Horatio Nelson's paramour Emma Hamilton, and even by the notorious roué Casanova.
The empress in question is Maria Theresa (1717-1780), Habsburg ruler over Austria, Hungary, Croatia, Bohemia, Transylvania, Mantua, Milan, Galicia and Lodomeria, the Austrian Netherlands, Parma, and a portion of Poland. She was heir to the Habsburg thrones and empress by virtue of sponsoring her husband, Francis, as Holy Roman Emperor, which was a birthright of the Habsburgs.
Two of her daughters became queens: Maria Carolina of Naples and Marie Antoinette of France. Two other daughters were ruling duchesses of the Austrian Netherlands and Parma. Of her four surviving sons, Joseph II became her immediate successor; Leopold II, Grand Duke of Tuscany, succeeded him. There was Ferdinand, Governor of Milan, and Maximilian, Elector (of the Holy Roman Empire) of Cologne. A grandson of Maria Theresa, Francis, succeeded Leopold. 
In all, she had 16 children in the space of 20 years, four of whom died of smallpox. Consequently — in an example for today — Maria Theresa sponsored the introduction of smallpox vaccination, at the time a daring new development, to her realm and hired a specialist to train local physicians in its use.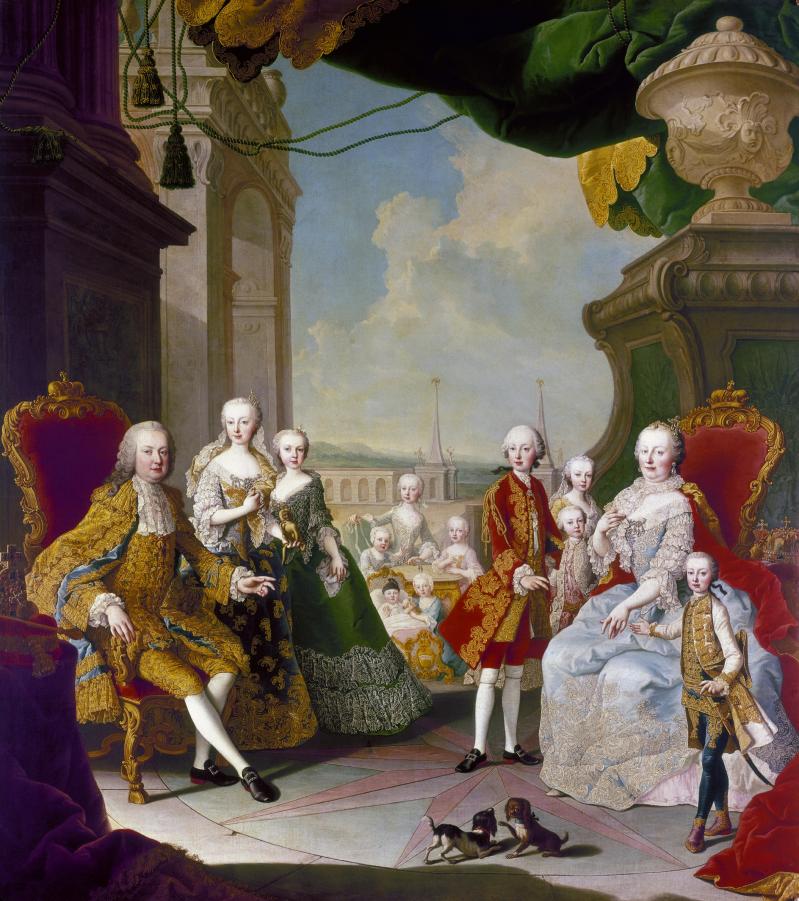 Maria Theresa inherited her thrones in 1743, when she was 26 and five months pregnant with her sixth child. It was she who ruled, as her husband, whom she had married for love and who carried the title of Emperor, was not the king nor up to being one. Her reign was dominated by the rise and territorial ambitions of Frederick the Great of Prussia, whose "new philosophy of military opportunism — basically, that those sovereigns quick and strong enough to act could ignore international treaties, legal precedent, and fundamental morality to grab what they wanted from those weaker than themselves" — took aim against her. Still, he was later forced to admit that she "executed plans worthy of a man of genius."
At this point in history, the leading powers in Western Europe were Spain, Britain, and France, but to the east of France frontiers were fluid and fought over among the many German states — principally Austria and Prussia — and eventually Russia. Alliances went back and forth, and royal marriages were used to create or solidify loyalties. Thus, two of Maria Theresa's daughters were married off: Maria Carolina, known as Charlotte, to the King of Naples (who reigned over all southern Italy and Sicily), and Marie Antoinette to the dauphin of France. An older daughter, Maria Christina, known as Mimi, and her husband became Governors General of the Austrian Netherlands.
Maria Carolina was married to the King of Naples in 1751 at the age of 16 and, finding him something of an irresponsible fool who cared only for hunting, ruled in his name until the end of the century. She gave birth to 17 children, one of whom, after several royal restorations, in her turn became Queen of France in 1830. Maria Carolina's main adversary was Napoleon, who, in the name of the Revolution, set out to conquer the Italian peninsula, which was still made up of numerous separate political entities. He succeeded and drove Ferdinand and Maria Carolina out of Naples to safety in the care of Horatio Nelson and the British navy, to Sicily, where they remained until France and Austria signed a peace treaty. 
Her younger sister Marie Antoinette was even younger, 14, when married off to the Duc de Berry, heir to the French throne and later known as Louis XVI. He was also 14. Her mother's intention was to secure an alliance with France, then the most powerful country in Europe, against Prussia. 
Ms. Goldstone's portrait of the young Marie Antoinette is critical of her frivolity during the early years of her marriage, when her husband was governed by a regent but sympathetic to the humiliation she suffered due to the fact that her marriage went unconsummated for a decade. Louis, apparently, was autistic and required instruction from his brother-in-law Joseph II, then Holy Roman Emperor, who "took [Louis] for a long walk, just the two of them, and asked him what seemed to be the problem in the bedroom. . . . Joseph later summarized this conversation with the king of France in a letter to Leopold," his brother: "Here is the mystery of the conjugal bed."
You can read the rest for yourself. Marie Antoinette gave birth to two children by the king but later she produced two more by her lover, the Swedish Count Axel Fersen, but they were acknowledged by the king — a daughter and the boy who would have been Louis XVII. 
Fersen was a major player in the attempt by the royal family to flee the guillotine, which sadly failed — because of their folly, not his fault — and led to the end of the monarchy. They had been pursued and captured by the National Guard under the command of Lafayette — yes, the very same. On learning of Marie Antoinette's execution, Fersen wrote to his sister, "Losing Her is the grief of my whole life, and my sorrows will leave me only when I die."
What followed the Terror in France was a brief republic, then the reign of Napoleon. When Napoleon's wife, Josephine, failed to produce a male heir, Napoleon sent to Austria for a new wife in the person of the eldest daughter of the Austrian Emperor Francis, who was married to a daughter of Maria Carolina. In the felicitous phrasing of the author, "History was in the act of folding over again on itself."
"Here's the thing about world domination," Ms. Goldstone says near the end of her book, "the would-be conqueror doesn't always have the good manners to give advance notice to his opponents of the magnitude of his ambition. Sometimes, like Napoleon, he takes a little and then stops, then takes some more someplace else, all the while professing his ardent desire for peace, until suddenly he's got everything."    
This is why we need to read history. It doesn't repeat, but it folds over again on itself.
---
Ana Daniel taught modern European history at Southampton College. She lives in Bridgehampton.
Nancy Goldstone's previous book was "Daughters of the Winter Queen." She lived in Sagaponack for many years and recently moved to California.