"Like a Rolling Stone" 
Jann Wenner
Little, Brown, $35
As I write this, on Nov. 13, Taylor Swift's "Midnights" stands atop the Billboard 200 album chart. Last month, Ms. Swift became the first artist ever to claim the entire top 10 on the magazine's Hot 100 chart. 
Go easy on this middle-aged snob, but to these ears "Midnights" — sonically, at least — seems as though concocted in a laboratory, next to the assembly line turning out loaf after flavorless loaf of Wonder Bread. Were any sentient beings involved in this creation, or is this the work of an artificial intelligence music generator? As the critic Greil Marcus famously asked of Bob Dylan's "Self Portrait" album, "What is this shit?" 
Such is the sound of so much popular music today, having made many an unfortunate mutation since October 1967, when the first issue of Rolling Stone magazine emerged from San Francisco, then ground zero of an exploding youth culture that expressed itself through the music that was loathed as much as feared by "the Establishment." 
It has surely morphed since April 1981, when I bought my first issue. There it was, on the counter at Long Island Sound in East Hampton, a melancholy Ringo Starr on the cover, hair and beard flecked with gray, just a few months after the murder of his friend and onetime bandmate John Lennon. "Taking Ringo Seriously (Mr. Starkey at 40)" was the headline. 
I was thrilled to find this rock-and-roll journal and its deeply researched but gonzo observations of music, politics, and culture, but there was also a sense that I'd missed it all. John and Ringo had turned forty, and now one of them was gone.
I may have been born at the wrong time, but Jann Simon Wenner certainly was not. In "Like a Rolling Stone," his new autobiography, Mr. Wenner, who owns a house in Montauk, chronicles an almost unimaginably wild ride amid upheaval and excess, his baby boom generation coming of age and swaggering across the free world, challenging and rejecting authority while celebrating and overindulging in sex, drugs, and rock-and-roll. 
His birth in the first days of 1946 "put me at the leading edge of the generation that would be the largest, best educated, and wealthiest in American history," he writes. His pediatrician was Benjamin Spock. 
He was surely in the right place at the right time, but that is not to diminish the man's achievements. "Around sixth grade," he writes, "I decided to become an editor and publisher. I have no clue where or how this odd notion struck me." Born in New York but raised in hippie-mecca-to-be San Rafael, Calif., from an early age he was obsessed with The San Francisco Chronicle. Ralph Gleason, The Chronicle's jazz critic, became an essential mentor, instrumental in the founding of Rolling Stone when Mr. Wenner was just 21. 
"Ralph had written an essay for the academic journal American Scholar titled 'Like a Rolling Stone,' in which he argued that Dylan and the Beatles, as well as Simon and Garfunkel and the Stones, were poets, the truth tellers about the current state of the world," Mr. Wenner writes. The essay "was the philosophical underpinning of Rolling Stone, our thesis, and ultimately our name. It was the title of Bob Dylan's greatest hit and also a salute to the Rolling Stones, whom I worshipped."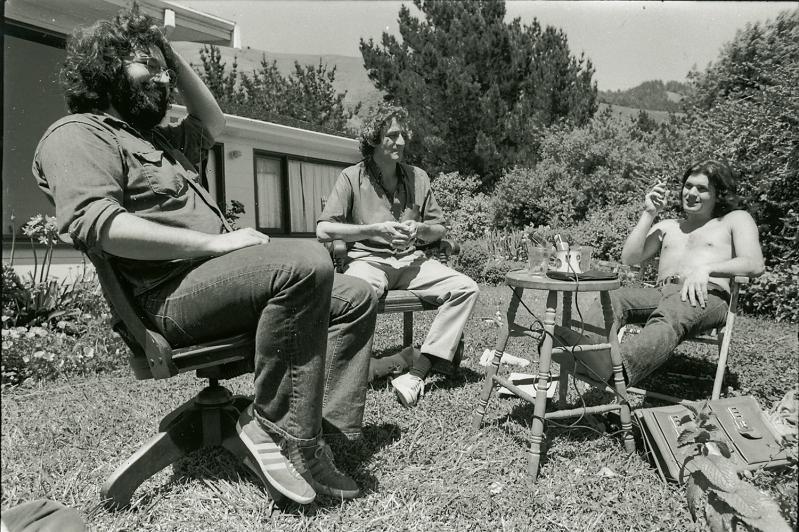 As a veteran writer and editor, his prose is reader-friendly, his life and work presented in 77 short chapters across five sections. While he apparently took strong exception to his portrayal in Joe Hagan's biography "Sticky Fingers," which The Star reviewed in 2017, he is open about his personal life, which from an early age included both prolific use of hallucinogenic drugs ("the acid provided so much depth to any experience . . . I became an evangelist for music and psychedelics") and same-sex relationships. He and Jane Schindelheim married in 1968, a sometimes-tumultuous union that changed dramatically at the end of 1994, when he confessed his love for a 29-year-old man named Matt Nye. 
In between, he describes a life of great adventure, quickly transitioning from superfan to friend and confidant of the rock-and-roll triumvirs Lennon, Mick Jagger, and Bob Dylan, along with legions of other entertainers desperate to be featured in his rock-and-roll journal. 
His gift for identifying talent was indispensable. Mr. Marcus, he of the abovementioned Bob Dylan review (which appeared in Rolling Stone), became a lifelong friend and a longtime editor. The writers Tom Wolfe, P.J. O'Rourke, and Joe Eszterhas had long associations with the magazine, as did the photographers Annie Leibovitz, Richard Avedon, and Mark Seliger. But Hunter S. Thompson, above all others, would define Rolling Stone's editorial slant, the drug-fueled practitioner of the New Journalism providing the most penetrating and caustic takes on contemporary America. 
"I wanted to turn Rolling Stone into a journalistic force," Mr. Wenner writes, "not just the 'Bible of Rock and Roll.' " That long, strange trip took the magazine to Manhattan, as "the magazine business was there, as were many of the writers I wanted to work with." Also, "New York was more fun than San Francisco." 
Relocating to the East Coast brought Mr. Wenner to the South Fork, and he describes adventures and good times on Further Lane and in Montauk with superstars including Paul McCartney, Bruce Springsteen, and Bono ("my Amagansett friend Michael Cinque" also gets a mention). As a New York publishing magnate, he acquired the celebrity-mad Us, renaming it Us Weekly, and founded Outside and Men's Journal. With the counterculture fading, "Rolling Stone had evolved into a mainstream magazine with affluent young readers," he writes. 
Nothing lasts forever, and over the decades Rolling Stone's relevance began to fade as well, as musical tastes changed and technology altered the sound of popular music while overturning the longstanding business models of both the music business and print media. The brisk pace of "Like a Rolling Stone" slows, and music takes a back seat to Mr. Wenner's involvement in birthing the Rock and Roll Hall of Fame in Cleveland and his personal life — Mr. Nye, to whom he is now married, their children, and recent, serious health challenges. 
Later chapters are peppered with death — of friends and associates, including Thompson, who took his life in 2005, and the record executive Ahmet Ertegun, who died the following year after a fall at a Rolling Stones concert. When Chuck Berry died in 2017, rock-and-roll's archetype and poet laureate was also gone, and by year's end Penske Media Corporation had acquired a controlling stake in Wenner Media. The year before, BandLab Technologies had acquired a 49-percent stake and Mr. Wenner's son, Gus, now Rolling Stone's chief executive officer, sold Us Weekly and Men's Journal. 
At more than 550 pages, "Like a Rolling Stone" is bursting with stars and stories, and any music fan will likely find the recollections of this rock-and-roll missionary thoroughly entertaining. "I feel lucky to have been alive at this time and to be able to witness all this," Mr. Wenner recently told Howard Stern. "Rock-and-roll is such a pure joy, such a pleasure to listen to, and on top of that, it's there for the good of mankind."