"Betsey: A Memoir"
Betsey Johnson With Mark Vitulano
Viking, $28
Betsey Johnson was New York's answer to Swinging London. The fashion revolution that so enlivened the 1960s may have started with Mary Quant, Carnaby Street, and the King's Road, but Ms. Johnson put a particularly American stamp on it. Her clothes said downtown Manhattan, life is fun, and you better lighten up.
Growing up in small-town Connecticut she already had a powerful personality — she was a dancer, cheerleader, prom queen — and she couldn't wait to escape to New York City, initially with the ambition of becoming a Rockette. It turned out she wasn't tall enough, but she always kept that qualifying athleticism — at the end of her fashion shows she would cartwheel down the runway and end in splits.
Betsey Johnson was still in her senior year in college in 1963 when she entered and won the Mademoiselle magazine Guest Editor Contest. Now with her focus on fashion, within the year she was the in-house designer for the Manhattan boutique Paraphernalia. Her signature style might later be thought of as "Over the Top but More So," but her early creations were simple shift dresses, with bold zigzags or diamonds, in silver lamé fishnet or faux suede or with skin-revealing grommets. Simple but young, fun, wearable, and shockingly new.
Paraphernalia was definitely a "wear now" store, popular with rock musicians and the downtown party crowd. Before long, Ms. Johnson was part of that scene, friends with Andy Warhol, Robert Mapplethorpe, and the Velvet Underground (her first husband was John Cale, then a member of the band).
When Paraphernalia fizzled at the end of the 1960s, Betsey left them and opened her first store, Betsey Bunky Nini, and at the same time started designing for the Alley Cat label — incredibly detailed and funky knitwear — until they wanted to go all taupe and beige. Then she left them too.
It seems she was a born nonconformist.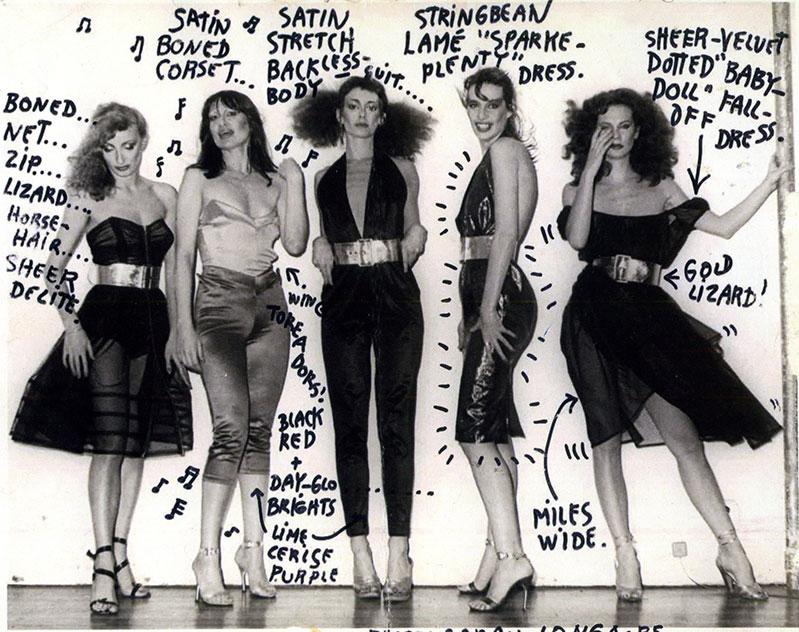 Throughout fashion history there have always been the rare oddballs who said, "Let's try something different." And then there were the copycats who followed behind but often went too far. What about shoving a wicker cage up your skirt so wide that you could only get through a doorway sideways? Great idea! Let's do it! Cruel corsets to make wasp waists? Every woman had to be a Scarlett O'Hara. Bustles, bullet bras, mullets, catsuits, and don't even mention stiletto heels. When showing an ankle became blasphemy, even table legs had little skirts. Men, who once endeavored to wear ever bigger and bolder codpieces, ended up shackled to the necktie. Because that's what the guy or girl next door is doing and we don't want to be different, to stand out from the crowd, do we?
But Ms. Johnson had a light touch. No sooner had the fashion world started copying her than she was on to the next thing — mimsy shepherdesses, tulle extravaganzas, shocking pink lace-up boots, sequined bomber jackets — no idea so outlandish that she couldn't pull it off. She traveled the world in search of ideas and fabrics and brought a joy and silliness to fashion that was a breath of fresh air.
Fashion is youth. I am sure there is someone somewhere (maybe at this very moment in lockdown wearing dirty old sweatpants) who thinks back fondly to her Betsey Johnson metallic blue minidress with orange striped leg warmers and purple fake fur jacket and thinks, "I am so glad I did that!"
One store (they were all painted bright pink), followed another until there were 66 countrywide (including one on the Reutershan parking lot in East Hampton). She and her partner managed to juggle the increasing business demands, but eventually the company got so big that they could no longer manage on their own. They reluctantly decided to sell half the company to a hedge fund on the agreement that the fund would run the day-to-day business.
And we all know how that one ends.
"Signing her soul over to the devil," as she put it, remains one of her few regrets. They fired her favorite people, crushed her ideas, imposed a gray corporate uniformity, and sales slumped.
When the 2008 crash came, the suits filed for bankruptcy. But Ms. Johnson had survived two more husbands, single motherhood, and breast cancer, and she weathered that storm as well. The same year, she was awarded the National Arts Club Medal of Honor for Lifetime Achievement in Fashion.
Betsey Johnson's story is a fascinating one. A young woman who carved a great swath through the rather conservative American fashion scene with nothing but her own talent and a seemingly inexhaustible energy. But the memoir leaves you wanting something more. The car speeds along, the trip is exciting, the bodywork is just lovely, but the hood isn't lifted far enough to reveal what made the engine that is Betsey Johnson so special, so surprisingly different.
---
Sheridan Sansegundo, former arts editor at The Star, lives in San Miguel de Allende, Mexico.
Betsey Johnson had a house in East Hampton from 2000 to 2016.