"Guide to Historic Artists' Homes & Studios"
Valerie A. Balint
Princeton Architectural Press, $29.95
The first thing the reader needs to know is that this is a guidebook sponsored by the National Trust for Historic Preservation. It is designed to lure you to these destinations by describing the sites and contents of 44 places created by iconic American artists. And for those who love art and architecture and design, it is seductive indeed.
Of course, the Pollock-Krasner House in Springs is one of the entries. There, the floor of Pollock's studio (covered with Masonite in 1953 and thus inadvertently preserved) offers an almost magical feeling of the artist's presence. As he painted on the floor of this barn, the arc of his gestures extended beyond the canvas, leaving their ghosts on the floorboards. Pollock is quoted saying, "I don't look at the view, I watch it. The land is alive, tells you things when you let it," suggesting a connection between the aliveness in the view and the energy behind the artist's movements.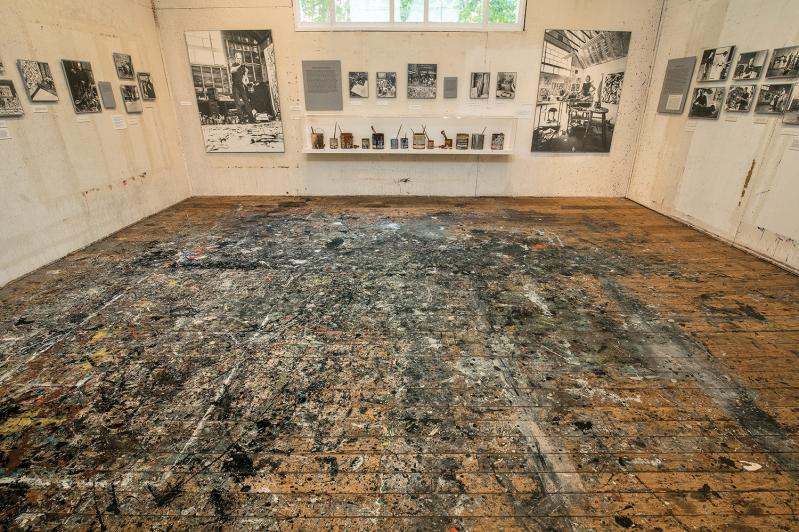 A floating theme of this guidebook is that experiencing an artist's surroundings — often self-created — can bring the viewer closer to the work and add to one's understanding and appreciation. That is why it's worth the trip.
Another local entry is the recently restored Thomas and Mary Nimmo Moran Studio on Main Street in East Hampton. The article describes the making of this idiosyncratic house by Thomas and Mary, and its "handmade character." We are told that Thomas Moran salvaged architectural features from older buildings that were being demolished in New York City to make room for brownstones, transported them to East Hampton on the Long Island Rail Road, and used them as elements in the house.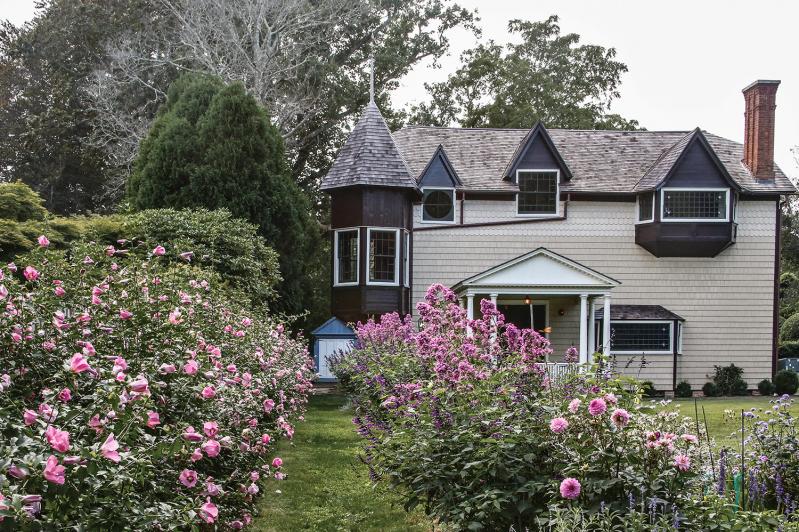 The book is arranged by geographic region, so let's start our grand tour nearby. Within driving distance of East Hampton, there are a number of places to visit, among them the Arthur Dove/Helen Torr cottage at the Heckscher Museum in Centerport, a one-room house on the banks of Titus Mill Pond where the couple, both artists, lived and worked
Across the Sound in Old Lyme, Conn., is the Florence Griswold Museum and the family homestead she made into a boarding house for artists at the end of the 19th century. American Impressionist painters such as Childe Hassam (later an East Hamptoner) were part of this summer colony and shared meals in the dining room, which is lined with panels painted by its denizens.
In Nyack, N.Y., on the west bank of the Hudson, is the family home of the Hopper family, where Edward lived and worked. Valerie Balint introduces this place with these provocative words: "The raking light that streams through the large, double-sash windows of the boyhood home of painter Edward Hopper is the same that the artist beheld growing up and that he replicated in works again and again as an adult."
Up the Hudson Valley, in Hudson, there is Olana, the fantastical home of Frederic Edwin Church. "Every aspect of Olana's design — architecture, decoration, and [250-acre] landscape — bears Church's imprint," we are told by our guide.
Near Tanglewood in Stockbridge, Mass., lies Chesterwood, another all-in creation by the sculptor of the Lincoln Memorial, Daniel Chester French. His studio was designed by Henry Bacon, his collaborator on the Lincoln Memorial, and the extensive grounds (122 acres) — pastures, lawns, formal gardens, and woodland walks — were designed by French himself.
Finally, on our journey north, we come to the Winslow Homer Studio on the Prouts Neck peninsula in Scarborough, Me. Here is another idiosyncratic building created by the painter himself on the grounds of family property. Homer lived and worked here, watching and painting the ocean and its play against the rugged coastline.
Heading west to Iowa, we find the Grant Wood Studio at Cedar Rapids. His home and studio, designed by him, display his practicality and wit. They also functioned as a social hub and theater. Due south at Kansas City, Mo., the home of another rural champion in American art: the Thomas Hart Benton home. This house, a large 24-room limestone building, remains as he and his wife lived in it, including an impressive studio space.
And in western Texas we find the Judd Foundation's La Mansana de Chinati, in Marfa. Now we are in a world of conceptual art. Donald Judd's abstract, three-dimensional constructions are set in spaces of his own design and include his personal art collections, furniture, decorative objects, and artifacts. 
Returning full circle to where we started, there is a second Judd Foundation site in New York's SoHo. This museum (which preceded its sister in Texas) also displays Judd's "fervent belief that understanding an artwork is possible only when it is considered within its intended environment." Space, form, use, content all relate to one another in both museum locations.
So this is a sampling of the entries in this guide to artists' homes and studios in the National Trust for Historic Preservation. It is amply illustrated with color photographs and gives extensive credits for sources. Few of the images are labeled, however, which is a small shortcoming.
---
Ana Daniel, a graduate of Stony Brook Southampton's M.F.A. program, is retired from business and teaching. She lives in Bridgehampton.
Correction: This article has been updated to reflect that the floor of Jackson Pollock's studio was not covered after his death to preserve it, but rather in 1953 in a renovation project.