It's unusual when one undertaking has numerous positive results, but like a stone dropped in a pond, Lisa Perry's purchase of a midcentury Georgica house in decline has led to multiple ripples and reverberations.
Back in January of 2021, the home and fashion designer saw the house on an Instagram account she follows of a New York City-based real estate agent who tries to find sensitive buyers for midcentury modern properties in danger of being demolished.
"It caught my eye because it's the style that I love the most," Ms. Perry said recently during a walk around the house and property. Seeing that it was in East Hampton further piqued her interest. In a video that was part of the post, she heard the agent say, "It is one of these architectural gems that get torn down. Is there anybody out there to save it?" 
"I literally thought he was talking to me," Ms. Perry said.
She went to see it soon after. "At that time of year, I really could not see any of the beautiful potential in the gardens or anything like that. But the minute I saw this house, I had a physical reaction." It reminded her of her childhood home in the Chicago suburbs.
That was the moment when she realized "this should be mine. I did not think anything beyond that other than I wanted to save it." And that meant staying true to the vision of the architect, Paul Lester Wiener, while bringing the kitchen and bathrooms up to date.
Aside from its Bauhaus-inflected design's funky International Style cool, the house has a great pedigree. Designed and built in 1962, it was one of a few houses Wiener designed on the South Fork. The original owners were Robert and Ethel Scull, prominent early and avid patrons of Pop Art.
With a house she and her husband love on North Haven, Ms. Perry initially thought the space would be a studio where she might paint or work in ceramics or textiles. She wasn't certain, but she did know she wanted to create a collaborative environment where people in any creative field could exchange ideas, work together, or go to be inspired.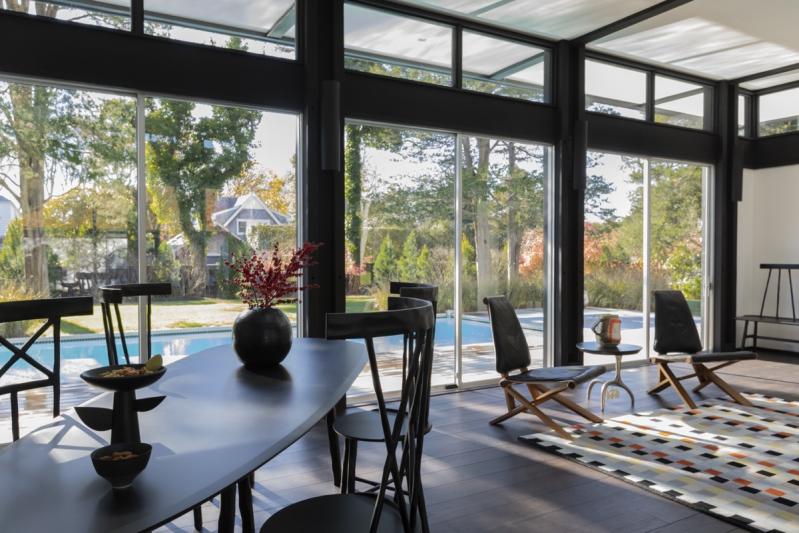 After the construction was completed and she began to spend time in the space, she decided it "would be a fantastic place to highlight and to show lesser-known women artists." At the same time, she wanted to have all of her "passions together under one roof, which are design, architecture, and support of women in all ways," be it political, philanthropic, or in the arts.
She named it Onna House to highlight the house's Japanese vibe and her focus on women. Onna is Japanese for woman. As she was working on the restoration, there was a rise in hate crimes against Asian people. She wanted to address it by bringing increased cultural awareness through art and design.
She met with Japanese and Korean artists and began collecting their work to show and share in the rooms of the house. Then, Russell Steele, an East Hampton antiques dealer, told her, "Lisa, you are way off in Japan with artists doing this incredible stuff, but there are so many incredible women artists right here in the Hamptons."
That led to meetings with artists such as Toni Ross, Almond Zigmund, Candace Hill-Montgomery, Janet Goleas, and Bastienne Schmidt, whose work she purchased and now shows in the house and studio. Ms. Perry hopes they and others will consider the house a retreat to get away from their studios and meet up for tea or hang out by the pool or in the gardens as a break from the everyday.
This permanent collection she is forming will be on view most of the time (in the case of Ms. Zigmund, her work is a mural painted on the kitchen walls). In the summer months, she will highlight particular artists. The inaugural exhibition will open on Saturday with the work of Mitsuko Asakura and Ligia Dias. It will remain on view through late June.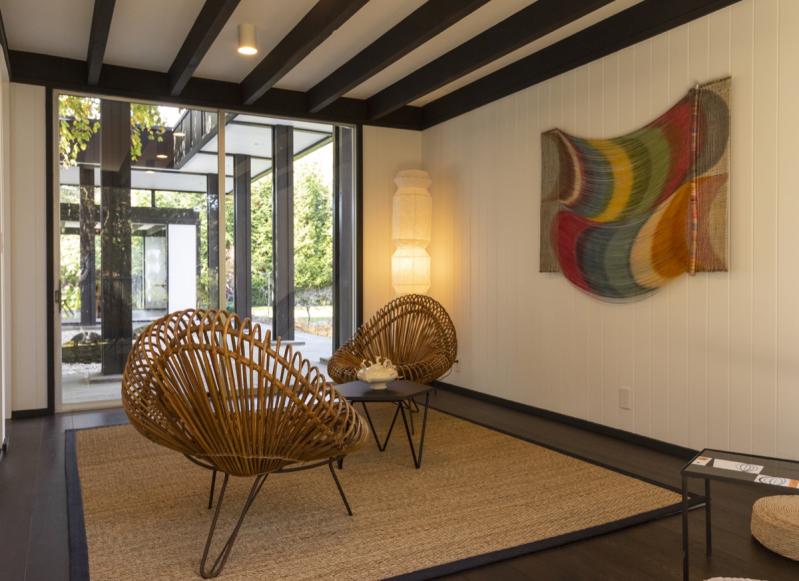 Ms. Asakura works in fiber in unusual evocations of weaving, pattern, and color. Ms. Perry already has a significant piece hanging in the house. "People have really been attracted to her work," she noted. She will show 10 of her pieces. In the separate studio building, Ms. Perry's collection of paper dresses by Ms. Dias, who is Swiss, will be joined by some of the artist's jewelry and mirror pieces. 
More temporary exhibitions will follow in July and August. Visits and tours are by appointment only, Thursdays through Saturdays beginning June 2, and can be made on the Onna House website. Visitors will be restricted to just a few at a time, to be respectful of neighbors and to enhance the experience of being there, Ms. Perry said.
The temporary exhibitions will include works that can be purchased. "All of this work is hanging there and it shows how you can live with it in a residential environment," she said. "The bottom line is I want to help the artists sell more work." She wants the pieces that she highlights to be approachable in terms of cost as well. The prices of the artwork range from $1,000 to $20,000, with an emphasis on pieces less than $10,000.
Ms. Perry acknowledges her attraction to fashion and textile-related themes. "Somebody said that they have a collection of vintage kimonos that had been reworked and that interested me," she said, because of the tie-in to Japanese and Asian culture, mixed with vintage fashion. "That was really how I started my business." 
The paper dresses she's collected, both from the 1960s (including one with a giant black-and-white headshot of Bob Dylan considered iconic) and the contemporary work of Ms. Dias, "are the exact shape that I used to do, which is super interesting to me." People still ask her to go back to designing dresses, which were hugely popular. She said anything is possible.
"There are these ideas that are percolating," she said. "It makes sense to merge all my worlds and not to just leave that one world behind, because fashion was a big part of my life and I loved it. And so, maybe there's something that can be done in the future, which will be nice." She said she has already been inspired by being in the house and done some creative work there.
Still, she credits those ideas and the openness to them to the process that brought her here. "Before January 2021, I was saying, 'What's my next move?' and then here this came and it's just been so inspiring." She noted that on her yearly trip to Los Angeles, she found herself visiting art fairs and studios with a new focus and purpose.
The enthusiasm that has greeted this project has been very rewarding, she said. "I didn't know where this whole adventure would take me, and it's very exciting."