Hamptons Film has released its 2020 Program Guide for the Hamptons International Film Festival in this issue, with a list of films and events that will go on despite the highly unusual circumstances this year.
Featuring a blend of virtual and drive-in experiences, it will not function like festival audiences are used to seeing. Yet the essential independent films, sneak peeks at mainstream major releases, and intimate and in-depth conversations will remain.
With 30 feature selections this year and four programs of short films, the festival is bookended by films with themes of racial justice. "With Drawn Arms" will open it, and "One Night in Miami" will close it out.
Glenn Kaino and Afshin Shahidi's documentary "With Drawn Arms" traces Tommie Smith's raised-fist gesture during the 1968 Olympics through its legacy as a silent protest in the history of sports. Directed by the actress Regina King, "One Night in Miami" is based on a play of the same name about the gathering of four giants of sports, music, and activism on the night of a major boxing upset in 1964.
"Coded Bias," a documentary by Shalini Kantayya, examines the flaws in facial recognition technology when it comes to identifying Black women, and what tech companies are doing to address it.  Garrett Bradley's documentary "Time" follows Fox Rich on a quest to have her husband released from prison for a crime committed in the early 1990s, when they were in desperate straits. It is in the documentary competition section.
Leslie Odom Jr., the Tony and Grammy Award-winning singer and actor who plays Sam Cooke in "One Night in Miami," will participate in the festival's A Conversation With series of one-on-one interviews with actors and filmmakers. In addition, the actors Kate Winslet and Steven Yeun will participate in conversations.
The festival's marquee dramas include "The Father," starring Anthony Hopkins and Olivia Colman and directed by Florian Zeller, based on his 2012 play. "Ammonite" is a period romance directed by Frances Lee and starring Ms. Winslet and Saoirse Ronan. It was inspired by the life of a 19th-century British paleontologist. Frances McDormand stars in "Nomadland," Chloe Zhao's film about a woman on the ultimate road trip after a company town collapses in rural Nevada. In Tara Miele's "Wander Darkly," Sienna Miller plays a victim of a traumatic accident forced to reassess her life while attempting to solve its mystery. "Minari," by Lee Isaac Chung and starring Mr. Yeun, is about a Korean-American family that moves to Arkansas.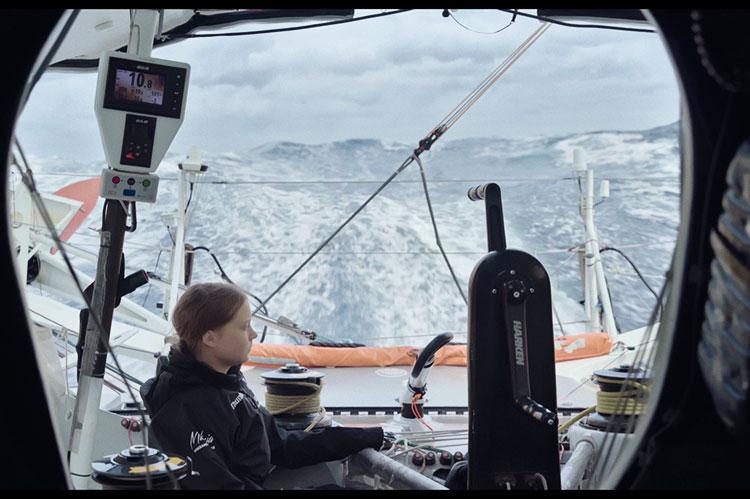 This year's program also features a variety of documentaries on subjects such as Greta Thunberg's environmental activism, meteors that fell to earth (by Werner Herzog and Clive Oppenheimer), Provincetown, Mass., truffle hunters, the friendship of Truman Capote and Tennessee Williams, stray dogs in Istanbul, the Marjory Stoneman High School shooting victims turned activists, and a forensic psychiatrist who wanted to understand serial killers (directed by Alex Gibney).
Anyone who has followed the worldwide Covid-19 headlines this year will recognize the themes of the documentary "Collective" from Alexander Nanau. The director tracks a story involving burn victims at a nightclub and how the Romanian government's corrupt health ministers lied to cover up negligence that resulted in their deaths.
Another, "Gunda," which isn't strictly a documentary or a narrative film, follows the lives of farm animals in an indirect argument for veganism.
There are also international narrative features about an immigrant family from Angola, a man who must choose one soul worthy to be born, a woman who finds a way to provide her own affordable house after her life implodes, an aspiring Mexican chef, a woman who looks for a birth mother who doesn't want to reconnect, a widow who wants to end her life yet finds a cause to live for, and more.
Other films include American contributions such as "The Sound of Metal," directed by Darius Marder, about a drummer losing his hearing; Michael Angelo Covino's buddy picture "The Climb," and a documentary about the singer-songwriter Harry Chapin's life and activism.
HIFF also announced four programs of short films, including Narrative Competition, Documentary Competition, On The Road To Find Out, and the University Short Films Showcase.  
This year's jury members include the documentary filmmaker Carlos Sandoval, the chief film critic for Time magazine Stephanie Zacharek, and Todd Lieberman, an Academy Award winning filmmaker.
The festival will take place from Oct. 8 to Oct. 14 this year. Further details and information on purchasing the streamed films and tickets to the drive-in showings are available in the guide and on the festival's website. Passes are now on sale, and individual tickets will go on sale to members on Tuesday and to the general public on Sept. 28.
This article has been updated to include information not available at the print deadline.