In a year in which everything familiar has been upended, it only makes sense that the biannual Parrish Road Show would smash through the guardrail and take to the sea.
On Sunday, the artist Scott Bluedorn launches Bonac Blind, a reimagined duck blind that both memorializes Bonac traditions of fishing, hunting, and farming and comments on the sad consequences of East Hampton's stratospheric cost of living.
An opening reception happens on Sunday at the floating Bonac Blind's temporary home, in Accabonac Harbor at the end of Landing Lane in Springs. Mr. Bluedorn, an East Hampton native and participant in the Parrish Art Museum's "Artists Choose Artists" show last fall, will discuss the project with Corinne Erni, the museum's senior curator of ArtsReach and special projects, in a live and virtual discussion from the Parrish in Water Mill on Friday at 5 p.m.
The Bonac Blind, a functional "tiny house," which can serve as a physical platform for fishing, clamming, or simply taking in the sights and sounds of nature's beauty via a large geodesic dome window, encompasses multiple issues that clearly weigh upon the artist's mind.
"I have been interested in the idea of living and working on the water, but not in a typical 'boat' way," Mr. Bluedorn said last week. "I really like tiny homes and off-grid living. It came out of that kind of ethos, that world. When I was offered the Road Show exhibition for this year, I thought it was a perfect opportunity to really dive in and dedicate myself to a large-scale project."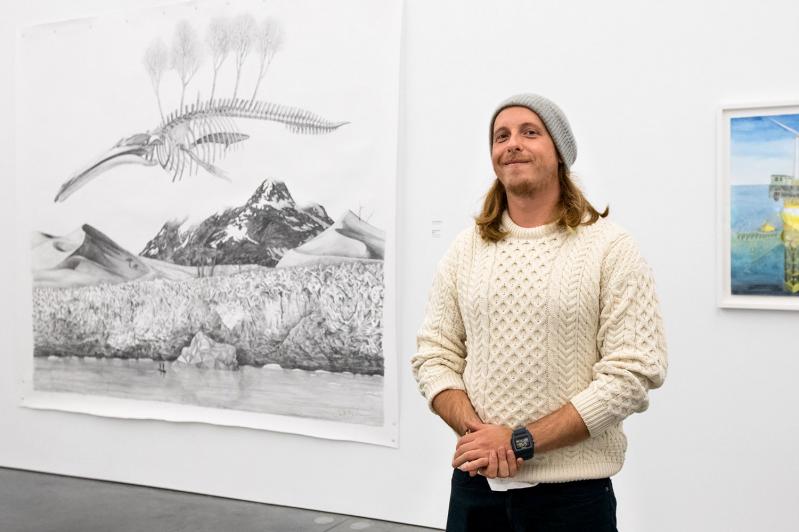 The concept, he said, unites Bonac culture as exemplified by the duck blinds familiar throughout his upbringing with the reality experienced by too many Bonackers: relegated to the margins of "the Hamptons," or even to economic exile, self-deporting to a more affordable region. The Bonac Blind, he said, is "a symbol of Bonac culture being relegated to tiny homes, pushed out of view of the mansions, living on the marshes, fishing, farming, and hunting as always, but undercover.
It's kind of a play on words -- 'duck blind,' something you hide in when hunting, but also Bonac blind, symbolic of the fact that the prevalent culture of the Hamptons is blind to this traditional culture."
"I've been following Scott for a while," Ms. Erni said. "He's a beautiful illustrator and creates fantastical utopian, or dystopian, visions," she said, referring to the artist's "maritime cosmology" that "mixes imagery from the sea and fuses it with a post-Anthropocene landscape."
Ms. Erni, a native of Switzerland and former New York City resident, was unfamiliar with Bonac traditions before relocating to the South Fork. "I thought it was fascinating that there was such a strong tradition, and a name for it. Scott is making his own interpretation of that, creating this floating, living device, a commentary on the lack of affordable housing, which is so huge here, and something I experienced myself. All of that, to me, was extremely appealing. Bringing it all together into one artwork, I thought, was amazing."
Mr. Bluedorn constructed the Bonac Blind with new and repurposed materials, including plywood, native reed, and industrial barrels for flotation, and added a hatch at the bottom "so you could theoretically go scalloping or clamming from inside the blind itself." The blind will also function as a small art gallery of his work with a maritime theme and a library featuring books of local interest.
The artist had to take his concept to the town trustees, who have jurisdiction over many of the town's waterways, bottomlands, and beaches, and who issue permits for duck blinds, fish traps, moorings, and the harvesting of shellfish. The governing body was enthusiastic -- "As a hunter, I like the idea of a bed and wood stove," Jim Grimes joked -- and issued a duck blind permit for the short-term installation.
"Working with the trustees has been cool," said Mr. Bluedorn, whose environmental awareness was manifested earlier this year in discussions with the trustees about kelp farming. "I always thought the duck blind should be on site, not in the middle of a field or gallery."
To that end, the Bonac Blind will be moored off Landing Lane from Saturday until Friday, Oct. 23. Members of the public can meet the artist and explore the installation by appointment on Saturday from noon to 2 p.m. and 3 to 5 p.m. Reservations can be made on the Parrish website (the rain date is Sunday). Masks and social distancing are required. Visits to the Bonac Blind from Sunday onward can be arranged by appointment through the artist at [email protected].
"I think it will tie in well with the current situation where people need to socially distance and isolate," Mr. Bluedorn said. Pandemic protocol, he said, bestows the fortuitous additional use of the blind as a natural, tranquil environment conducive to meditation.
"I'm hoping that it could be an evolving structure or program," the artist said, "because now I realize there's a lot more I could do if I had more time." He wondered aloud about an electric outboard motor to transform the blind into a vessel, or to make it a permanent gallery or museum. "Or I might just retain it as a studio," he said. "Hopefully, it will have a useful afterlife."
Friday's illustrated discussion will stream online and offer limited and socially distanced seating in the museum's Lichtenstein Theater. The cost is $20, $10 for members, and is free for students and children. Registration is required through the Parrish website. 
This article has be modified from the original to reflect that the opening reception has changed from Saturday to Sunday because of inclement weather forecasts.