Say Hook Pond Lane Will Never Be the Same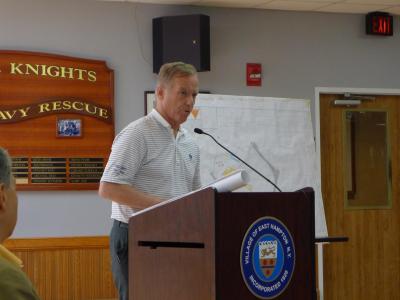 Christopher Walsh
Over neighbors' furious protests against what they called an outsized sense of entitlement and Hook Pond Lane's deteriorating character, the East Hampton Village Zoning Board of Appeals granted a variance allowing a detached 748-square-foot garage in a front yard, which is prohibited by zoning. 
Howard Dean, the former governor of Vermont and candidate for president, whose family has owned a house for many years on the private lane that leads to Hook Pond, was among those who argued against the variance. Despite cries of "Enough is enough!" and Mr. Dean's complaint that development had "fundamentally changed the nature of the town that I grew up in," the board decided that approval was the better of two options. 
Jeffrey Schneider, a developer and builder who lives in the village, has a 6,450-square-foot house under construction at 20 Hook Pond Lane, which several neighbors said is far larger than any others on the lane. The code would allow a garage to be attached to the house, which Mr. Schneider pledged to do were his application for a detached garage denied. The result would be an even greater mass, board members said. 
Mr. Schneider, who said he has built nine spec houses in East Hampton, bought the property in January for $5.95 million. It had once belonged to Dwight Chapin, who was a deputy assistant to President Richard Nixon during the Watergate scandal. The private lane forks just before the property, with one fork, West Road, wrapping around it, which technically means the property has three front yards. "That kind of threw us for a loop," said Mr. Schneider. "I didn't know we had three front-yard setbacks. Shame on me." 
Thomas Heine, the architect, told the board that plans for the garage, and a porte cochere between it and the house, had been submitted to the Building Department, but were withdrawn when the department delayed a determination about whether it was an attached or detached structure. "It wasn't as if we were trying to sneak around something in the code," he said. "We just chose to back the garage out so we could get started on the construction."
A garage connected to a main house by an open breezeway is considered detached, but its square footage is included in the permitted floor area of the principal structure, a provision of the code that aims to control massing. 
Mr. Heine was rebutting accusations from Mr. Dean, his brother, Jim Dean, and Linda James, whose house is next door, who claimed that Mr. Schneider was presenting his overall plan in segments, and was likely to return with plans for a tennis court, for example. 
The neighbors also objected to the size of the house, which they claim has irreparbly harmed the lane's character, although the house and proposed garage are under the maximum size allowable. 
The neighbors were also frustrated by the ongoing disturbance. Ms. James said that trees, including one at the entrance to her driveway, had been cut down or sheared, that construction crews making U-turns in her cul-de-sac had forced her to install a gate.
"It's a nightmare. I am shocked beyond words . . . that this owner-builder never, never came to address us. I think of all the things that are reprehensible about the project and about what's happening in East Hampton, it's this sense of entitlement," she said. 
While development in East Hampton "has been great because it creates a lot of jobs," the former governor said, "at some point somebody is going to say we can't keep doing this to ourselves. It's not a matter of the community changing; all communities change. But at some point you lose the community." Like several others, including Carl Irace, an attorney representing the Deans, he accused Mr. Schneider of segmenting the plans. "These kinds of maneuvers are what cause us to lose the community and I hope the board will take that into consideration."
Jim Dean said that anyone visiting the house under construction would "see how imposing it is . . . how very out of character it is compared to the homes that surround it." Construction had occurred outside of the allowable hours, he said, and trespasses resulted in damage to a tree. "We're very, very concerned about how protected we are with a project of this magnitude that has done so much to affect all of us and many of the other neighbors."
Mr. Irace read a recent amendment to the zoning code outlawing any portion of a detached garage within a front yard. The village, he said, "took significant action legislating an ordinance that explicitly prohibited exactly what's being sought here." The increased massing resulting from the garage, he said, would "make the neighborhood feel denser and more crowded with structure, and it will detract from the unique Hook Pond location and setting." The variance would also negatively impact Hook Pond, "an area with very sensitive environmental concerns," he said.
He asked that the hearing be left open for written submissions. But board members coalesced around a statement by Frank Newbold, the chairman, that if the application were denied, the "remedy is to build this larger structure as of right." Mr. Heine had noted that as an accessory structure, the garage would be limited to a height of 20 feet, but if it were attached to the residence, it could be as high as 30 feet.
"You have to realize that if they get the variance, it's smaller," said Chris Minardi, a member of the board. "I believe it's to the benefit of the community to approve this."
Lys Marigold, the board's vice chairwoman, said she would vote reluctantly to approve the variance. "This structure is huge . . . an affront to the neighbors in its rawness now. Hopefully, one day it will settle in and be hidden behind trees and bushes, etc. . . . I understand, endless construction crews and everything, but in the long run, for you and the neighborhood and the village, it would be better to have a smaller garage."
The neighbors were clearly disappointed, although Howard Dean was among those who thanked the board for its efforts. "As you know, I have a long history in public service. You never end up in a process like this with a lot of friends."
Other Decisions
Four determinations were announced at the meeting. Peter Morton, a co-founder of the Hard Rock Cafe restaurant chain, was granted variances to allow swimming pool equipment and a dry well seaward of the coastal hazard area line and within a side-yard setback at 57 West End Road.
The board granted the Everit Albert Herter Veterans of Foreign Wars, whose building is at 290 Montauk Highway, a special permit to install four air-conditioning condenser units on a lot containing a pre-existing nonconforming restaurant (Highway Restaurant and Bar) in a residential district.
Anne Maffei and John Eaton were granted variances to allow alterations to a pre-existing nonconforming garage, which is to be used as a pool house and for storage, at 6 Meadow Way. Variances were also granted to permit construction of an attached pergola. Both structures fall within required setbacks.
The board granted the Patrick Alfred Hines Trust variances to legalize two air-conditioning condenser units and allow construction of an attached deck, all within the rear-yard setback, at 16 King Street.