Personality Change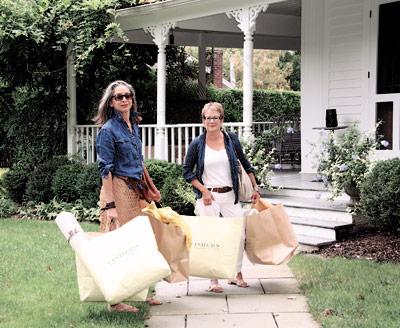 Durell Godfrey
Staging houses that are for sale — arranging furnishings so as to attract buyers — didn't catch on on the South Fork until about 2000
   To stage or not to stage? That is the question. Angela Boyer-Stump, an agent at Sotheby's, had a listing of an empty spec house on Phoebe Scoy's Road in East Hampton that was on the market for a year, but sold a week after being decorated with such staging basics as a pair of white sofas, a couple of white-cushioned wicker armchairs, and a blue and white striped rug in the living room.
   Staging houses that are for sale — arranging furnishings so as to attract buyers — didn't catch on on the South Fork until about 2000, when Liz Kramer and Deirdre Guest partnered to create an interior design and staging firm, Homework in the Hamptons. "Staging was big in Europe and on the West Coast," said Ms. Kramer, who left TV production to move out east. "I think we were the first," said Ms. Guest, who left a career in fashion design and met Ms. Kramer on the South Fork.
   Though slow to catch on, many agents now recommend that sellers stage their properties — both indoors and out. "Stagers are worth their weight in gold," said Judi Desiderio, founder of Town and Country Real Estate, who has witnessed many a house "instantly" transformed from "unappealing to appealing to the masses."
   However, it is often a challenge to convince the seller of staging's value. Faced with many other fees, "they don't want to spend a dime" on staging, but Ms. Desiderio and several other agents believe that an investment will be recovered, and even multiplied. "You can increase your investment five-fold," said Ms. Desiderio. Ten thousand spent on staging, she believes, will net the seller $50,000. Sellers, said Ms. Desiderio, need to look at selling their house "as a business, and listen to the experts" on how to market it. "Sometimes I wish we could have the owner take everything out," she said, so that it becomes "a blank canvas" for the stager "to paint."
    But, what exactly is staging? Talk to stagers and agents and certain terms prevail: "neutralize," "depersonalize," "de-clutter." In essence, stagers descend upon a property with the express purpose of deleting all the personality the homeowner has spent years assembling.
    In their "editing" process, one of the first things that the ladies from Homework do is to "take away family pictures . . . and as much furniture as possible." Most of the time, said Ms. Guest, "people have too much." Their goal "is to make it look like a W Hotel," so that the prospective buyer "doesn't feel it's someone else's space." The key is creating a universally likable environment that buyers can envision living in happily ever after.
    Rooms are painted white, Benjamin Moore 01 White to be precise: "the whitest white there is," according to Ms. Kramer. Colored bedding and towels are nixed in favor of white. Wool rugs are replaced with sisal for that "beachy" look. "A lot of houses are formal, but people have that in the city; they don't want it here."
    That is not to say that all staged rooms are reduced to blah palettes. "One of my trademarks is pops of color on a neutral background," said Donna Dazzo of Designed to Appeal, a company that stages properties in both the city and on the South Fork. The throw pillow is to stagers what a wrench is to a plumber. While the rule is that walls and furniture must be neutral, artwork and decorative objects are allowed to express a certain restrained visual excitement. The challenge is to create a "warm feeling . . . without being distracting," said Ms. Dazzo.
    Her mission is to "emphasize positive features while downplaying negative." If there's a "great view or a fireplace" she arranges furniture to "draw eyes toward it." Vice versa for a defect. Sounding very much like a selling agent herself, Ms. Dazzo said, "You don't want to leave buyers with objections. They need to imagine themselves living there." She left a career in finance to become a stager.
    A primary objection is that a space feels too small, the culprit being all that aforementioned clutter. "If it doesn't feel open, buyers are turned off." Besides major changes, Ms. Dazzo will also "freshen up and update" minor details such as "swapping out a light or faucet fixture or cabinet knobs." She has a warehouse filled with such necessities as linens, bedding, throws, decorative accessories, and bathroom and kitchen items. In defense of staging she offered the following analogy: "You don't go to a job interview in a pair of jeans and sneakers."
    Lilielle Bucks, president of Lett by Heiberg Cummings, a design firm, said she is called in about once a week to help when a property has been on the market a while and hasn't sold because "it doesn't look inviting." Working primarily with the homeowners' belongings as a way of saving money for the client, her job — like that of most stagers — is to first "eliminate," then rearrange. "Sometimes it's better if you put in pillows here or some candlesticks on a table."
    But hold on, we are undergoing a technological revolution and "virtual staging" is a very real option. Anthony Cappa and Greg Baker, co-owners of Revel Inspired, work with developers and homeowners to create rooms that can be viewed online. "On new construction we work with developers to design and decorate rooms before they're built so they can be marketed before even breaking ground," Mr. Baker said.
    For homeowners, they attempt to "bring potential buyers peace of mind to see past outdated conditions," he said. Going beyond staging, they can also help buyers achieve in real life what they've created in cyberspace. The average cost per room is $1,500 (which includes building a 3-D model). Lilielle Buck charges $2,000 for five hours while Homework charges $5,000 for furniture rearrangement and from $25,000 to $100,000 when furnishing an entire house. Though it may seem like a lot, more often than not, buyers prefer to move into a furnished house "just bringing their clothes and a toothbrush," according to one stager.
    Though staging may be an agent's (or seller's) best friend, most sellers refrain. Only about 5 percent opt to spend the money, Ms. Desiderio estimated, this despite the urging of agents to look at it as an investment, not an expense.
    There is a risk, however. "If it's done badly, you shoot yourself in the foot," said Barbara Feldman of Hamptons Interior Design, an interior designer with 35 years of experience who has given up on staging because she feels that homeowners still haven't embraced the concept enough to pay what the service is worth. "I've seen some pretty bad staging," she said, referring to stagers who don't hail from a design background and "take a short course and learn some tricks."
    And her message to sellers is: Don't try this at home. There are those, she said, who think: "I have good taste, I can do it." But she insists "if it's not done with a professional and objective eye," it's not an effective marketing tool. "Saying I have good taste is the same as saying I can cook that great
meal I had at a restaurant."