A Musical Portrait of Billy Squier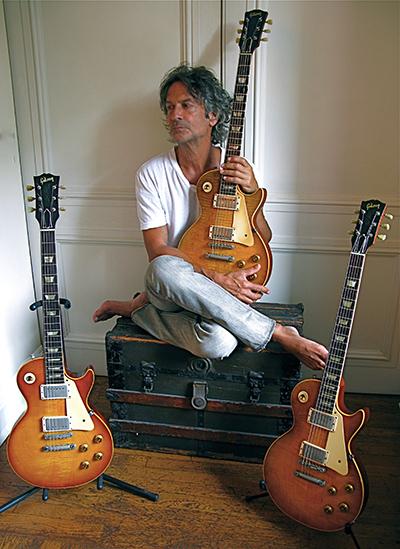 "Portraits" offers a rare opportunity to see and hear a renowned artist in an informal and intimate setting
As summer winds down, one of the South Fork's many "must" events happens tomorrow at 8 p.m. at Guild Hall in East Hampton when the musician Taylor Barton and the guitarist G.E. Smith present the next in their "Portraits" series, featuring Mr. Smith in performance and conversation with Billy Squier. 
"Portraits" offers a rare opportunity to see and hear a renowned artist in an informal and intimate setting. Mr. Smith and Mr. Squier, who has released more than a dozen studio and live albums including 1981's "Don't Say No" and, the following year, "Emotions in Motion," will sing, play guitars, and talk about the latter's career in music. 
Those two albums and 1984's "Signs of Life" are not only Mr. Squier's most successful releases, each was among the biggest of the decade, marrying catchy hard-rock riffs and guitar solos with a pop melodicism in a way that saturated radio and MTV for several years with hits like "The Stroke," "In the Dark," "My Kind of Lover," "Emotions in Motion," "Everybody Wants You," "Learn How to Live," and "Rock Me Tonite." Thirty-six years later, "Lonely Is the Night," from "Don't Say No," remains an irresistible and anthemic 4 minutes and 40 seconds that still conjure, to this listener, an undiscovered treasure from Led Zeppelin circa 1976. 
Taking in the early evening stillness with Mr. Smith in his Amagansett house last week, Mr. Squier, who lives in Bridgehampton and New York City, recalled a recent listen to "Don't Say No," of which he is planning a vinyl reissue. "I was listening to the test pressing," he said, "and what struck me was that this thing starts, there are all these hits on it, and I'm thinking, 'This is really good.' But then it shifts into the non-hits, which have the same sensibilities, and I thought, 'Now it's getting really good!' It struck me in a very different way, because I'm thinking, these songs may not be hits, but the performances! They're bigger and more exciting." 
" 'Too Daze Gone' is a big-sounding record," Mr. Smith said of the deep track on "Don't Say No." "Can you remember, at the time, did you like them all, like they were all your babies?"
"Oh yeah," Mr. Squier said. "That's a one-song record to me, front to back. No filler." 
"Don't Say No" was, he said, the culmination of a years-long effort to forge a unique identity, during which he honed his guitar, vocal, and songwriting chops while playing in bands based in Boston and New York. "I was trying to figure out where I belonged," said the native of Wellesley Hills, Mass. "I had a lot of influences, ranging from AM radio growing up, through the Beatles and the Stones and the Who, which were very pop-oriented, and into Eric Clapton and Led Zeppelin and heavier, more blues-oriented things. I was trying to make it a style that was somewhat broad but also identifiably me, as a guitar player."
But before stardom as a solo artist, "I had always wanted to be in a band," like the groups that had exploded on the scene in his youth. "A band was the gang I always wanted to be in, and I saw myself on stage left as the guitar player. But long story short, I could sing, and the bands I was in, the singers weren't that good, or didn't care that much." 
The late Bill Aucoin, who managed the hard-rock group Kiss, wanted to sign Mr. Squier, and acceded to the artist's desire to assemble a group. That band was Piper, which released two fine but underappreciated albums in the mid-1970s.
"As we started to get attention and do better, some of the other guys wanted to be more involved, which is understandable," he said. "But I felt, because I had a few years and a little more experience on them, that they had not progressed to the point that I had. I felt that to start doing some of their songs, and letting them do stuff, was going to be a step back. No disrespect, because they were very good, and we came very close to cracking it, but I just felt it's not going to go in the right direction if we make this a democracy. So I dissolved the band." 
Then, he said, "I found myself in the ironic position of realizing that in a sense, I had been trying to do the wrong thing. Really, what I was going to have to do to be successful was be a solo artist." 
Mr. Squier's recordings nonetheless sound like those of a tight rock 'n' roll band, with the guitarist Jeff Golub, the keyboardist Alan St. Jon, the bassist Mark Clarke, and the late drummer Bobby Chouinard as its core players. "In a sense, nothing really changed," he said, "except it was now clear that nobody had to worry about who was who in the band. But I always wanted great players who could play together and could be part of the sound that I wanted to create, and that worked for a long time."
The front man, however, managed to fill both the lead vocalist and lead guitarist role in his band, to a large extent, performing many of the guitar solos. "Everyone always assumed that it was the other guitar player, that I was the rhythm guitar player, but that's where I started," he said. "Because I'm a songwriter too, I'm not doing 5-minute solos; I'm doing 30-second solos." 
His favorite of them all, he said, is the 17-second solo in "Whadda You Want From Me," from "Don't Say No." "It says what it needs to say," Mr. Smith observed. 
Mr. Squier's many talents will be heard tomorrow. "Not to give our show away, but Billy's going to be playing some serious lead guitar," Mr. Smith said. "It's kind of like when we are sitting here and there's no one here. We'll play two songs and then stop and talk for a couple of minutes."
"But there's plenty of music, and it's loud," Mr. Squier said. "It's not two acoustic guitar players sitting around talking about lyrics and stuff like that."
The musicians grew more animated as they contemplated the show. "This is really good, it's worth seeing," Mr. Smith said. "The guy's got great songs! Come to the show!" 
Tickets for "Portraits With Billy Squier," at 8 p.m. tomorrow, are $55 to $150, $53 to $145 for members of Guild Hall.