Montauk's Eothen in Contract for $60 Million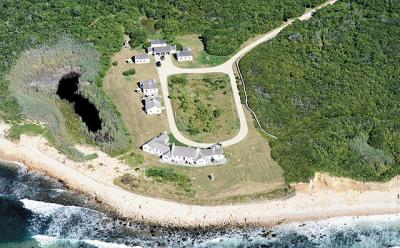 Doug Kuntz
The Warhol Estate sold to Adam Lindemann.
Eothen, the oceanfront property on the eastern end of Montauk known as the Warhol Estate, is in contract to be sold to Adam Lindemann for close to $60 million. The purchase does not include the pasture known as Indian Field, which remains listed at $25 million, according to Paul Brennan of Douglas Elliman.
Mickey Drexler, the C.E.O. of J. Crew, purchased the 30.4-acre property in 2007 for $27 million. With houses in Bridgehampton and Westhampton, as well, he hardly used the Montauk compound, but spent the month of August there. It includes the 5.7-acre parcel Mr. Lindemann is buying, with a main house and six smaller cottages, all oceanfront, and the 24-plus-acre pasture.
The entire property was put on the market for $85 million about six months ago, Mr. Brennan said. Mr. Lindemann, a billionaire art collector with a gallery on Madison Avenue in New York City, already owns a house just a stone's throw away from Eothen, which is reportedly on the market for $29.5 million.
The Warhol compound was built in 1930 as a fishing camp for the Church family, the makers of Arm and Hammer baking soda. In 1972, Paul Morrissey purchased the property for $225,000. In a phone interview several years ago, Mr. Morrissey said Andy Warhol was never an owner of the compound, but stayed there and entertained such guests as Mick Jagger and Keith Richards of the Rolling Stones, John Lennon, Halston, Elizabeth Taylor, and Jacqueline Kennedy Onassis. In 1993, a portion of the property was donated to the Nature Conservancy. Now known as the Warhol Preserve, it is visited by schoolchildren and other groups and individuals by permission.
It abuts the Amsterdam Beach preserve, and several years ago when a trail opened near the property, armed guards could sometimes be seen patrolling its perimeter, keeping the curious away from the private residence.
When Mr. Drexler bought the place, he continued to allow the horses from Deep Hollow Ranch to graze on the pasture, which is zoned for agricultural use.
Asked if Suffolk County, which owns Deep Hollow Ranch, had shown an interest in purchasing the pasture, Mr. Brennan laughed and said, "I don't think they could afford it."