Michael Cohen Bought the Wine Books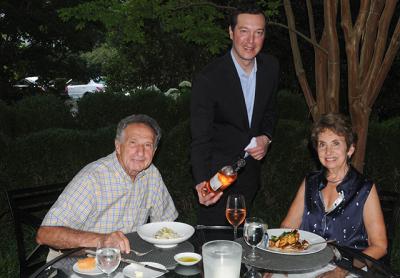 Morgan McGivern
1770 House's restaurant manager and sommelier
When Michael Cohen was 15, growing up outside Philadelphia in Cheltenham, Pa., his father told him and his brother it was time to get summer jobs. "My brother went to work in a pet store, because he was interested in fish and reptiles," Mr. Cohen recalled one sunny afternoon in the garden of East Hampton's 1770 House. "I said I'm going to work at a restaurant as a busboy. I found a job at a really swanky restaurant, and I got the bug. I've had a passion for wine and hospitality ever since."
The bug has led him, with a few interruptions along the way, to his present position as 1770 House's restaurant manager and sommelier. A turning point came when, after two and a half years at Penn State, he decided to take a break from college. A friend was sous chef at the Striped Bass, one of Philadelphia's top eateries. "I was 21, I had no business being a server there, but he said he could get me some lunch shifts. Within two weeks I was told to go next door to Kenneth Cole to pick up two suits. I was hired, and that would be my uniform."
The sommelier at the restaurant was Marnie Old, widely recognized as one of the country's leading wine experts and, according to Mr. Cohen, "the reason I am where I am today. She had this amazing presence in the dining room, and she started doing Saturday afternoon classes for the staff. So she might say, 'Today you're going to taste white Burgundy,' and she'd give us eight different examples to taste. The following week we did American chardonnay. That was my introduction to wine. From there I just started reading about wine, I bought the books and studied and learned."
In 2002, he spent the first of two summers in East Hampton. A close family friend had invited him to stay at his house in Northwest Woods, which had a separate apartment. "If you're in Philly, you don't do the Hamptons, you do the Jersey Shore. I had never been here before. I came out for the summer, it was dark out, I had no idea where I was. I woke up in a house on Sammy's Beach with a deck overlooking the water and thought, 'You're kidding, right?' "
He took his resumé, which by then included several high-end Philadelphia restaurants, to Nick and Toni's, Della Femina, and East Hampton Point, and was offered jobs by all of them. He chose East Hampton Point, in part because the chef was from the Philadelphia area. That same year, the 1770 House reopened under new owners, who also owned, East Hampton Point. 
"I really wanted to work at 1770, which started importing staff from East Hampton Point, but they said no. I was a little bummed but still had a great summer, and I came back the following year."
After the second summer, Mr. Cohen decided to finish college. He enrolled at Temple University in Philadelphia, earned a degree in broadcast communications, and then headed for New York City, where he quickly progressed from an internship to a full-time position with a media company producing music videos and national commercials. He stayed for two years before his life took another turn.
"It was 10 years ago. I was sitting in my office, and the phone rang, and it was my boss, who said, 'Those commercials you were going to shoot this summer? You're not.' "
"Manhattan isn't the best place to be in the summer if you don't have to, so I called my friend Danielle in East Hampton and said, 'I'm coming out. I need a job, a car, and a place to live.' "
He stayed with Danielle until he found his own place. She gave him a beat-up Saab that died at the end of the summer, and he was hired as a server at 1770 House, where she was assistant manager. Halfway through that summer, the inn's owners opened Wei Fun on Pantigo Lane in East Hampton and transferred Kevin Penner, the chef, and Carol Covell, the general manager, to the new venue. 
"They asked me to take over as manager of the 1770 House. If it had been any other place I would have refused, but the program here was already established, and my predecessor had handed off a very, very nice wine list. It was a no-brainer. It was 2006. I came for the summer and never left." 
That same year he began his formal training to become certified as a sommelier. Among the accreditors are the American Sommelier Association, the Sommelier Society of America, and the Guild of Master Sommeliers. Mr. Cohen began with the S.S.A., which involved an intensive 16-week course taught on the East End by Chris Miller, an advanced-level sommelier familiar with the local restaurant scene. 
"His level isn't easy to achieve," said Mr. Cohen. "We're talking about having to pour a magnum of champagne across 20 flutes in a continuous stream without letting it bubble over, while the instructor is firing questions at you and asking for wine pairings." That particular challenge was a reminder that mastering service is as important for a sommelier as skill at blind tasting.
The 1770 House, which is owned by Ben and Bonnie Krupinski, has between 250 and 300 different wines on its list and an inventory in the thousands. "The Krupinskis are wine lovers and collectors and really support what we're doing here," he said. The restaurant has received Wine Spectator magazine's Award of Excellence every year since 2007.
"When I'm tableside, I try to paint a picture of what the wines are and let the customers decide. I never force people into specific bottles of wine. I've been to restaurants where it's blatant that the sommelier is trying to talk a patron into a more expensive bottle. That's not ethical, and I don't think it's comfortable for the customer. I paint the picture, I describe the bottle, and if I have a story about it, I'll take them there. And then I let them decide."
Mr. Cohen feels one of the best ways to learn about wine is to drink it. He belongs to a local wine club. Its members — "wine nerds," he said — include Roman Roth, the winemaker and a partner at Wolffer Estate Vineyard, various wine salespeople, and winemakers from the North Fork. "We decide on a genre, say a Napa Valley Cab from 2010, and we'll each bring one in a plain paper bag. In a blind tasting, you really have to judge on taste alone, and more often than not it's the least expensive bottles that people rate the highest."