John de Cuevas, 88, Educator, Philanthropist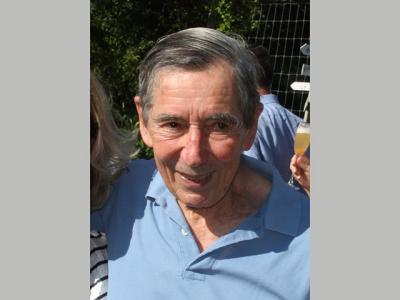 Oct. 6, 1930 - Nov. 29, 2018
John de Cuevas, a longtime resident of Amagansett and Cambridge, Mass., died last Thursday at Massachusetts General Hospital in Boston of complications from acute myeloid leukemia. He was 88.
Amagansett residents may recall seeing a wiry man pedaling athletically along back roads and sometimes the highway, or walking through the village to Body Tech, where he worked out regularly for many years.
Aside from his interest in baking bread and cooking food grown in Amagansett, Mr. de Cuevas was involved as an educator in the East End food movement and was a generous contributor to the Peconic Land Trust and Quail Hill Farm, as well as being a harvesting member of the farm from the early 1990s. He was interviewed for the movie "Growing Farmers," a short documentary about the Peconic Land Trust's work with the next generation of East End farmers.
In 2010, he and several neighbors started the Amagansett Food Institute, whose main goal is for farms and foodpurveyors to thrive in a supportive community that understands the benefits and uniqueness of local food. The place he most enjoyed living in was Amgansett. And he derived much satisfaction and joy from supporting not only food production projects but also environmental and climate change initiatives in a quiet way with his own resources.
"He was authentic and true, an inspiration," John Halsey of the Peconic Land Trust wrote.
Mr. de Cuevas was born on Oct. 6, 1930, in Manhattan, one of two children of George de Cuevas and Margaret Strong Cuevas. He grew up there and went to the Russell Ranch School in Arizona, an experience he would speak of fondly and often in later years. He always had an abiding love of open land, people who work on it, and animals. He graduated from the Brooks School in North Andover, Mass.
Mr. de Cuevas went on to earn various degrees at various times, including a B.A. in romance languages from Harvard, and, after a year at the University of Virginia School of Law, he did a stint in the Army as a clerk and assistant to the head of the base in Luxembourg (because of his fluency in French), followed by a year in a bank there. He even was a security analyst at Chase Manhattan Bank and, with a college friend he ran into in the early 1960s, decided to open a brokerage firm, Seiden & de Cuevas, which they ran successfully for 10 years.
Their "greatest triumph," Mr. de Cuevas later told his family, was bringing the Masco Corporation, inventor of the single-handled faucet (a.k.a. the Delta faucet), to the American Stock Exchange. 
He continued at Columbia University, taking science courses he had not taken as an undergraduate and applying to medical school but being rejected because of his age. Taking the advice of a friend, a professor at the State University at Stony Brook, he applied to the graduate program there instead, in the department of ecology and evolution, where he did research on the evolution of birdsong and regional dialects in house finches.
Before completing his thesis, however, he accepted a job at Harvard in the early 1980s, teaching in and then heading Writing About Science, a division of Harvard's expository writing program. He moved to Cambridge, where he lived with his partner and later his wife, Sue Lonoff. He left Harvard after seven years to teach science and linguistics in the adult education program at Lesley College. He also joined the editorial board of Harvard Magazine, producing many articles on topics that interested him, mainly science, language, and education.
His nuanced ability with language enabled Mr. de Cuevas to become adept at putting together abstruse crossword puzzles that he was encouraged by Stephen Sondheim to submit to New York magazine. They were also published regularly by Harvard Magazine. His stepdaughter and stepson-in-law, Jennifer and Kenny Schiff, who survive, suggested in 2001 that he put up a website, Puzzlecrypt.com, on which he posted a new puzzle every month, completing the last one (number 210) the day before he died. The site has subscribers from all over the world.
He wrote a book, "Eye Rhymes" (words that are spelled the same but pronounced differently), that his neighbor and friend Alec Baldwin helped get published. Mr. Baldwin recruited Blythe Danner and the two of them read the eye rhymes, which were included on a disk that was sold with the book.
Mr. de Cuevas was married three times. His first wife, whom he had known from boyhood, was Phyllis Nahl Van Wyck. They married in 1951 and stayed close friends for the rest of her life.
He married Sylvia Maria Bartucci in Manhattan in April 1962. She lives in Manhattan and Amagansett, near Mr. de Cuevas's property. They remained close friends for the duration. Their daughter, Margaret de Cuevas of Baltimore and Amagansett, survives, as do her two daughters and husband.
On Oct. 25, 1988, he and Sue Lonoff de Cuevas were married in Cambridge. She survives, dividing her time among Paris, Cambridge, New York, and Amagansett. His stepdaughter, Jennifer Schiff, survives, as well as her daughter, Abigail Schiff. He inspired in his granddaughters, Alida Schott and Helen Schott, and his step-granddaughter, Abby, a passion for nature, farming, and food.
Mr. de Cuevas's sister, the artist Elizabeth Strong-Cuevas of New York and Amagansett, also survives, as does his niece.
In 1974 Craig Claiborne wrote an article for The Times about Mr. de Cuevas's sourdough bread baking using a culture he had started in 1968 and that he kept going, even with a loss of power in an Amagansett storm, until now. He was also an accomplished horseman, gymnast, and collector of pig figurines.
He was cremated and there will be no service, as per his wishes. A memorial in Amagansett is being planned for the spring.
Memorial donations to the Amagansett Food Institute, P.O. Box 356, Southampton 11969, have been suggested.