An Eye on Gender, Family, Courage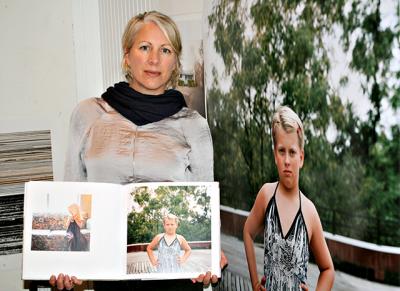 Morgan McGivern
"Lindsay Morris: You Are You," will open at the Parrish Art Museum in Water Mill on March 13
Lindsay Morris became obsessed with both photography and travel at the age of 10, when her grandfather gave her a subscription to National Geographic magazine. "My parents didn't have the means to take us on any big trips, so that was how I found my adventure," she said during a recent conversation in the Sag Harbor house she shares with her husband, Stephen Munshin, and their sons Milo, 15, and Cecil, 11. 
During her senior year in high school, her family, who lived in suburban Detroit, hosted an exchange student from Germany. "I decided I wanted to become one, and the day I graduated I was off to South Africa for a year, with a Nikon camera my grandmother gave me." 
She took her first photographs there. "It gave me such pleasure. It was like nothing I had ever experienced. It was the one thing that truly spoke to me." She also discovered that, as a shy person, being behind the camera allowed her to "be in the crowd but not necessarily its focus."
That lesson has served her well, as her work has since been published in The New York Times, Internazionale, GEO, Time, Marie Claire, and Elle, among many others, and in "You Are You," a book of her photographs that documents an annual weekend summer camp for gender-creative children. Some of the images for that book were first published in 2012 as the cover story for the Times magazine. In addition, 35 photographs will appear in "Lindsay Morris: You Are You," which will open at the Parrish Art Museum in Water Mill on March 13.
When she returned from South Africa, she attended the School of the Art Institute of Chicago and the University of Michigan School of Art, from which she received a B.F.A. in 1990. At Michigan, she worked with Joanne Leonard, a noted photographer. "She really helped me find my way through projects and through thinking in a way nobody else had ever reached me." 
Two years after graduation, her life took a sharp, 13-year detour. She was working as a photographer's assistant and a waitress at a restaurant on New York's Upper West Side, where Mr. Munshin was bartending. They had both developed a desire to travel and settled on Asia as their destination. 
They spent a year traveling around India, Nepal, China, and Sri Lanka. "When we were in Nepal, we met some people who were making hand-loomed coats and vests. In retrospect, they were really awful, but at the time they seemed unique. We were looking for a business, some direction, and I had always had an eye on fashion and some flair for it."
After making some alterations while still in Nepal, they returned to the United States with samples. Macy's picked up several styles and placed a large order with their new company. "Stephen and I had so much inventory we would drive to college campuses in our Isuzu Trooper, which was filled to the gills with wool coats and vests, and sell them at fairs. We sometimes slept on the coats, but we did well."
The collection evolved from there. "Wool coats weren't what I really wanted to be doing. I met a wonderful woman, Nancy Winarick, a designer who lives on Shelter Island. She taught me about specification sheets and how to present them." Ms. Morris created a broad collection, under the brand name Fork, which wound up in 350 stores around the country. The business lasted 13 years.
After their "life changing" trip to Asia, they wanted to settle someplace quieter than New York. Mr. Munshin's mother, Bonnie, had a garage behind a cottage in East Hampton where they stayed through one summer. "We decided to stick around, and we were really drawn to Sag Harbor." They rented the house where they now live and eventually bought it. Ms. Morris's four siblings have settled in Sag Harbor as well.
She first attended the summer camp for gender-creative children in 2007 with a loved one. Born out of a support group in Washington, D.C., it was organized by parents and meets for one weekend in a different location each summer. In addition to parents and children, professionals in the field are brought in to meet with the parents.
"The vocabulary is continually evolving," she said. "I sometimes used gender-nonconforming in the book but I think now gender-creative or gender-variant might be better. Nothing's written in stone yet. The kids and parents are pioneers of the movement of acceptance and support. It's a civil rights issue. L.G.B.T. and transgender rights are sort of the final frontiers, and transgender rights is probably the issue people have the most trouble with."
"The kids at the camp are very self-aware, and we're trying to give them the ability to advocate for themselves and for their siblings to advocate for them. It's an opportunity, a safe haven, where they don't have to look over their shoulders for four days out of the year or feel they're being scrutinized. They express themselves as they feel natural, and they're relaxed."
Ms. Morris began photographing the children because nobody else had the time to take pictures, and parents wanted fun, candid shots to document the experience. "In between the candid shots I was finding these poetic frames that just stood out. I could see the magical moments, the calm moments, the shoulders dropping, the relaxed faces." 
The Parrish exhibition has been organized by Alicia Longwell, the museum's chief curator. It will not include all the images from the book, but those on view will be enlarged.
Another of Ms. Morris's projects is "Ricchina's Wedding," which documents the surprise wedding-themed birthday of a 25-year-old woman with Down's syndrome. "I met her mom, Janice, on a broken-down Amtrak train. She told me about her plan to bring to life her daughter's dream of getting married, and I agreed to photograph the party and the preparation for it. There was no groom." The photographs explore the relationship between mother and daughter and the family members who support them.
Ms. Morris is working on a new project called "Meet Your Neighbor" for which she goes door-to-door meeting, talking with, and photographing her neighbors. "We used to know our neighbors, but now everybody is behind closed doors." She is also photographing houses being torn down and replaced by larger ones.
A documentary film based on the camp is also in production. Directed by Nick Sweeney and produced by Ms. Morris, it was commissioned by Channel Four in London and has been sold to TLC, where it will air in June. Excerpts from the film will be shown at the Parrish on April 1, when Mr. Sweeney and Ms. Morris will be present to discuss the project.
Mr. Munshin is the publisher of four Edible magazines: Edible Brooklyn, Edible Long Island, Edible East End, and Edible Manhattan. Ms. Morris is photo editor of the Long Island and East End editions. In whatever spare time that doesn't involve work or family, she plays guitar and sings with the rock band Spitn' Kitn' along with Barbara Dayton and Susan Nieland, both artists. 
Speaking of "You Are You," she said, "It's an honor bestowed on me by these families. They suggested the book, named the book, and they edited the book with me. We worked so closely. As a community, we are in the position to change how the public understands these brave children, and change is evident."