Cardiac 'Cath Labs' to Buy Crucial Time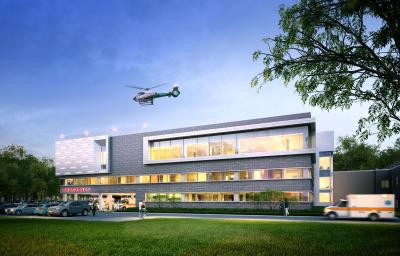 Peconic Bay Medical Center
Heart patients will soon be able to get help at Southampton, Riverhead hospitals
Emergency cardiac care is to become more accessible for East End residents with the opening before long of cardiac catheterization and electrophysiology laboratories in Southampton and Riverhead. The facilities, which can provide lifesaving diagnostics and treatment, will be at Southampton Hospital and the Peconic Bay Medical Center in Riverhead. Each received approval for the labs from the New York State Department of Health on Tuesday. 
In cardiac catheterization labs, stenosis and blockages are treated. Stents are placed in a patient's heart to open blocked or narrowed passageways, as well as other lifesaving procedures. In electrophysiology labs, heart arrhythmias are diagnosed and treated. Both require special staff and specialized equipment. 
This N.Y.D.O.H. approval brings critical care technology close to home for many people and it is a harbinger of the significant technical advances we will see through our partnership with Stony Brook Medicine," said Robert Chaloner, the president and chief executive officer of Southampton Hospital, in making the announcement. 
At present, patients at Southampton Hospital in need of diagnostic and interventional cardiac procedures are transferred by ambulance to facilities like Stony Brook University Hospital that provide them. A patient experiencing a heart attack at home, confirmed by paramedics using mobile heart monitors, is often driven by emergency medical personnel to Brookhaven Hospital or Stony Brook — an average 45-minute drive from Bridgehampton, for example — or transported by medevac helicopter, if one is available.
"Time is muscle," said Philip Cammann, a longtime paramedic on the South Fork and a member of the East End Ambulance Coalition, which supported Southampton Hospital's application for a cath lab.
 "It's very similar to the concept of when Southampton became a stroke center. The fact that you can go in there and open up that blocked artery, which for the stroke center means that you are potentially saving brain matter. Now, you are going in and catheterizing and reperfusing the portion of the heart that is basically being choked of oxygen and glucose." 
A cardiac catheterization and electrophysiology laboratory at Southampton Hospital's Audrey and Martin Gruss Heart and Stroke Center could open late this summer, according to Marsha Kenny, a hospital spokeswoman. 
She said little was required in new construction because the stroke center, an addition that was completed in 2015, was built with anticipation of a future cath lab. The hospital will now immediately focus on recruiting staff. Start-up costs are close to $1 million, Ms. Kenny said.
Stony Brook University Hospital will oversee the labs at Southampton Hospital, and policies and procedures in place at Stony Brook will be incorporated into Southampton's program, she said. 
"Residents of eastern Long Island will enjoy greater access to timely cardiac care because of the close collaboration and exceptional leadership between Stony Brook Medicine and Southampton Hospital in gaining approval for this new facility," said Dr. Kenneth Kaushansky, the senior vice president of health sciences and the dean of the Stony Brook University School of Medicine. 
Meanwhile, at Peconic Bay Medical Center, which is part of Northwell Health, interim cath labs could open as early as this summer, according to Lauren Jacobsen, a spokeswoman, though more permanent labs are being built as part of a large, $60 million project the hospital will start in June.
Peconic Bay Medical Center has received state approval to establish two cardiac catheterization laboratories and electrophysiology suites, as well a rooftop helipad. The cath labs will be part of a comprehensive Cardiac Care Center in a new critical care tower, to be named the Kanas Regional Heart Center. Construction of the tower could take approximately two years, though the hospital hopes it might be completed sooner, Ms. Jacobsen said.
"East End residents have had to travel farther for advanced cardiac services than anyone else in the tristate area," said Andrew Mitchell, the president and C.E.O. of Peconic Bay Medical Center, "and considering that heart ailments require quick diagnosis and treatment, this facility will make a real difference. It will save lives." 
The Town of Riverhead has approved a zoning change and site plan for the hospital's expansion. Peconic Bay Medical Center received a $5 million gift from the John and Elaine Kanas Family Foundation to be used toward advanced cardiac care. 
The hospital's helipad, now on the ground, will be moved to the roof, which Ms. Jacobsen said is safer. The hospital now has to stop all vehicular and pedestrian traffic when a helicopter is landing or taking off. The rooftop helipad will be the only one of its kind at East End hospitals.