The Art Scene - 04.21.11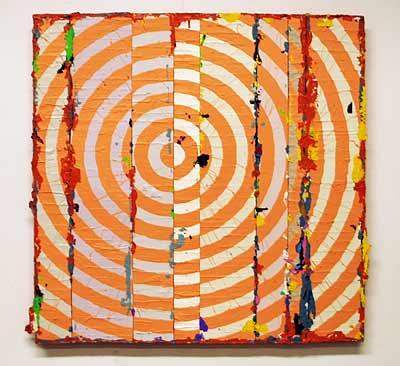 Grooving at Ashawagh
    "Art Groove," an exhibit at Ashawagh Hall in Springs this weekend, will feature the work of 12 contemporary artists organized by Geralyne Lewandowski. The show will include her work, along with art by Michael McDowell, Siv Cedering, Brian Flynn, Claudia Dunn, Debbi Fritz, Laurette Kovary, Joyce Riamondo, Robert Rosenbaum, Joe Strand, Ursula Thomas, and Kris Warrenburg.
     The show will open on Saturday at noon with a reception featuring a D.J. spinning music from Aretha Franklin to Lady Gaga and the Far East Movement from 6 to 11 p.m. The exhibit will also be on view on Sunday from 11 a.m. to 3 p.m.
Boltax Salutes Abstraction
    As spring returns to Shelter Island, so does Boltax Gallery with a show featuring abstract works by Jonathan Eckel, Osamu Kobayashi, Danielle Mysliwiec, Jacob Ouillette, Kate Parnell, and Regina Scully that opens on Saturday, with a reception from 6 to 8 p.m. and an artists talk from 5 to 6 p.m.
    "Abiding Abstraction" looks at the state of abstraction today, some 100 years after the first non-objective paintings by Wassily Kandinsky. Although declared dead as a means of expression on more than one occasion, abstract art still flourishes. Jacob Ouillette, a painter in the show, is also its curator, and used the work of six emerging artists to examine the relevance and vibrancy of abstract art today. The show is on view through May 23.
"Spring Flight" at Demato
    The work of Devorah Jacoby and Bart Vargas will be featured in a new show at the Richard Demato Gallery in Sag Harbor opening Saturday from 6 to 8 p.m. "Spring Flight" is the first show of the gallery's spring season.
    Ms. Jacoby's work is figurative, but slightly abstracted and also can have a Surrealistic aspect in a quiet, rather tonal palette sometimes fired up with a red element. Mr. Vargas is a geometric abstractionist whose imagery features bold colors emanating from a central point in shardlike rays and broken circles. His target and cluster paintings are somewhat referential but appear to be the basis for examining the relationships of color and form rather than to be referring to something else.
    The exhibit will be on view through May.
Artist in Residency Program
    The William Steeple Davis Trust in Orient is accepting applications for its artist-in-residence program from Oct. 15, 2011, through Oct. 1, 2012. Applications are due by June 30.
    The program was established in 1976 under the will of Mr. Davis to "provide a temporary place of abode for persons of good character who are or have been actively engaged in cultural professions, particularly in the arts, and who are without adequate funds to provide for such accommodations." Past residents have worked in painting, photography, writing, sculpting, poetry, and music.
    The house and studio are in Orient in a quiet location within sight of Orient Harbor, and within walking distance of public beaches, open fields and marshes, a post office, and a small country store. It is possible, but inconvenient, to live in the house without a car. Children and pets are not allowed, and smoking is prohibited in both the house and studio.
    Inquiries may be sent to the trust at P.O. Box 371, Orient 11957.
Call for Artists
    The Southampton Cultural Center will hold an art exhibit juried by Christina Mossaides Strassfield at its gallery on Pond Lane in Southampton from Sept. 14 to Oct. 22.
    Entries, which are due by June 15, may include oils, acrylics, watercolors, drawings, prints, mixed-media works, photography, and sculpture, but may be no larger than 25 by 25 inches for paintings and 30 by 20 by 20 inches for sculpture. Artists who enter sculpture pieces will be asked to provide their own pedestals.
    All artwork must be original and available for purchase. The cultural center will receive a 50-percent commission on sales to support its programming. The entry fee is $25 for each entry with a maximum of three allowed.
    Applications will be accepted by mail with CDs of the works to be considered. Applications and further information are available at www.scc-arts.org. The artist who is "acknowledged for outstanding merit" will be given a solo exhibit at the center in 2012.