A 'Wellness Revolution' Led by Kids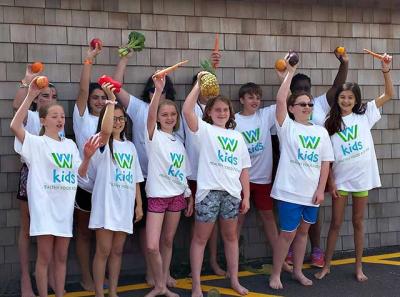 Mike Tremblay
The Wellness Foundation of East Hampton, a nonprofit, is marking its 10th anniversary this year, and expanding its focus on engaging children and families in learning about and improving their health through optimal nutrition and lifestyle choices.
Beginning Wednesday, Jennifer Taylor, who has been with the foundation almost from the start, will offer a W Kids in the Kitchen cooking class series — three sessions at the Old Whalers Church in Sag Harbor at which children and parents will be able to cook and enjoy more than a dozen different and easily replicated meals. The classes are for children ages 8 to 12.
Ms. Taylor said that some time ago she was struck by a prediction she heard that, because of the incidence of chronic degenerative diseases such as diabetes and heart disease caused by obesity, the children born in this generation may be the first to have a shorter life span than their parents.
She was inspired, she said, to begin a wellness program that could turn that prediction on its head.
The goal is to inspire and teach children to "grow a healthy body."
" 'It's your responsibility,' " is the message, Ms. Taylor said. "And the kids have really risen to that. We tell them, 'You are wellness warriors in your community.' "
Over the last seven or eight years, the Wellness Foundation has presented its Healthy Food for Life program in every public elementary and middle school from Southampton to Montauk, Ms. Taylor said.
In an effort to involve every student in the program's activities once every three years throughout their schooling, the six consecutive weekly lessons are presented to students in prekindergarten and/or kindergarten, third grade, and sixth grade. A high school curriculum is being developed.
Surveys of children and families involved in the program have shown that it has an impact reaching beyond just the kids.
Almost 80 percent of families report eating more whole foods and green leafy vegetables, the foundation says, 57 percent of families report a decrease in the consumption of processed junk foods, and almost half the families report an increase in reading food labels before making a purchase.
It was the children at the East Hampton Middle School who initially prompted Doug Mercer, the founder of the Wellness Foundation, to act.
After Ginny Reale, a middle school health teacher (who became a Wellness Foundation teacher after retiring from the school), started a wellness initiative called Bonac on Board to Wellness, students bought into the healthy eating message so much that they staged a sit-in to push for healthier options for school lunches.
Mr. Mercer, said Ms. Taylor this week, was inspired, in his retirement, to also do something to spread the healthy living word.
More than 1,000 people, Ms. Taylor said — and maybe half again as many — have signed up for the foundation's Wellness Challenge, a seven-week program that provides information and guidance to those interested in adopting a vegan diet and healthier lifestyle.
Also launched this summer were new Healthy Food for Life program online training and certification sessions. They were developed after the foundation's work in the schools was featured in the movie "Fat, Sick, and Nearly Dead 2" by Joe Cross.
A documentarian who chronicled his own weight loss and health enhancement journey in the first "Fat, Sick, and Nearly Dead," Mr. Cross has visited East Hampton and seen the results of the program here.
People from all over the world who saw the movie approached the Wellness Foundation for tips on starting their own Healthy Food for Life programs, Ms. Taylor said.
Participants in the first online training session, which began two weeks ago, hail from across the United States and include preschool and middle school teachers, a pediatrician, a health coach, a nutritionist, and a mother and grandmother who wants to enlist her own family in the program.
With six interactive webinars, curriculums for various grade levels that are aligned with Common Core curriculum standards, and associated teaching materials, "we really teach them how to start a wellness movement," Ms. Taylor said.
At the W Kids cooking classes starting next week, Ms. Taylor will present a lesson, and then small groups will break off to create four or five meals that all can taste.
Children are much more likely to eat — and enjoy — healthy foods if they've participated in the cooking process, Ms. Taylor said, and families are much more likely "to go home and make something after they've tasted it."
"We call it a wellness revolution led by kids," she said.
Those interested in registering for the classes, which cost $60 each for a parent and child, or $150 for all three, may register online at wfeh.org, or by calling the Wellness Foundation's East Hampton office. Additional adults or children may join in for $25 per session. The sessions will cover breakfasts, lunches and snacks, and "superfood suppers."