I recently had the honor and pleasure of interviewing Bobby Flay and Michael Symon, Food Network superstars and occasional residents of Amagansett and East Hampton village respectively. The interview time allotted (20 minutes) was not quite enough to construct a meaningful story, but I got a few tasty morsels of cumin-scented, perfectly seared Tomahawk steak nonetheless.
I'm kidding, I actually got practically nothing. The Food Network offered 20 minutes, then moved the interview to an earlier time, then cut the interview short unexpectedly after 14 minutes. Let's do the math: That comes out to 4.666 minutes each, yours truly asking the questions and the fellas answering. So I apologize for never having the opportunity to ask about their new show that they were promoting, a four-part series about barbecue.
For filler, and because I've never reviewed any of their books, I've included some scanty information about their latest books. Pardon the exiguity.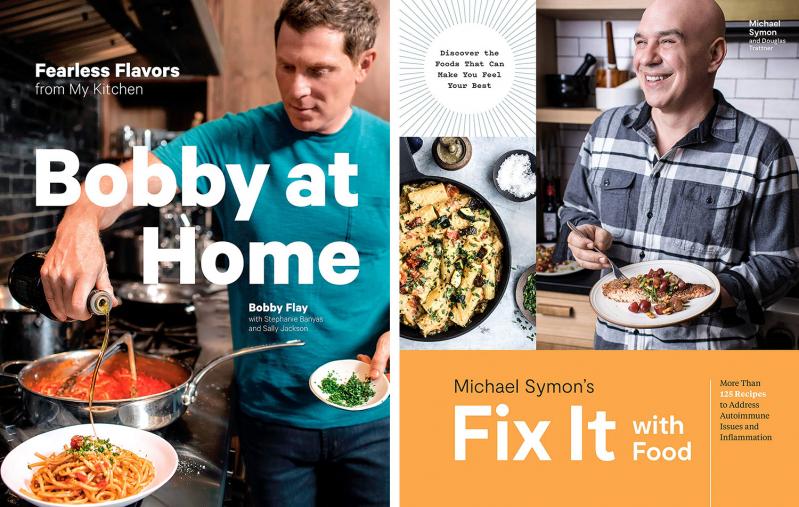 To name every restaurant that these gentlemen have opened and closed, every book they have published, and every television show they have done would literally take up several pages, they are that prolific and successful. Bobby Flay's latest book, which could be his 15th, is called "Bobby At Home." When publishers send out uncorrected proofs of cookbooks for review, it does the author/chef a great disservice, as there are no color pictures, no acknowledgements, often no page numbers, incomplete text, and there are oodles of mistakes. Nonetheless, this looks like a great future book.
Manchego cheese grits to go with Spanish-style shrimp? Mashed potatoes with green chile queso sauce as part of an internationally themed Thanksgiving? These recipes sound creative and different. His sweet potatoes with chipotle cream (from his book "Bold American Food") is one of my all-time favorites, but the roasted sweet potatoes with spiced tahini honey in this book could be the new winner.
Here are some things I learned from Mr. Flay and Mr. Symon. They both love golf and they are both 8 handicaps. Their favorite restaurant out here is Bostwick's. They both refused to answer when I asked if they would ever accept an invitation to cook at the White House.
Mr. Flay just returned from the Amalfi Coast and declared that his favorite food is coastal Italian. Mr. Symon loves Sicilian and Greek cuisine and just returned from Chios, where he enjoyed fried eels. When I asked them what kind of show is missing from the Food Network, they both got very excited and laughed. "We have been proposing a live late-night talk show for years, but they won't go for it," replied Mr. Flay. Listen up, peeps at the Food Network, this is a brilliant idea!
"Which is harder, opening a restaurant or closing one?"
"Closing one," answered Mr. Symon, "because it's like a family member."
"Which cities are best for opening new restaurants?" (They both have numerous restaurants in casino cities like Las Vegas and Mr. Symon has quite a few in the Midwest, where he is from.) Mr. Flay said he would never open a restaurant in a city that has chefs known for that region's cuisine because he wouldn't have the time required to dedicate himself to it. In other words, he would never open a California-cuisine restaurant in San Francisco or a southwestern-style restaurant in Santa Fe, even though he is known for these flavors. His formula works better in transient towns like Las Vegas and Atlantic City.
Michael Symon's latest book, "Fix It With Food," is particularly interesting because it begins with the story of his history with two chronic autoimmune diseases, rheumatoid arthritis and discoid lupus. In an effort to cure (or at the very least alleviate) his symptoms, and to avoid the need for pharmaceutical intervention, he created and adhered to a strict reset diet and then re-introduced various food groups back into his diet. He acknowledges the irony of the fact that he has made a living being a big proponent of all meats and grilling, and he confesses to occasionally falling off the healthful food wagon. But his cleaner diet works for him and may as well for others.
Here is what sets this book apart from the many, many others that we have seen, usually from young pretty ladies who are not cooks and actually know very little about food and flavor. He is a chef, he knows how to create enticing flavors, textures, visual, virtual feasts, all with healthy ingredients. His 10-day reset does not sound punishing or complicated at all. You don't need to make that peculiar faba (the goo from a can of chick peas combined with oils to make a mayonnaise substitute, it's gross); you can add richness and flavor with easy, homemade cayenne or oregano oils. Sweet potato pancakes with wilted greens, highly seasoned Greek yogurt-roasted chicken, stuffed butternut squash, wild mushroom risottos, and spring pea hummus. There is a gluten-free, maple syrup-sweetened chocolate glazed doughnut recipe that he jokingly says should win him some kind of award. At the very least he hopes it will end up at his son Kyle's Grindstone doughnut shop in Sag Harbor.
I asked them if they liked sticky sweet barbecue sauce or the more vinegary, peppery Carolina-style sauce. (Their new show is BBQ Brawl.) They both love both.
We enjoyed talking about other favorite local tried-and-true restaurants (Rowdy Hall), and the newer gems like Showfish and Morty's Oyster Stand. Mr. Symon was especially excited because his wife had already tried and loved both.
The 4.666 minutes each were informative and entertaining, and I'm looking forward to trying some of the recipes from both new books. And watching the show. And maybe going to Las Vegas for Mabel's BBQ and Mesa Grill . . . so little time, so much fame.
Here are some recipes from Bobby Flay and Michael Symon's newest books.