Just when I thought I had seen every last obscenity the 2019 Hamptons summer scene had to offer, things took a turn for the strange. On an afternoon walk down Job's Lane in Southampton on a recent afternoon, I was greeted by a number of "keep out" and "no trespassing" signs as I approached my favorite people-watching spot.
What used to be a beloved fountained courtyard and central village jewel was now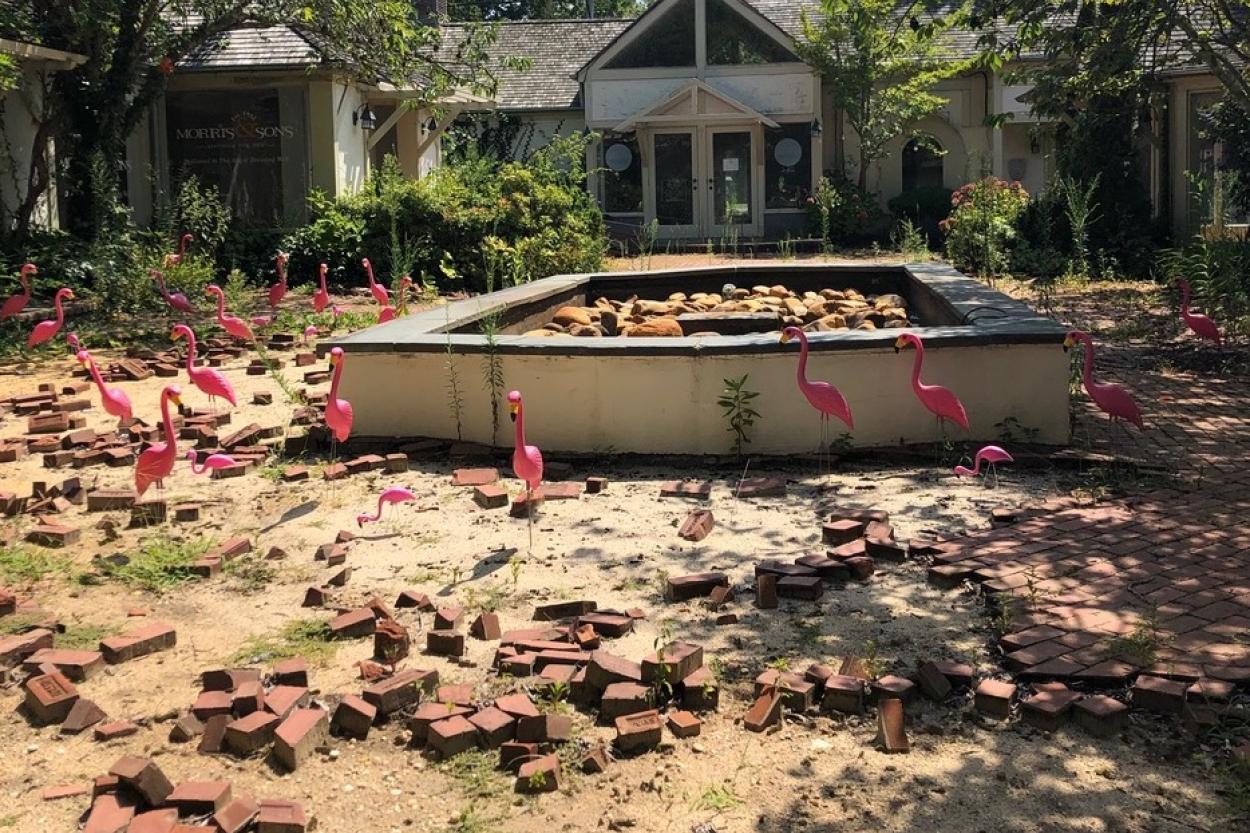 . Yes, you read that right, and no, it was not due to an earthquake that might have spilled the remnants of a toy store inventory onto the area as I initially thought. Was this a joke?
As much as I wanted it to be, it wasn't. It turns out the force behind the display was actually the owner of the courtyard, John Vigna, who created the eyesore after his plans to replace the communal epicenter with a two-story commercial building were shut down almost immediately.
As people peered over the fence to observe the spectacle, they naturally asked the questions on everyone's minds: Did he have the right to do this, be it his property or not? How do you walk the fine line between acknowledging private ownership of property and preserving the integrity of an area that has long been enjoyed by the community?
I, on the other hand, was hung up on the more pressing matter: the flamingos. I needed an explanation, and fast. Upon further inquiry, I learned that Mr. Vigna was using them to commit what is called "flocking," a playful practice sometimes used in charity events to solicit money from potential donors. For a set price, any prankster can pay to have someone's yard "flocked" in hopes that they, too, will give money to the charity in exchange for the flamingos being taken off their property. But it was obvious that Mr. V didn't want money.
What was he trying to say?
He had turned the harmless art of flocking for the greater good into a blackmail of sorts. I couldn't help but admire his creativity, quite honestly. Staring out at the once lively fountain now filled to the brim with rocks and haphazardly pulled out bricks, though, I felt like a lost foreigner in my own town. That is, until a local man amused by the sheer absurdity of the scene burst out into a fit of laughter, and I followed. In a moment when our frustration could have gotten the best of us, it felt good to find a little humor in it all. First a surfing ban, and now an evil plastic flamingo infestation?
We might have been laughing, but the mayor was not, and with good reason. How many village code re-examinations and angry multimillionaires will it take before the place we call home becomes somewhere we hardly recognize? Only time will tell, but in the meantime, if we want our voices to be heard, we might have to turn to serial flocking. God knows it worked for Mr. V.
---
Cecelia H. Scheuer, a summer intern at The Star, has returned to her studies at Middlebury College.