James Froehlich never got to know his maternal grandfather, John P. Babinski, who died in 1998 when he was only 2 years old. But he feels closer to him when he cranks the flywheel to start the 1937 John Deere that his grandfather worked the fields with for several decades, and then hops in to ride it up and down Sagg Main Street.
A framed photograph hangs in Mr. Froehlich's house of his grandfather on the back of a potato digger with the 1937 Unstyled Model A, unique because of its wide front wheels and spoke rear wheels. Mr. Babinski bought it brand new in 1937 from the John Deere dealership in Bridgehampton. His 23-year-old grandson brought it back into the family this summer.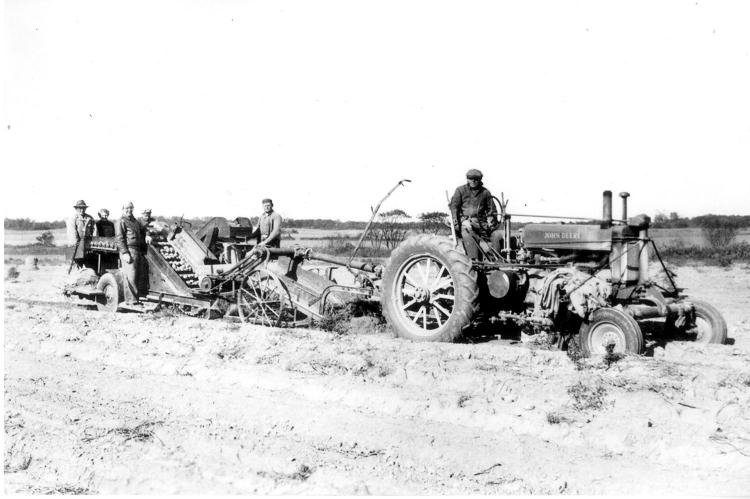 Mr. Froehlich was speaking to Charles Kibler of Water Mill, "who is the John Deere guru," a man Mr. Froehlich said knows everything about the antique John Deeres on the East End. He mentioned that one of two people had that tractor that used to belong to his grandfather. "I knew right then and there, I had to have it," Mr. Froehlich said.
As it turned out, the tractor was right under his nose. Fred Wilford, a longtime member of the Bridgehampton Fire Department, in which Mr. Froehlich is a volunteer firefighter, just as his grandfather was for 50 years, had it in his collection of restored antique tractors. Mr. Froehlich asked him if he would sell it and they agreed on the price this spring, $5,000 — a steal, Mr. Froehlich said. 
"He gave me some time to get the money together. He wanted me to have my chance to buy it so it went back to me," Mr. Froehlich said. Mr. Wilford said there were other collectors eyeing the John Deere, but he wanted Mr. Babinski's grandson to have it.
Mr. Froehlich has deep roots on the South Fork. His late grandmother Katharine Topping Babinski was a descendant of the Thomas Topping who purchased much of Sagaponack. Thomas's son John Topping began Sagaponack's early development — his headstone is the oldest recorded in the Sagaponack Cemetery. Mr. Froelich's grandfather, who grew up in Water Mill, worked on the family farm on Lumber Lane in Bridgehampton his entire life.
Mr. Wilford bought the tractor from Mr. Babinski 30 years ago or so. It had been sitting in a ditch over on Lumber Lane with bamboo growing around it. Back then, Mr. Froehlich said, it was not worth his grandfather's putting money into fixing it.
But, Mr. Wilford had it restored, painting it the original John Deere green. The gas-powered tractor starts by hand — there were no electric starts back then, said Mr. Froehlich, who works as a machinery mechanic. He explains that there is a valve on each cylinder that opens by cranking the flywheel to relieve the compression, starting the tractor.
He wants to buy cultivators for the tractor like his grandfather had on it, and he wants to find original stacks, which were shorter, a rare option, than the ones on it now, he said.
"I get the connection that I didn't really have," Mr. Froehlich said. "People say I'm like him. I save a lot of stuff and they go, 'That's the farmer in you.' " He's storing the tractor at the family homestead on Sagg Main Street.
Alison Froehlich, Mr. Babinski's daughter and Mr. Froehlich's mother, said her son always wanted to get into farming, but "the cards didn't play out that way." The farmland was sold off after her father died.  "Ever since he was little, it would be the middle of February, you'd have to bundle him up, and he'd play with his tractors and move dirt around," she said of her son. "I think he's always had it in his blood."
Asked if her father would be proud to know his grandson cared enough about his legacy and family history to buy back the tractor, "Yes. He'd probably say, 'How much did you pay for that?' " Ms. Froehlich said with a laugh. "He'd be happy he got it and other people didn't, keeping it in the family."