A visit to Strong-Cuevas's studio is more like a visit to a museum. Large-scale sculpture surrounds her house, which is set deep in the woods, and a vast, two-level indoor studio showcases more than five decades of work that testifies to the persistence of her vision and inventiveness.
While it is possible to note changes in her work, the fundamental themes and the essentials of her visual vocabulary are present across the decades. First and foremost, there is the human head. And connected to the head is the idea that thought travels. "I've forever been interested in powers of mind, the greatest being that of the mystic."
One of several recent stainless steel sculptures on her terrace, "Thought Travels VI, X-Ray" (2007), is an almost 13-foot tall double outline of a human profile from whose eyes a telescope or ray-like form shoots out into space.
Her most recent piece has two components: one is the spiral outline of a profile, the other the sheet of metal from which the outline was cut. "Before you do any fabricated sculpture," she said, "you buy big plates of metal. To make whatever you want to make, you cut your design out of it. And it leaves pieces behind, either negative or positive."
Another new series consists of circular panels such as "Solar Disc" (2012), a 7-foot diameter stainless steel version of which sits on the terrace. The cutout forms are mostly geometric and abstract, except for a subtle reference to her iconic series "Running Heads."
The discs and outline pieces are only part of her practice, which includes more massive outdoor sculptures and hundreds of bronze and stainless steel castings of solid forms that work every possible variation on the human head.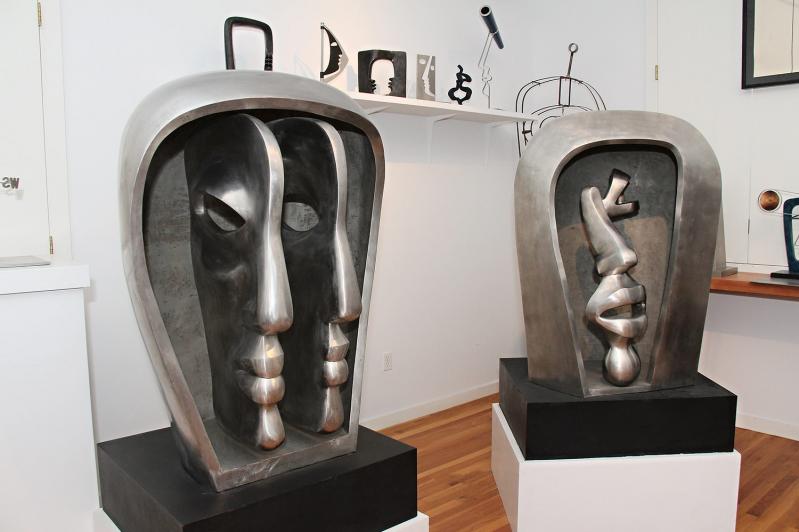 "I'm not doing figurative sculpture," she said. "I'm doing humanistic sculpture. I have never for a second been able to think up an idea that is just pure design. I need an emotion. An emotion comes partly through ideas. Without an idea, I have no emotion."
Like the various "Thought Travels" pieces, which range in date from the 1980s to the present, her "Running Heads" are a leitmotif that spans decades. Two massive brushed aluminum pieces, each 16 feet tall, perch on her front lawn.
Speaking of them, she said, "In the running heads I am defying gravity. They are sitting on a point." They are poised on bases that weigh 500 pounds, without which "they would somersault onto their noses. If you look at them from the side, they have negative profiles. My work has that two-sided quality."
Dichotomies are fundamental to her work and her thinking: positive and negative space, physics and spirituality, and outer space and inner consciousness. The critic Donald Kuspit has said of her sculptures, ". . . perhaps the most striking [feature] is their elevation of doubleness into a phenomenon in itself."
Her two "Cosmic Ray" bronzes from 2009, each with a different patina, work another variation on the mobility of thought, with a ray traveling from the face's eye "maybe through space and time and matter and to another galaxy. I like rays." The doubleness is apparent in the heads, which, as in many of her faces, combine frontal and profile views.
"A face can be a universe," Strong-Cuevas said during a 1985 lecture, and the proliferation and variety of the faces in her studio and on the grounds bear out that observation.