Paul McCartney, he who needs no introduction, though his Amagansett residence and status as a grandparent are of note for our purposes, has returned to his fabulist "Yellow Submarine" roots with the publication this month of his first picture book, "Hey Grandude!" (Random House, $17.99).
The dude in question is hip, too, with full beard and little white man-pony, jaunty bowler and bow tie, and lime-green school-kid backpack, water bottle crammed in its side pocket.
But the crux of the matter is his magic compass, which offers four bored tykes rainy-day escape to far-flung locales pictured on postcards he pulls from his back pocket — a sandy beach, the desert of the American Southwest, the "snowcapped peaks" of the Swiss Alps.
"See the compass needle spin, let the magic fun begin!" goes the intonation, and they're off. But as these are adventures, not sightseeing tours, thank you very much, threats and complications arise — an army of biting crabs, a stampede of marauding buffalo, an avalanche. From the last, escape is by flying dairy cow. 
Kathryn Durst's illustrations of rosy-cheeked kids and bug-eyed animals are accordingly simple and fun.
After all, those Beatles tunes were awfully kid-friendly, weren't they? Spacious, leisurely, inveterately sunny.
And so with a "zing, bang, sizzle," Grandude takes his leave. Till next time, Sir Paul. 
 
"As Warm as the Sun"
Toby, a French bulldog in Jim and Kate McMullan's latest, "As Warm as the Sun" (Neal Porter Books, $18.99), is a creature of comfort all day long — a carpeted sun spot in the morning, a warm lap on a sleepy afternoon, a place by the fire at night.
Until one day he's supplanted, he believes, by a newcomer, Pinkie, almost a doppelganger, really, who makes herself right at home in all his favorite spots, to the point where Toby banishes himself out of the light and warmth, schlepping down concrete steps to the dank basement, where he miserably curls up in a dark corner.
But don't worry, kids, the story doesn't end there, in fact it turns on acceptance and reconciliation. And it has to be said that the rich watercolors by Mr. McMullan — a former Sag Harborite of long tenure, once of the legendary Push Pin Studios, better known still for his Lincoln Center posters, and late of the brash "I Stink!" and "I'm Brave!" series of picture books — have never looked better.
That's a technical term.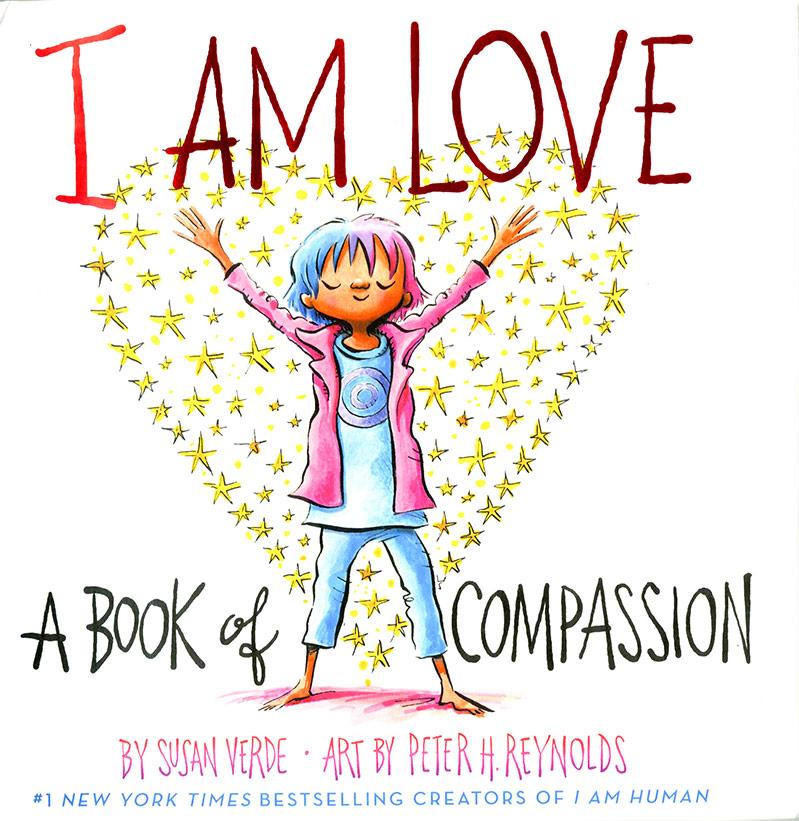 "I Am Love"
They keep churning 'em out, and we'll keep writing about 'em. Susan Verde of East Hampton and her kid-book compatriot and illustrator, Peter H. Reynolds, are out this week with a continuation of their series emphasizing kindness, thoughtfulness, and gratitude in the beleaguered young.
In "I Am Love: A Book of Compassion" (Abrams, $14.99), the storm clouds of anxiety and maybe even depression have gathered, literally, above a girl in rain slicker and galoshes, her eyes cast downward with hurt or worry. She needs a hug and an umbrella, and gets them from our rainbow-haired protagonist, but more than that a receptive ear is in order.
"I can listen and not say a word," her new friend thinks. "I can be there. Love is being present."
There follows a brief exploration of the various incarnations of demonstrated love, from comfort-giving and gentle words to nurturing (in this case a heart-shaped bed of flowers) to a candle-lit remembrance of ancestors. Self-care, too: "I can keep my mind and body safe and healthy. Love is taking care of me," the speaker posits, striking a yoga pose.
"As a kids' yoga and mindfulness teacher, I often look to these practices to help children cope with the heavy emotions they feel," Ms. Verde writes in an author's note, before concluding with instructions for several "heart-opening" yoga poses and a page on heart meditation in which she urges the practitioner to "bring to mind a moment when you felt completely loved and safe . . . just a moment."
Long may it last.