The newly restored Dominy woodworking shop began rising on Tuesday in its original location on North Main Street. The 18th-century structure was moved by truck, with a police escort, from Mulford Farm to a 5,400-square-foot parcel adjacent to the municipal parking lot.
The Dominy family, including Nathaniel IV, his son, Nathaniel V, and his grandson, Felix Dominy, was renowned for its woodworking and clock and watchmaking skills. The family's 1791 woodworking shop and 1798 clock shop are the only Dominy buildings still in existence.
The clock shop, which is stored at Mulford Farm, will be moved to North Main Street later this fall when its restoration is complete, said Robert Hefner, the village's director of historic services.
The Dominy house was torn down in 1946, but the New Jersey Barn Company, a firm with expertise in restoration, has reconstructed its timber frame. The company used detailed architectural drawings and specifications of the house, which had been documented prior to its demolition by the Historical American Buildings Survey, an arm of President Franklin D. Roosevelt's Works Progress Administration.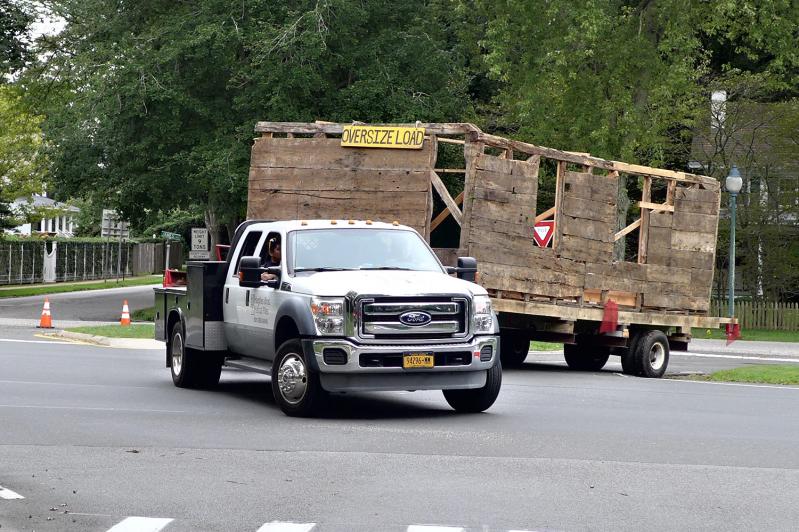 The frame was raised on site last week. Ultimately, the building will serve as an exhibition space filled with Dominy memorabilia, including the East Hampton Historical Society's collection of tools from the clock shop; furniture, including a tall-case clock (the second one made by Felix Dominy); the original columns from the porch of Clinton Academy, which were made in the woodworking shop, and Nathaniel Dominy's memorandum book, which was purchased by Mayor Paul F. Rickenbach Jr. and his wife, Jean, who donated it to the village.
Two of the walls of the woodworking shop were intact during Tuesday's move, and the facade was raised on site yesterday. The shop will be attached to the house, as it was when the Dominys lived and worked there.
Now that the house's frame has been raised, said Mr. Hefner, a crew from John Hummel and Associates will work on the structure's exterior, making sure it is fully enclosed before winter.