Rosie's
195 Main Street
Amagansett
631-604-5095
Breakfast and lunch, seven days;
dinner Wednesday through Sunday, 5-10 p.m.
When a restaurant has a name like Rosie's a Love of Fare it is tempting to make cutesy puns and attempt witticisms. I'll try to restrain myself by just saying that I love Rosie's. It is different, it is beautiful, and it is reasonable for the quality and creativity of the food. It can, however, be a little like your friend's delightfully precocious child who has been let loose in a kitchen with dandelion greens (organic!) and a blowtorch.
"Isn't she darling?" asks the mother rhetorically. "Yes," you mumble in agreement as you ponder, "Do burnt blueberries really add to this flatiron steak?"
The interior renovation of what was once the nondescript D'Canela is what would happen if that precocious little darling became enamored of Charles and Ray Eames, Eero Saarinen, and Hans Wegner. It is a beautiful mishmash of midcentury modern style with a whisper of Williamsburg cool. Scrabble letters on a wall exhort you to "ask Leo for his daily joke." We did. He is one of the chefs. He happily came out of the kitchen to recite his joke. He is adorable with his rainbow chard tinted hair; his cooking is better than his Henny Youngman-esque jokes.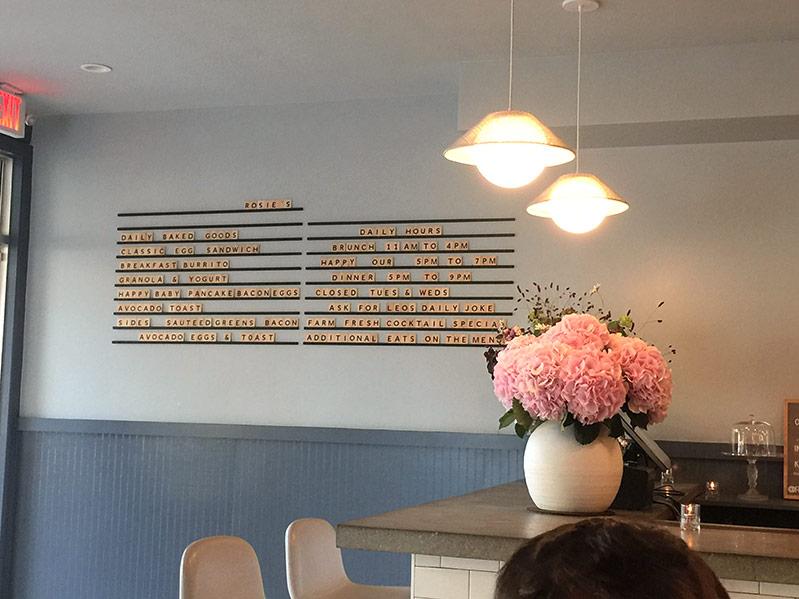 Upon entering there is a long bar with blond caned wood framing the bottles. The light fixtures reminded me of those satellite wafer candies. There are banquettes with faux shagreen seats and black-and-white diamond-stripe-patterned backs. The walls are a deep blue-gray. An open room in the back has a round dining table, large, swirly leaf wallpaper, a peep window into the kitchen, and beautiful chairs reminiscent of Pierre Jeanneret. Colorful tiles lead you to the water closets, which are painted a brilliant and shocking coral-crimson. The Aesop hand soap is not bolted to the wall.
I don't usually spend so much time describing decor, but all of this was noteworthy. Oddly enough, even with this no-expense-spared renovation, the place feels casual, young, and friendly.
We began our meal with tuna tartare, burrata, panzanella, and beet carpaccio. The tuna tartare was beautifully presented with tiny cubes of watermelon radish and thin slivers of sweet red plum. The tuna was perfectly seasoned, citrusy, a bit salty, and speckled with chives. My only quibble with it is it would have been even better if the gristly sinewy bits had been cut away.
The burrata was a pretty and milky blob in a bowl surrounded by some green juice (lovage?), and topped with shaved fennel. This, too, was delicious.
The panzanella was better than the one I had made for my son's birthday a few weeks ago. Why? The tomatoes in this salad were some of the best I've had all summer. The croutons were perfect, the dressing aggressively vinegary. There were red, green, and orange tomato wedges, rings of shallot or red onion, a sprinkle of ricotta salata, and purple basil leaves tossed about.
The beet carpaccio was also very good. There were thin slices of red beets on the plate and some beet wedges topped with crunchy toasted quinoa. The schmear of walnut butter on the plate seemed unnecessary to me, but the dish was delicious.
For entrees we ordered the clams and linguine, orecchiette with summer squash, a scallop special, steak, brick chicken, and "chicken salt" fries.
The clams and linguine dish was very, very good, but I don't think the clams were littlenecks. They were tiny and uniform and out of their shells, so I suspect they were either cockles or Manila clams. There were tiny kernels of corn hiding here and there and adding a nice pop of sweetness to each bite, along with some smoky crunchy breadcrumbs on top.
The orecchiette with summer squash was a pleasant surprise. One thinks of orecchiette as being more appropriately paired with sausage and broccoli rabe or a hearty meaty sauce, but the lightness of the toppings worked well with it. The thin wedges of summer squash were joined by Sungold tomatoes, basil, and ricotta salata.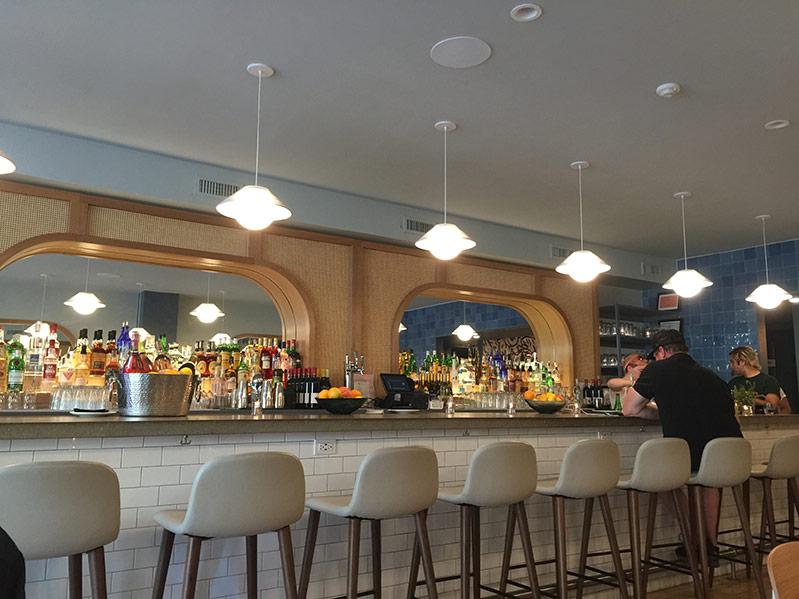 The sea scallop special was another winner. The scallops were seared perfectly, silky inside, and had a hint of cumin seasoning on them. They were served with crispy wheat berries — genius, or should I say, precocious? — that were topped with a roasted pepper whose name I have forgotten. It tasted like a cross between poblano and shishito, slightly hot.
The steak was good, it was served under six big leaves of either dandelion or mustard greens in a tart vinaigrette. This is where the mysterious black mound of sweet-tartness was discovered and was identified as burnt blueberries. Was this a helpful addition? Unique, yes.
The brick chicken was a fun dish. It was the traditional butterflied, pressed, crisped up piece of chicken. It was served with beautiful red lettuce leaves, some herbs like mint and dill, some pickled carrots and radishes, a "seaweed" mustard, and scallion crepes. It looked to me like this was meant to be assembled like a summer or spring roll, wrapping the pickled vegetables with the meat, condiment, and herbs in the lettuce and crepe, which is what we did, and it was light, delicate, and delicious.
I had never heard of "chicken salt" fries, but as soon as I did, I knew they were something that had been missing from my life. They are what they sound like: chicken, from beak to butt, roasted and dehydrated, sometimes with mushrooms, to create an umami seasoning that is particularly well suited to French fries. Supposedly chicken salt originated in south Australia and is now taking America by storm. These chicken salt fries were very good, served with a mild aioli and ketchup.
Service on the night of our visit was excellent. It seemed like we were being waited on by everyone there with great enthusiasm and knowledge. The place was fairly quiet, with one other group of diners, a display of A.A.R.P. P.D.A. at the bar (blurgh), and our friends Terri, Donald, and Jackson showing up later.
The food is moderately priced in my opinion, but my brother Sherman and his family were shocked. They are from Florida. They are not used to paying $40 for chicken thighs and $20 for a well drink, as I have had to do at other establishments this summer. I also appreciate the more diminutive portion size here.
Prices are $16 to $36 for shared dishes and appetizers, $22 to $36 for mains, $10 to $12 for sides, and $12 for desserts.
All three desserts are made (or assembled) in house. We tried Rosie's Mess, chocolate ganache, and oranges in caramelized honey. The Rosie's Mess is the restaurant's riff on Eton Mess, a classic British dessert consisting of meringue, macerated strawberries, and whipped cream. It came by its name because it is always served at Eton College's annual cricket game against the Harrow School. Rosie's version had bits of meringue, whipped cream, and frozen raspberries. The combination is a wonderful blend of crunchy, chewy, cold, sweet, tart, and creamy. The overly generous puddle of almond oil beneath was a bit much; a few drops would have sufficed.
The chocolate ganache dessert was another example of Coco Chanel's exhortation, "Before you leave the house, look in the mirror and take something off." I am paraphrasing, but you get the gist. The wonderfully dark and bittersweet rich ganache was topped with equally rich, chewy, crumbled hazelnut cookies along with some Joe and Liza's vanilla ice cream. The lily gilding was a generous pour of creme Anglaise out of an adorable miniature milk pail.
The orange slices, combined with grapefruit this evening, were a light palate cleanser. One couldn't tell that the honey had been caramelized, but the addition of dried lemon thyme added another fragrant citrus note.
I loved Rosie's. I loved it because it was the first time ever I have been able to lure my brother, sister-in-law, Maria, and niece and nephew, Cristina and William, out for a restaurant review. I wouldn't call them foodies, but they enjoy a good time.
I loved Rosie's because it is different, it is stylish and comfortable at the same time, and the people there are young and wonderful. They bring Maldon finishing salt to the table along with a real pepper grinder. Amagansett is lucky to have this precocious, new, young restaurant on its Main Street