Terry Elkins's road to the potato barn in Sagaponack where he lives and works has taken many turns. Like the artists John Alexander and Dan Rizzie, Mr. Elkins moved north from Texas, and one of the incentives for that move can be found in an anecdote he recounted in his studio.
"When I was in graduate school at the University of Houston, there was a visiting artist program. One day I was working in my studio when John Alexander, who was a professor at the time, came in and said, 'Hey, Elkins, I want you to meet Willem de Kooning.' "
"I was completely awestruck. John and another professor popped de Kooning into a car and the four of us went over to the Rothko Chapel. I remember sitting there alone with Willem de Kooning talking about Rothko's paintings, and it still gives me goose bumps. It was quite an experience for a young artist who had no direction at the time."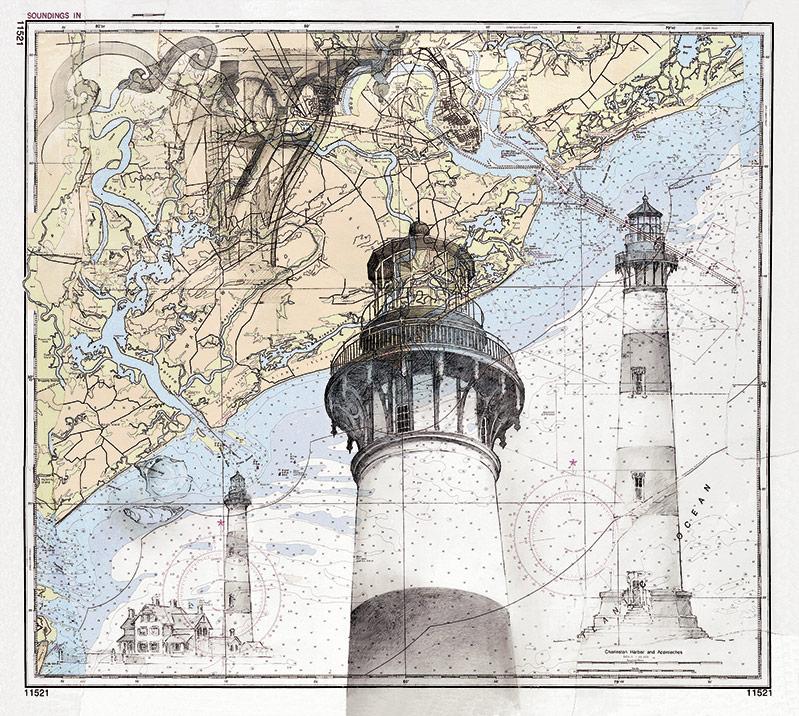 After earning his M.F.A. in 1978, he spent the next ten years traveling back and forth from Houston to New York City, gradually spending more time in New York. Mr. Alexander once again entered the picture.
"I told John I was going to move to New York even if I had to live in some hole in the wall in Brooklyn. John said he had just bought these two barns in Amagansett and asked if I wanted to help renovate them. Which was a great thing, because I had a place to live and work for about six months. Working for John got me out here."
In May 1988, the two artists went to look at the potato barn, which is owned by the artist Steve Miller, as a possible studio for Mr. Alexander. "He said it was too far away from Amagansett and suggested I take it," said Mr. Elkins, who has been there ever since.
Though known as a consummate realist whose subjects include the landscapes, seascapes, architecture, and lighthouses of the East End and beyond, Mr. Elkins was an abstract painter before moving to Sagaponack. In graduate school his paintings were black and white, and his thesis focused on black-and-white painting, starting with Picasso's "Guernica."
"But when I moved out here, I experienced what other artists through the decades before have realized about this place. It's bucolic, pastoral, and the light and the ocean and the landscape are just beautiful. Even though it seems to be rapidly disappearing, there are still places you can go."
His study of Wainscott Pond presents an unspoiled vista despite being a mere stone's throw from the traffic on Wainscott Main Street. "A place like that—painting's just an excuse to be there." He started painting in the landscape when he moved here and he still does, though he will often finish paintings in his studio.
Mr. Elkins was born in Vicksburg, Miss., and his family moved around before settling in Houston when he was in the fifth grade. When he was 13 he was the only student selected from his school to take classes at the Museum of Fine Arts. "The classes were fine, but the exposure was even better because I would pass 15 Frederick Remington paintings hanging in the hallway on my way to class. And we could wander around the museum."
As he approached his high school graduation, he was ambivalent about going to college, less so about surfing. "When I got my high school diploma, my friends were waiting with our surfboards and we drove to California that night." Surfing also took him to the East Coast and to Puerto Rico, where he lived and surfed.
When he returned to Houston, his father found him a job digging ditches for a boring and tunneling company. "After a summer of that I thought it was better to go to college than to end up in a tunnel under the Katy Freeway."
A friend encouraged him to apply to Sam Houston State University in Huntsville because of its art department. From the beginning he immersed himself in art courses, and after earning his B.F.A. he went on to the University of Houston. "They had some great instructors and a visiting artist program that brought in people like Norman Bluhm, Red Grooms, Malcolm Morley, and Ron Gorchov."
Once he settled in Sagaponack, his work began to change. One of the first influences was seeing baymen cast their haul seine nets. On the wall of his bedroom is a massive painting from 1990 of an overturned dory on a beach. At the time he used a lot of gel medium, which resulted in a thickly textured surface.
He also found an old set of nautical charts in his studio. He eventually used the charts for collage and superimposed nautical images on them, among them dories, sailing vessels, lighthouses, and shipwrecks.
"The collage is the easiest part, tearing off the boarders and rearranging the pieces, then mounting or simply sticking them onto a backboard. The drawing part seems to take the most effort. It's difficult at first to juxtapose a drawing on something that already has a drawing on it, especially one with so much detail."
That said, his draftsmanship is so precise that his images mesh perfectly with their backgrounds. In addition to enhancing the look and detail of the charts, they also helped orient him when he first moved here by acquainting him with the region's beaches, bays, coves, and harbors.
In his studio is a 44-inch wide format Epson printer that he uses to print out studies as well as the posters and prints that are for sale on his website. "You can print on really nice watercolor paper, heavy paper, vellum, all sort of things," he said, adding that, while he has sold thousands of posters over the years, "I've sort of let it go."
He was also a volunteer fireman and E.M.T. in Bridgehampton for 17 years. "I enjoyed doing it and really got a lot out of it, but it got to the point where I just didn't have the time to keep up with it." He added that since he was married on January 2018, he has been busier than ever.
His wife, Megan, was living in Philadelphia at the time, and they commuted back and forth before she left her job in finance and moved to Sagaponack. She now works out of an office in the potato barn for a company that offers professional development courses for teachers.
Since April, a different landscape has entered their lives. They bought two small cottages on the island of Nevis with a view of the Caribbean and the Atlantic Ocean. They plan to live there from December to May.
"It takes 30 minutes to get to Southampton from here during the summer. I'm looking forward to a different lifestyle in Nevis. I've already starting making tropical watercolors," he said.
An exhibition of Mr. Elkins's artwork is on view at the John Jermain Memorial Library on Sag Harbor through Sunday.