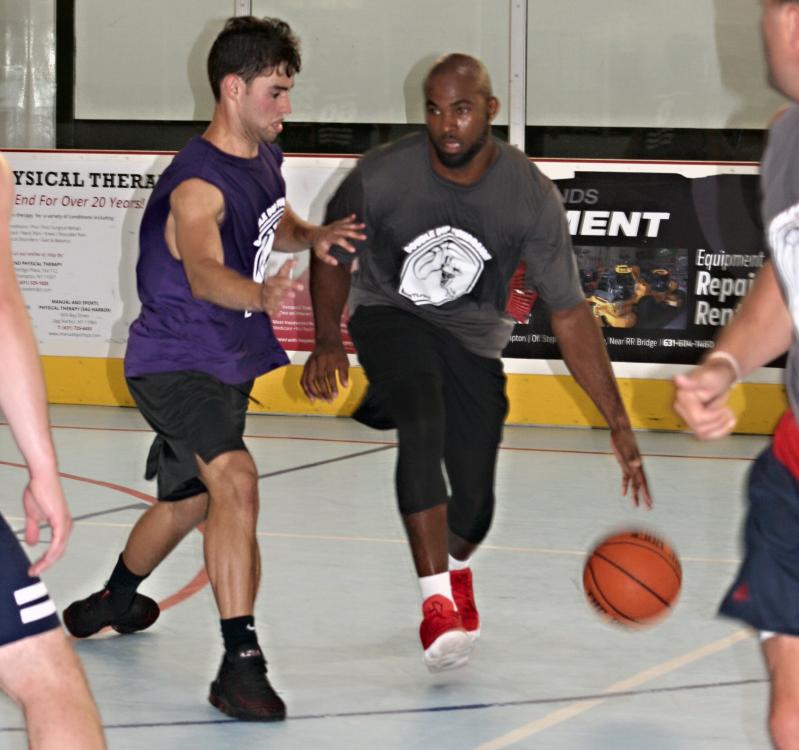 A hotly contested five-on-five basketball tournament at the Sportime Arena in Amagansett and 3 and 6-mile paddleboard races off Havens Beach in Sag Harbor Saturday morning left their contestants spent, while at the same time raising money to be spent on Down syndrome and breast cancer research.
The hoops tournament, with eight teams whose rosters included competitive weekend pickup players, a mixture of summer and year-round residents — Brandon Kennedy-Gay, Marcus Edwards, Brian Marciniak, Kyle McKee, John Lupo, Thomas Nelson, and Dave and Brian Locascio among the latter — was won by Nordstrom to the Rack (Mark and Jake Lieberman, Jack Healy, Michael and Spencer Chase, and Will Nordstrom), which defeated Barry's Boot Camp (Kennedy-Gay, Anthony Providenti, Barry Milhaven, Lewis Malivanek, Mike Young, and Wayne Clark) 16-14 in the final — a game that went into "overtime" inasmuch as it was initially first-to-9, with all made shots worth 1 point.
The Paddle for Pink paddleboard races — Chris Hanson won the 3-miler over a fellow Sag Harborite, Ari Weller, in a photo finish, Michael Fithian won the 6-miler, and Atlas Geirsson, 11, won the quarter-mile kids race — raised $650,000 for the Breast Cancer Research Foundation, said Larry Baum, who co-founded Paddle for Pink with his wife, Maria, eight years ago. "Though that figure is climbing," he said during a telephone conversation Monday evening. "We're hoping to reach three-quarters of a million before we're done."
In the eight years of the paddleboard races' existence, "more than $11 million has been raised," Baum said, all of it earmarked to fund breast cancer research worldwide.
His wife, he said, was a breast cancer survivor who had found that paddleboarding was very helpful, "mentally and physically, when she was recovering from chemotherapy. . . . That's how she got the idea for Paddle for Pink, to raise awareness and to raise money for pure research."
That research has proved to be increasingly effective, he added. "In the last 20 years, breast cancer deaths have come down 40 percent."
One of the tandem paddleboard competitors, Jennifer Ford, a breast cancer survivor and a Paddle Diva team member, said afterward that "the day was filled with fitness, teamwork, smiles, fun, and served as a reminder that we can all contribute to eradicating this heartbreaking disease in unique ways, in our own community. There's no better way to bring this all together during summer in the Hamptons than on the water."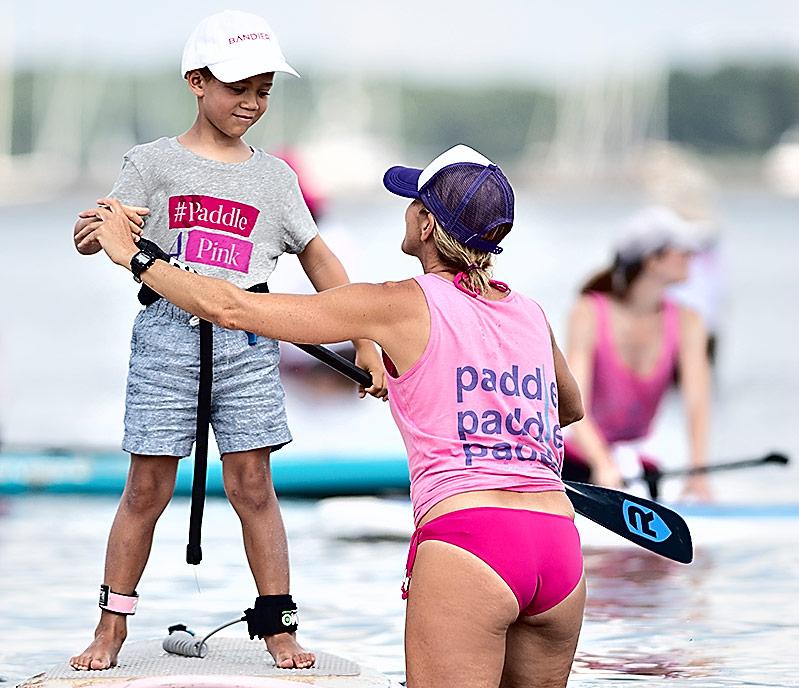 Back to the basketball tournament, which benefited the LuMind Foundation and the IDEAL School in Manhattan, Providenti, who oversaw it, is convinced that "accelerating Down syndrome research is the key to the advances in the next 50 years . . . the prospects for success have never been brighter." The tourney and a party at his house later that day had raised $90,000 "on the way to our goal of $100,000 for people and families with Down syndrome and special needs."
"We all love Troy," Cliff Teller said of Providenti's middle child, who has Down syndrome and attends the IDEAL School, "a magical place," in Providenti's words, "where students have individualized curricula designed to maximize their experience and prepare them to make a difference in the world."
The tournament's teams were very evenly matched (though Edwards, who played for My Five Sons, said early on that Nordstrom appeared to be the most balanced). Four of the teams, going into the playoffs, were 2-2.
My Five Sons — the Grey team — led by Edwards, one of the tournament's strongest shooters, who has for the past few years assisted Dan White in coaching East Hampton High School's varsity, lost 11-10 to Nordstrom in one of the semifinals after he was slammed headfirst into the plexiglass-topped boards in trying for a layup. "I'm okay," he said on leaving the Arena moments later.
Likewise, Barry's Boot Camp — the Green team — edged Six Pack 4 Harper — the Maroon team — 11-10 in the other semifinal, "on Kennedy-Gay's insane crossover jumper," Providenti was to say later.
Providenti's team and Nordstrom played toe to toe throughout the final, repeatedly answering each other's scores. An off-the-dribble jumper by Kennedy-Gay treated Green to a 14-13 lead, but after some to and fro Mark Lieberman tied the count again, after which the Blues, following a steal and lay-in by Lieberman's 6-foot-5-inch son, Jake, and a miss from the outside by the Green, ran it out with a fast-break layup by Jack Healy, who's on Emerson College's varsity.
When it was pointed out afterward that it might not have looked good had the tournament host's team won, Providenti, exhausted after having played seven hard-fought games that morning, said, "We threw it at the end."
Nordstrom, he added, the playoffs' second seed (Six Pack 4 Harper had been the top one), had indeed proved to be the tournament's dominant team.