President Trump's visit to the South Fork on Friday was met with signs of welcome and also spirited opposition. While donors prepared to greet him at Sandcastle, Joe Farrell's 17,000-square-foot house in Bridgehampton and at a Southampton event hosted by Stephen and Kara Ross, dozens gathered on the Water Mill green for a peaceful protest organized by the Progressive East End Reformers.
At the developer Joe Farrell's house, Republican Representative Lee Zel­din, who represents the First Congressional District, and Senator Lindsey Graham were in attendance. Along the presidential motorcade route, supporters waved flags and held signs of welcome. The president had no public appearances here and Friday's events were not open to the press. Tickets to the fund-raisers started at $2,800 for the Farrell event; $250,000 would get donors access to a round-table discussion and a photo with the president.
Ronna McDaniel, co-chairwoman of the Republican National Committee, who was to attend on Friday, tweeted that the two events had raised $12 million. The money is to be shared by the R.N.C. and the president's re-election campaign.
Nearby, the protest in Water Mill began with a moment of silence for the more than 30 people whose lives were claimed in the El Paso, Tex., and Dayton, Ohio, mass shootings the week before. Gun control was one of many central themes of the protest, as seen in signs and heard in the concerns of activists. 
"We can't be numb anymore," Zoe Strassfield, an environmental advocate and protester, said. "I'm sick of seeing these people act like it's okay to kill or hate people simply because of where they come from or because they don't look like them. We have problems and we've always had problems, but this administration is making us go backwards when we have already made some small amount of progress." Joining in the protest, she said, "makes me feel like I'm actually doing something constructive."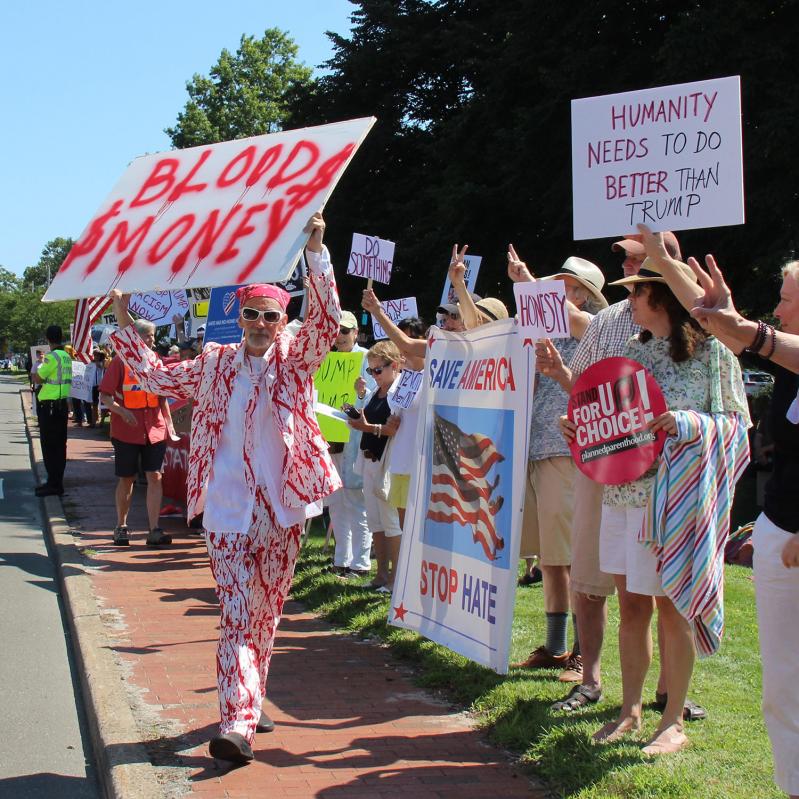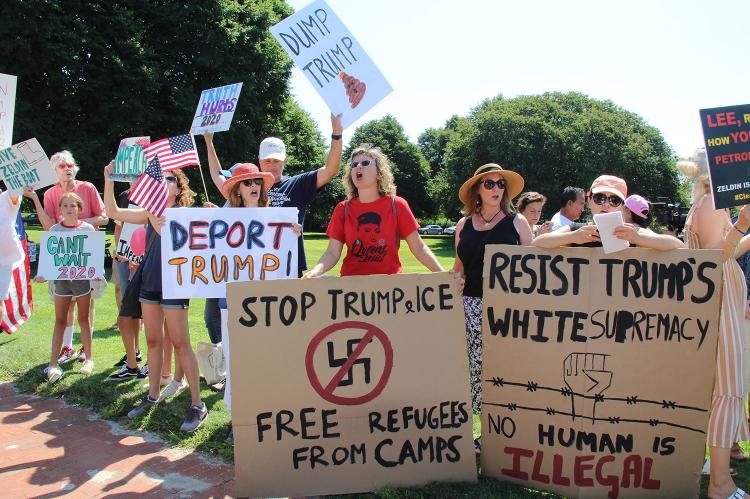 "There is strength in numbers and beauty in unity," Kathryn Szoka, a co-chairwoman of PEER, chanted throughout the protest. As protesters lined the street, many of them hand in hand, their chants of "Wake up" and "We choose love" could be heard from down the highway. Many passing cars honked. 
Clergy members and grassroots activists were center stage among the protesters. They spoke on issues ranging from "inhumane conditions at detention centers" to "Trump's blatant racism and provocation of hatred and divisiveness" to the "systematic undoing of environmental protections," Ms. Szoka said. 
"This isn't politics as usual, this is a national, moral crisis precipitated by a lawless president and his enablers, who incite violence and perpetrate cruelty to solidify power," said Rabbi Jan Urbach of the Conservative Synagogue of the Hamptons. "We cannot let the lawless define what it means to uphold the law."
Jackie Gavron, a member of PEER and the force behind Zeldin Record and Background Check, talked about Mr. Zeldin's record on gun control, and spoke of how important it is for his constituents to stay informed.
"The key thing to understand about Zeldin is that despite his mild manneredness, he is a right-wing extremist and always has been," Ms. Gavron said. "Zeldin aligns himself with white supremacists, anti-Semites, and racists." 
Another protester, Jules Hollander, also expressed strong feelings about what was at stake in the protest. "White silence is white violence," he said. "I have a duty to make sure that I make my voice heard. The hate speech Trump is putting out there is triggering to a lot of people and pushing extremists to normalize this kind of behavior and language, and that is not okay."
"Let us savor this moment and tuck it deep into our hearts so we can move with conviction that we are not alone," Sister Mary Beth Moore, a member of Centro Corazon de Maria and Nisi, an immigrant outreach organization, said in an emotional speech. "We insist that hate must end and we dare to hope and believe that we have the power to stop it." 
Following the speeches, Ms. Szoka passed out voter registration forms on behalf of PEER. 
Co-sponsors of the rally included Neighbors in Support of Immigrants, East End Action Network, East End Women for Change, Indivisible North Fork, Long Island Activists, Long Island Network for Change, NY 2nd Demo­crats, Resist and Replace, ShowupLI, Suffolk Progressives, and Together We Will LI.
With Reporting by Carissa Katz