Town and village ocean lifeguard squads from East Hampton to as far as Jones Beach gathered at Main Beach last Thursday to compete in the 33rd annual Main Beach Ocean Lifeguard Tournament. Over the course of its four hours, 15 teams — some with reigning national champions — competed in a series of lifesaving events, including a distance run, distance swim, paddleboard rescue, run-swim-run, landline rescue, paddleboard relay, and 4-by-100 meter relay.
Competition was broken up into men's and women's divisions. Among the men, East Hampton Village, East Hampton Town-A and East Hampton Town-B, East Hampton Village Ocean Rescue Legends, Southampton Town, Westhampton Beach, Robert Moses, Smith Point, and Jones Beach teams competed.
The women's teams were East Hampton Town-A and B, East Hampton Village, Southampton Town, Smith Point, and Jones Beach.
Lifeguards as young as 15 and as old as 50 competed. Eve Hadzikostas, a 15-year-old East Hampton Village guard, was one of the youngest competitors to conquer the 2K beach run — even the grueling soft-sand stretch.
"It's all good, and then you get to the soft sand and it hurts your ankles a lot, but you push through," she said.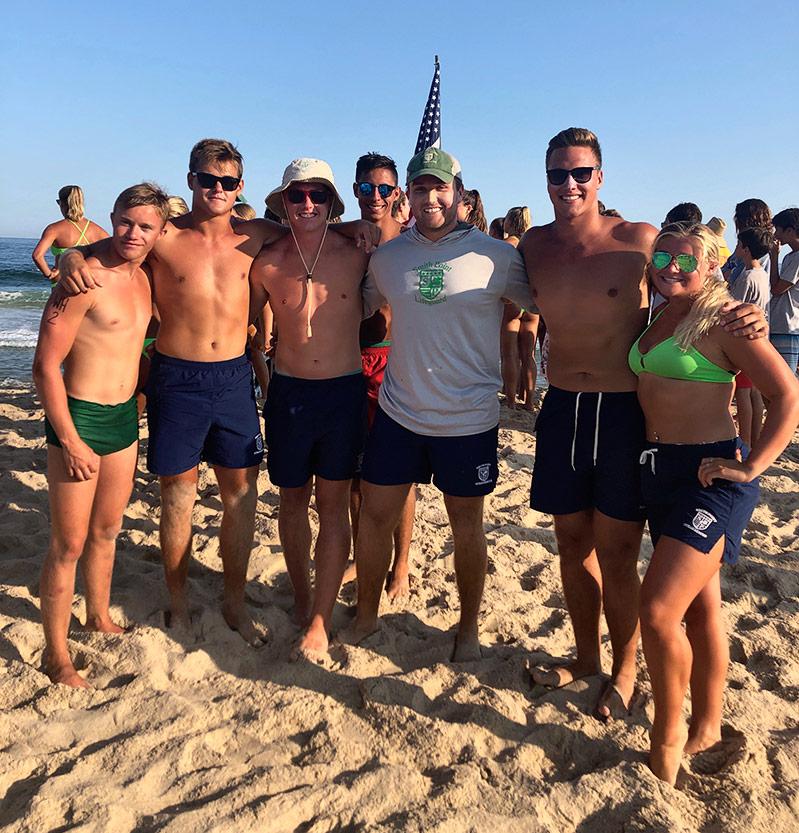 A cherished tradition among lifeguards all over Long Island, the tournament is an evening for many of the close to 300 competitors to have fun and connect with friends ahead of nationals and outside of what can be a high-stakes and physically intense work setting.
"We're more focused on the people and the environment than just the winning," said Patrick Konarski, 18, a competitor for Smith Point Beach in Shirley. While the Smith Point guards don't usually mingle with the East End lifeguards as much as they do with Jones Beach's, Konarski's teammate Daniel Pikulik said this tournament changes that every year by bringing everyone together.
"It's definitely a big change from the national tournament," Aidan Kolar, 19, also representing Smith Point, said. Kolar came out of last year's United States Lifesaving Association National Lifeguard Championships with a third-place individual performance and a first-place team win for Smith Point in the landline rescue. This is his second year competing at Main Beach.
"It's a lot more low-key here, which is a really nice vibe — less of a job and more fun," he said.
The competition concluded with a friendly game of beach flags, an event mirroring musical chairs in which the lifeguards stretch out belly-first on the sand with fewer flags among them than there are people. It was the perfect way to end the evening: interactive, full of laughter, and most reflective of the overall spirit of the tournament.
"I'm not here to finish first, I'm here to finish with everyone," Hadzikostas said. "I've loved competing with everyone and seeing how nice they are. Nobody is here to bring you down, they're only here to support you."
East Hampton Town's A team won among the men, and the town's women's A team was the runner-up to Smith Point.